In 2014, Google removed the option to opt-in/ out of close variants for exact and phrase match keywords. A recent announcement allowed Exact match keywords to trigger ads for relevant reordering and rewording of your keyword. These changes made exact and phrase match types less restrictive than earlier. However, it also in a way opened the window to identify search queries that may be irrelevant for your business.
What are Close Variants?
They are any misspellings, similar terms, singular/plural forms of your keyword. For instance if your keyword is red shoes then its close variants can be red sheos (misspelling), red shoe (singular form) or shoe redness (stemmings), acronyms or abbreviations. Earlier marketers were given the option to select whether they want to include or exclude these terms. However the same has been automated since the change made in 2014.
How to view your Close Variants?
Follow the below mentioned steps:
Step 1: Go to the campaign and click on the 'Keywords' tab
Step 2: Now click on the 'Search Terms' tab

Step 3: Select Create Filter from 'Filter' drop down

Step 4: Select match type from the filter menu and then select the 'Exact and Phrase' close variant option from the adjacent drop down menu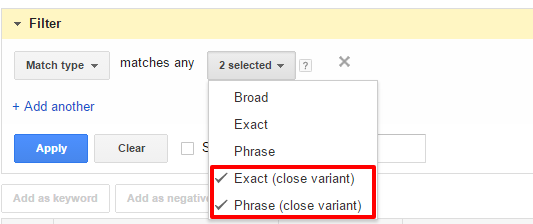 Step 5: You can now view all the close variants of your bidded keywords.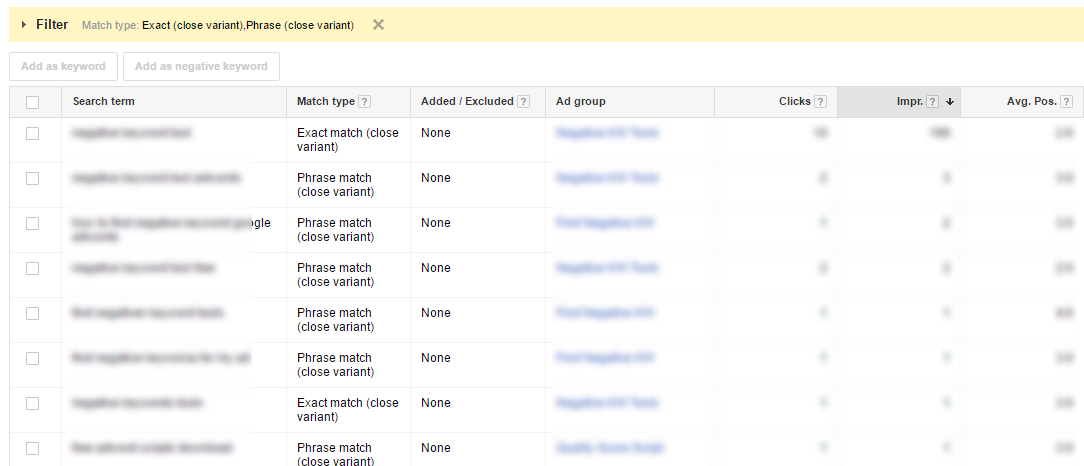 Action Items
After identifying close variants of your keywords, following are possible action steps to take:
If the search query is relevant and one that you is getting you valuable impressions, then you might want to add it as a bidded keyword
Alternately if a search query is irrelevant and one that you do not wish to show your ad for, then add those as negative keywords
You can also analyze the percentage of impressions/ cost being shared with close variant terms, by comparing the summary of close variants and all your other search terms from your campaign.

Related Links: