A year ago, we examined close variant data to see the effect it had on Google Search Ads' overall performance. We were able to conclude that adding the close variants had a substantial influence on CPA and contributed to shelling out a sizable portion of the advertising cost.
How has the close variant fared this year?
We decided to examine the PPC accounts once again to determine the impact of the close variation. Here is how the median data of the accounts we reviewed appeared for the 1 year & 3-month time-span

The median spend has increased from the previous year. The CPA median has decreased for the 3-month and 6-month time periods but increased for account data spanning a year. The 1-year close variant spend data ranges from a minimum 0.01% to a maximum 84%, whereas for 6-month time span the maximum is 71.55% and the minimum is 26.49%. The one analysis that we can draw from this finding is that the median number jumps for accounts with larger spending. We also observed that as the account spend grows, the CPA of close variants also increased for some of the accounts.
From the above finding, we can possibly conclude that the close variant spend has overall increased from the previous year. It implies that Google's close variants are getting matched more often than the match type assigned to the keyword. The varying CPAs, which range from 43.82% for accounts with 1 year of data to 8.30% for ad accounts with 3 months of data, suggest that conversions are probably not happening for close variants.
This suggests that a significant amount of spend is still being shared by close variants which could be a matter of concern if the variants aren't relevant to the business. Since the distinction between match type and near variations started to blur, it has become all the more important to keep a close eye on the search phrases for which your ads appear. You have to ensure that they aren't resulting in any wasted ad spend.
A recap of how the change has occurred over the years.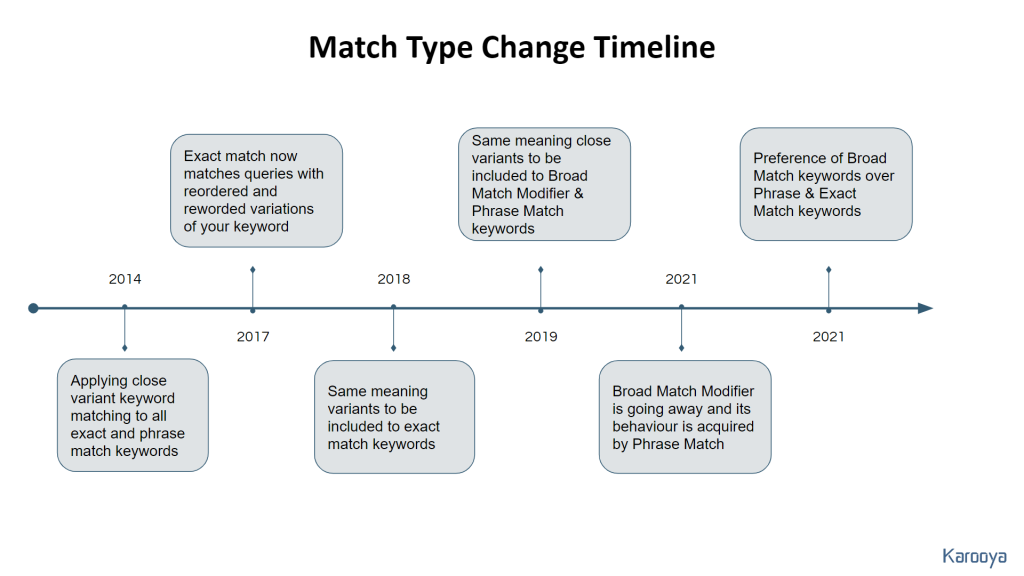 So, what should you be doing this year?
Very much what was recommended in the last year:
Add any irrelevant term as negative keywords to avoid the sudden surge in ad spending.
Use portfolio bidding to contain your ad spend from breaching the desired threshold
Note: Karooya's Negative Keywords Tool is now free for accounts with ad spend less than $10,000 per month. Save 10-20% of your search ad spend for free. Sign up and start saving your ad budget now