Whether it will boost Bing's user base or improve user experience, that time will tell. But for now, this major update has got people talking.
What has changed?
After introducing Microsoft Search two years back in a recent update, Microsoft announced that
Starting with Version 2002 of Office 365 ProPlus, an extension for Microsoft Search in Bing will be installed that makes Bing the default search engine for the Google Chrome web browser only on devices in a limited number of locations.
Though, there are ways to avoid getting this extension installed and also to discontinue using Bing as the default search engine, this is a major step towards promoting Bing as a preferred search engine platform.
At present Windows is the leading player in the Desktop market at 86.84% and Chrome holds 69.6% share in Windows on Desktop/ Laptop. That is a huge opportunity for Bing to capture.

Note: it is worldwide data
Further looking into the search engine market share on Google Chrome in Windows Dekstop/ Laptop, we realize that the dominating player is Google at 78.24% and Bing falls at 9.49%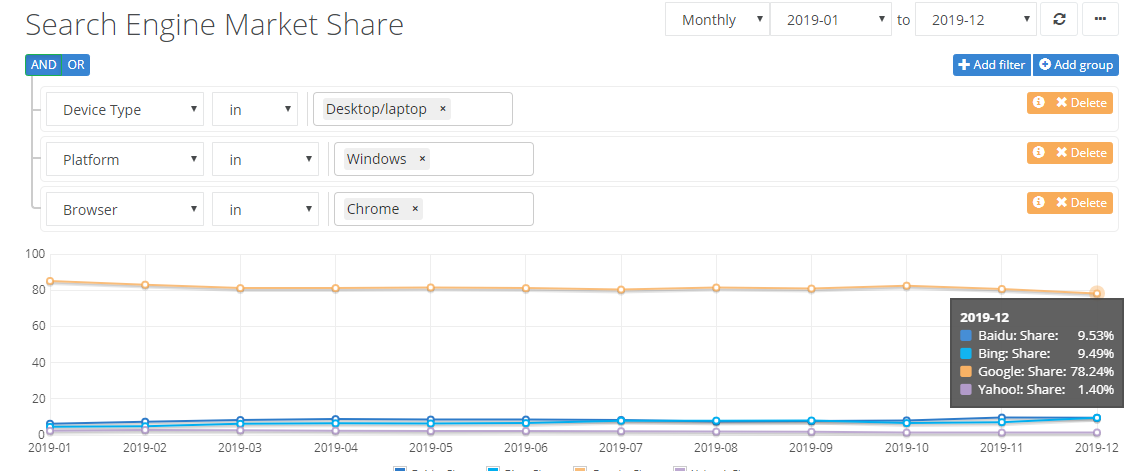 Note: it is worldwide data
Beating its market share would have been a Herculean task. However, with the forcible installation of Bing search engine, we can witness a material shift in the market share of Bing.
How much Bing will gain out of it, is a question of time. As even though, users will not have the option to opt out of this extension, but they can still modify the default search engine settings later.
But, taking into consideration that significant installations do happen, then it is bound to effect paid search advertising as well. We might even, in the long run, expect to see some change in Bing's paid search advertising performance. With more users on Bing, more advertisers will start spending their chunk of advertising budget.
It will be worth the wait to see how this change is all set to impact how users will now prioritize Microsoft Advertising to tap the reach of Bing.
The change is likely to reflect late February 2020 onwards.
What's your take on this change and how it will impact users. We would like to read about it in comments below.