Merkle released its third quarter Digital Marketing Report. The findings show the progression through the pandemic, areas that are recuperating and how industries are settling in to the new normal.
You can download the report from here:
Spending on Microsoft ads down 1% YoY
Down from 12% growth in Q2 2020, spending on Microsoft search ads fell 1% YoY. Spending on Microsoft Product Ads grew 22% YoY, whereas for text ads the spend fell 8% YoY in Q3 compared to a 13% increase in Q2.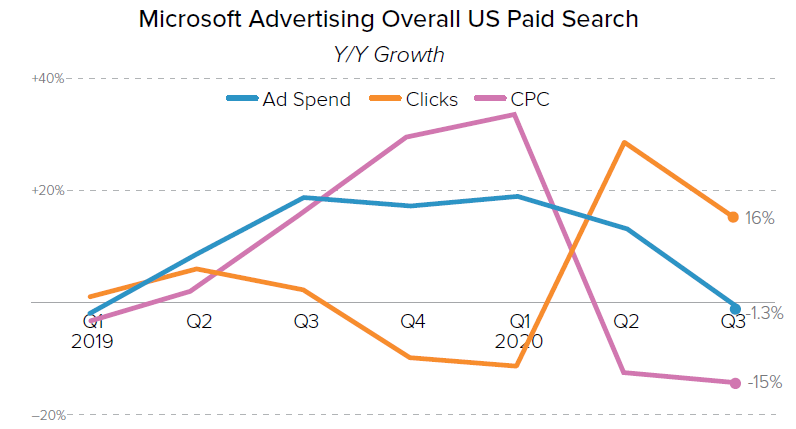 On the other hand, Google search ad spending rose 11% YoY, up from 9% in Q2, 2020. On comparing the monthly pattern of search ad spend, it was observed that the spending growth decelerated before rising again during the third quarter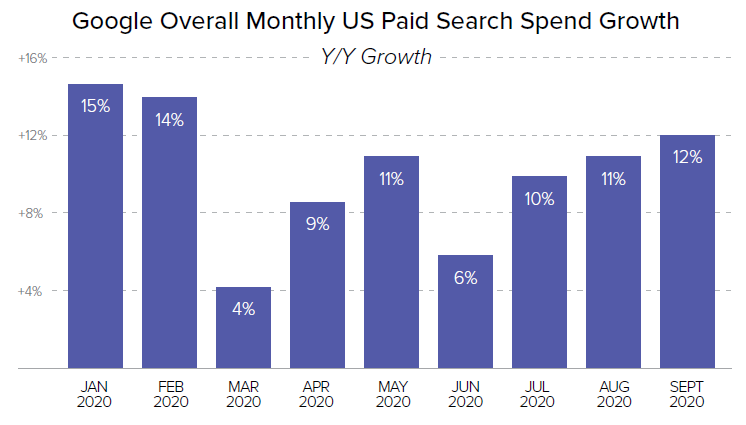 Amazon outpaced other platforms in advertising spending growth
Though the Prime Day was pushed to Q4 2020, spending on Amazon Sponsored Product Ads increased to 50% YoY which was a 22% growth from Q2. Sponsored Brands ad spending increased 74% YoY, up from 58% growth from Q2.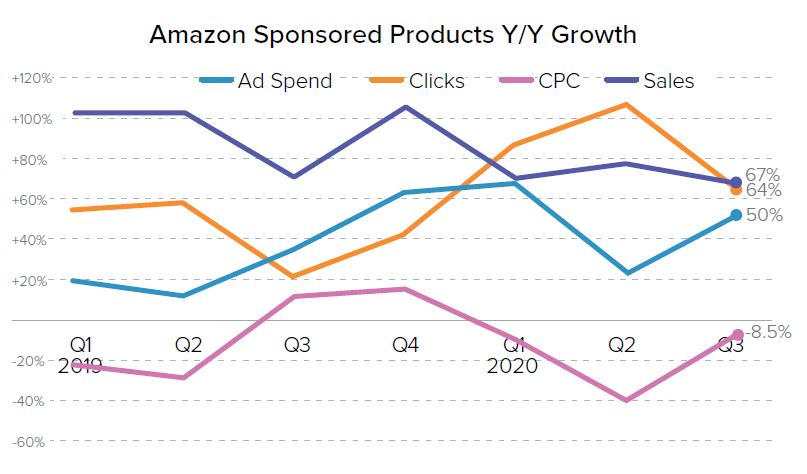 Average CPC of Sponsored Products was down more than 8% YoY and improvement from 41% drop observed in Q2. On the other hand, average CPC of Sponsored Brands increased 16% in Q3. Sales produced by Sponsored Products was up 67% and for Sponsored Brands it rose 113% YoY in Q3, 2020.
After facing fulfillment challenges and a dip in click volume in April (post the start of COVID-19), in September, Amazon ad clicks were 31% higher than in January.
Organic search visits declining by double digits YoY
Organic search visits to brand sites increase 28% YoY in Q3, which was down from 33% growth registered in Q2, 2020. Post COVID -19, digital commerce surged dramatically, leading to decline in organic search visits.
On looking at the verticals, travel organic search visits were down 37%, financial services saw a major deceleration with just 10% visit in Q3 followed by financial services at 20% and retail and consumer goods were stronger with visits up 42% YoY
Google driven store visits still down
Store visits produced by Google search ads were 30% below the January levels in Q3 2020. Though the retailers did witness a better in-store purchase rate, in September the store visits were down 23% when compared with January standards.
Google Shopping Ads Accelerating Again
After lagging behind text ads growth in the first half of the year, Google Shopping Ads grew 12% YoY in Q3 2020 which was up from 7% in Q2.
Amazon, after having recovered from fulfillments setback and pausing Google Shopping Ads in March after the onset of the pandemic, is now prioritizing Google Shopping over Google Text Ads.
It is fascinating to know that Google Shopping click share of retail has been stuck at 60% ever since Q4 2018