A PPC campaign is incomplete without keywords and search terms. Where one initiates the process of showing your paid-ad, the other is the term customers are actually searching for. To make it simpler 'keywords' are those terms that an advertiser bids on and search terms are those queries for which your ad gets triggered.
Lets simplify this with an example.
For instance, your campaign has bidded heavily on the keyword 'shirt' but what drives maximum results is the term 'formal shirt'. So basically, 'formal shirt' is what the customers are searching for.
Why it is important to know the difference is because 'keywords' are advertiser's best opinion of his ad, where as 'search terms' are the opinions of the customer. So advertisers need to make sure that their keywords closely match the search query of the user.
When starting your campaign, you may have to broadly opt for a keyword that best suits the campaign and the ad objective. However, to make sure that your ad gets displayed at the right time, you can take the help of 'Search Terms Report' to identify keywords worth bidding
Here are the quick steps to generate your search terms report in Bing Ads
Step 1: Go to reports and then click on 'Search Term' on the left bar

Step 2: Select the campaign or account for which you wish the generate the report. Enter the other details and download the report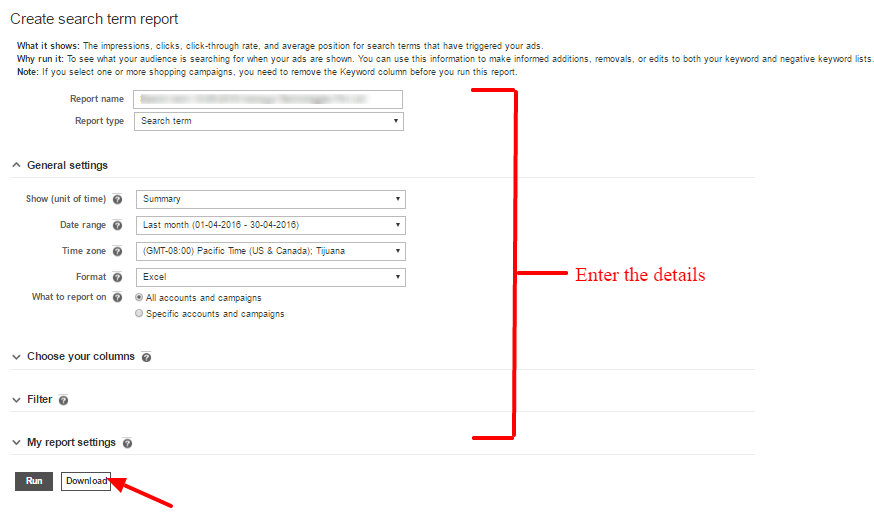 How to Use the Search Terms Report in Bing Ads?
It is advisable to review your search terms report on an ongoing basis to help do the following:
Identify new keywords to bid on that are driving traffic to the site. These keywords that have yet not been bidding on is an opportunity to focus your ads to show for queries that are profitable for your business
Identify those keywords that are not related to your business or service called the 'negative keywords'. They are equally important as they control your budget from getting depleted on terms you don't want to drive traffic for.
Now that you know what the difference between keywords and search terms is, and also how to generate your search terms report, we bet you can make some strategic improvements in your approach.
More how-to's on its way. So, keep yourself glued to our blog.
Note: Karooya's Negative Keywords Tool for Bing Ads is now Free for accounts with ad spend less than $10,000 per month. Save 10-20% of your search ad spend for free. Sign up and start saving your ad budget now.
Related Articles: