The recent Bing Ads Quarterly API Call was held in the month of January. The team made a series of improvements and updates that have or will soon be launched in the Bing's API interface. Some of the announcements made were around Ad Extension Scheduling, In market and custom audiences, price extension, multi-account management and more.
The host of the session was Tiffany Sanders and the contributors were Sabeshan Iyer, Program Manager, Bing Ads API Products, Joseph Damiani, Program Manager, Ad Extensions, Dynamic Search Ads, Ashwath Mohan, Program manager, Initiatives, Bing Ads, Akshaya Pragadeeshram, Program Manager, Campaigns, Seniha Koksal, Program manager, Url Management, Bing Ads, Neha Mohan, Senior Program Manager, Bing Ads, Juan Carlos Ousset, Program Manager, Accounts & Billing, Bing Ads, Elizabeth Johnson, Sign-in, Sign-out, Bing Ads
You can view the video here.
Here's the transcript of the video for your reference:
Transcript:
Tiffany: Hello everyone. Thank you all for joining the Bing Ads API quarterly call where we are happy to share with you what's new and upcoming in Bing Ads API product roadmap. Our goal is to make sure that you walk away with a clear understanding of all the benefits our Bing Ads features have to offer as well as the resources to support you with the adoption of these features. Before we begin, I wanted to take a moment to introduce you to our presenters.
My name is Tiffany Sanders and I will be your host. I'm an Operations Program Manager working on the API partner business team. Sabeshan Iyer is a Program Manager for our Bing Ads API products which includes the ad insights, bulk, campaign management, customer management and billing and reporting services. Joseph Damiani is a Program Manager for all things ad extensions and dynamic search ads.
Ashwath Mohan is a Program Manager looking after initiatives such as ID mapping, audience modelling and audience targeting. Akshaya Pragadeeshram is a PM on the Campaigns team responsible for App Install ads and ad extensions scheduling. Sneha __01:03 is a PM working on improving URL management through upgraded URLs and introducing new ad products for advertisers. Neha Mohan is a Senior Program Manager working on product ads and Bing shopping campaigns. Juan Carlos Ousset is an Accounts and Billing PM responsible for payments and spend management. And last but not the least, we have Elizabeth Johnson, a Pm focusing on sign in, sign up and user and account management with a special focus on agency client relationships within Bing Ads. Our camp's Mayo and Praveen will be answering your questions via the chat window throughout the call today, so please be sure to submit your questions throughout the call. We've also set aside 10 minutes at the end for Q&A.
Please note that as many of the features discussed in today's call are either early planning or pilot phases. Dates and information is subject to change. So with that, let's jump into our agenda. We have a lot of great features to go over with you today including API v11, several extension in URL updates and remarketing and custom audiences, just to name a few. With that, I will now turn it over to Sabeshan where he will kick things off with what to expect in API v11.
Sabeshan Iyer, Program Manager, Bing Ads:
Sabeshan: Thanks Tiffany. So, as some of you might recall, in our last quarterly call in September, we talked about API v11 and our plans for introducing that this year. We are glad to announce more details in this call today. So, in terms of what's coming up in v11, just a brief, kind of, contact with that. We are introducing all the changes made to services v9 in v11, the current services and including all the changes as part of this update. And, because all the services are moving to v11 at the same time, it makes it easier for you to upgrade to the latest.
So, what is actually included in v11? So, at the very minimum, we have new end points for all the services – for ad insights, bulk, campaign, customer management, customer billing and reporting services. We have also made some enhancements, changes to the bulk and campaign services. One thing to note is that when we're introducing new features and updates throughout the year, we'll be primarily considering API v11 for those changes, so if you're at the current versions v9 and v10, we strongly encourage you to consider upgrading to v11 as soon as possible.
In terms of timelines… So, API v11 is going to be available in Sandbox by early Q2, current year 2017 and also by this time, it'll be available in production. We'll be announcing exact dates, like also we get to these dates already here. And also, something to keep in mind is that currently we have versions v9 and v10, will sunset by early Q4 of current year 2017.
So, some changes that we'd like to point out, which are part of the API v11 release, are indicated here. So, the biggest change that we're considering here is basically moving targets and remarketing associations to the new criterion model. The main reason for doing so is to make it more convenient for you to integrate against our API for retrieving these properties of entities. Going forward, you know, when we introduce more and more criterions, it will become easier for you to get those as well as part of this design.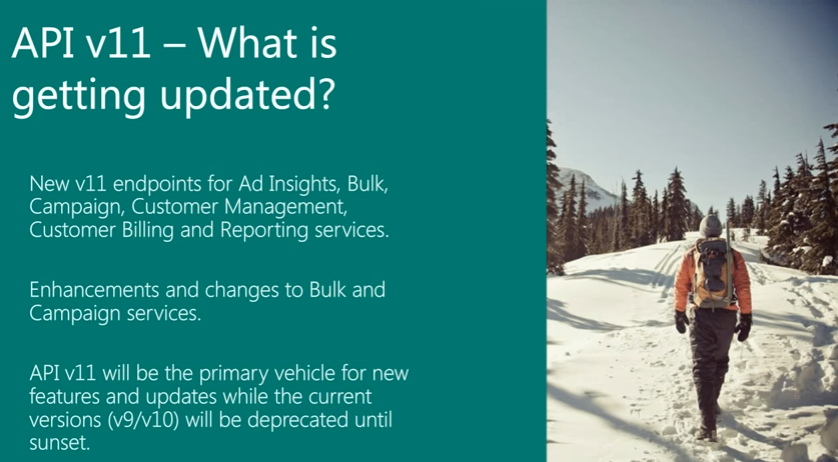 Other thing to consider is, we're also introducing a new bulk download entity which will include more types in the Bulk API. This is to make it simple for future entity types as well. And another important thing for you to note is we're actually removing monthly budgets from the campaign entity in favour of daily budget. This is going to happen in both bulk and Campaign API. More details will come regarding this change through a display.
And in terms of new features, we're introducing price extensions, which is an exciting new feature. We'll have more details coming up. We also have support for in-market and custom audiences. This is part of our remarketing workflow. This is again something that we'll cover shortly. And there's also some other changes which will make it easier for you to integrate with our API. And, as always, we'll have more detailed and specific changes included in our blog posts closer to the release date.
So, moving on to remarketing API updates, I just wanted to bring up some data related to remarketing ads. So we recently conducted test analysis and we noticed that in comparison to ads which had remarketing enabled versus one which didn't, we noticed that there is a positive conversion rate of 36% on the remarketing ads. There's also lower cost per acquisition on the remarketing ads to the tune of 22% point. So we just wanted to highlight this and emphasize that remarketing has a lot of great benefits and we encourage you to look into remarketing offerings.
So, in terms of the changes we are introducing for remarketing in API v10, we're actually making it possible for you to create, update and [inaudible 06:54] remarketing list.
This actually closes a gap in our work flow where, previously, you would have had to go to other entry points like our web application, BAE, Bing Ads Editor to do these operations. So with this change, you'll be able to perform all the operations in the remarketing lists while in your application without having to switch contacts. So this could definitely make it a more efficient for you. And we've also added support for remarketing exclusions which we covered in our last quarterly call. Really briefly, remarketing exclusions help you to tweak your definition of your audience so that you could exclude, you know, customer space and conditions which would, you know, optimize your conversion bulk.
So, in terms of the actual changes, we're introducing changes in both campaign management API and bulk API v10. So, we're introducing new service operations for adding, updating and deleting remarketing lists, and all these operations are subject to a maximum of 100 IDs. We also have introduced a new record in the bulk API for remarketing lists. It's important to keep in mind that all these changes will also be a part of v11 when we introduce it later this year.
So, in terms of exclusions, we already have added support for remarketing exclusions in campaign management API and it's part of the pilot that's ongoing right now. If you're interested in being part of this pilot, we encourage you to let us know. We'll have more information on where to sign up for pilots at the end of this presentation. In terms of changes to bulk API, we'll be announcing that closer to when we actually have plans to release that. So, coming up next, we have Ashwath Mohan, who's going to talk about in-market and custom audiences. Ashwath, over to you.
Aswath Mohan, Program Manager, Bing Ads:
Ashwath: Great, thanks Sabeshan. So, there's been very strong demand for audience targeting and, as you saw, the performance of remarketing has been excellent, so people are asking for more types of targeting from our platform. So if you look at the different sources of data that we have about the user, clearly the website engagement gives us the remarketing which we already have released. And the user information gives us demographic targeting; the location gives location targeting.
But some of the new areas that we're introducing and that I'll be talking about in the next couple of slides have to do with the search behaviour of the user which lets us create models and predict the conversion likelihood for various interest categories as well as custom audiences. So if the advertiser has information about the users, about what they've purchased and they want to share that with us, and have targeting segments for those users, then we're going to enable that as well with custom audiences.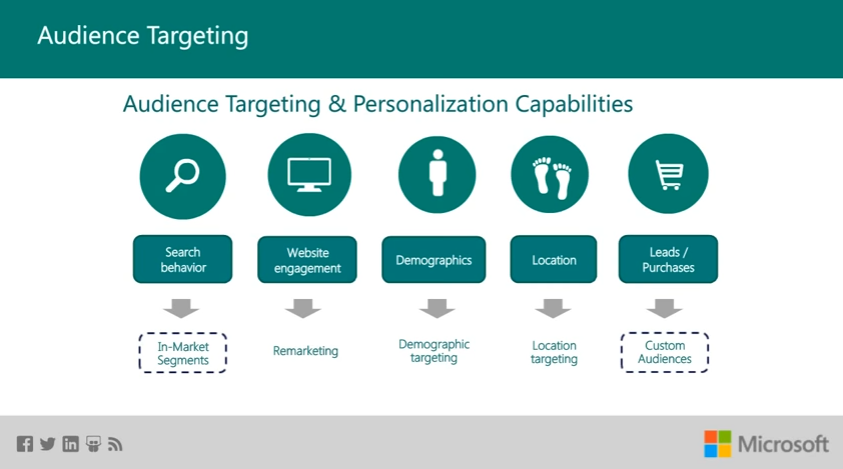 So the goal with in-market audiences is to really understand the interest of users and put them into segments. What we do is, we enable targeting on the behaviour of the user on search, so depending on the kind of queries they enter, their activities on Microsoft services, we predict the probability of conversion for various categories. So you may have a category for "Lxury Goods" or for "Shoes" and we will predict what the probability of a single user is for these various categories, and then bundle them up into pre-curated lists and allow the advertiser to target and [bid] boost on them.
So the benefit is that the advertiser can reach the right mix of users that are appropriate for their campaigns and ad groups and get higher conversions, increased ROI, and users see ads that are more aligned to their interests. So the search query has to be relevant, and on top of that they are layering this additional signal of an interest or in-market category, predict if someone is in-market for a certain product.
So, we've started a pilot. We started earlier last year and we have about 40 advertisers today in the pilot. We've quantified what the benefit is in terms of the list they are seeing for conversion rates as well as cost per acquisition. We've also looked at the reach, you know, what percentage of their impressions are in-market versus out-of-market and we're seeing very positive results. I'll share that with you in the next slide. We are planning to go into an open beta in the early Q2 calendar '17 timeframe, and the GA is likely to be sometime towards the end of the first half of this year.
So, just a quick snapshot on the performance of the pilot: We're seeing that when you compare… For those advertisers that did a positive boost for various categories that their campaigns aligned with, we're seeing if you compare the positive boosted segment versus the non-targeted segment, the impressions that were out of segment versus the impressions that are, you know, that we predicted were in-market for that category, we saw that the conversion rates was higher by a 112% and the CPA or the cost per acquisition was lower by 50%. So, very strong indicators that the users we're identifying in these segments are more likely to convert and help the advertiser.
The second capability is custom audiences. So, a lot of times, advertisers have data about the user that they want to share with us and they want to re-target those audiences. And this could be based on a pixel that they put on their website through a data management platform partner and what we're working on is integrations with data management platform partners to allow an ID sync with them as well as a Data sync with them in order to really see these segments in the Bing Ads platform for targeting. So specifically, we're working with Adobe and Oracle on this in the first wave and we're open to on-boarding more data management partner platforms as well down the road.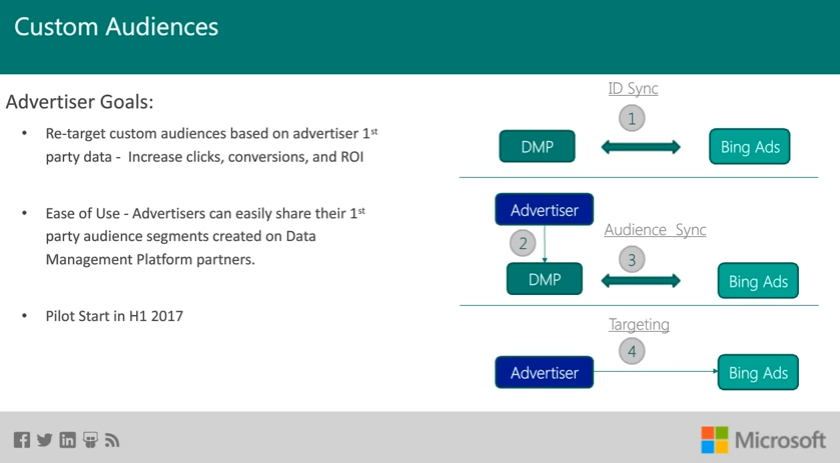 The way it'll work is, the DMP and Bing Ads has an ID sync, so we know what the ID of the user is on the Bing Ads system by syncing it with DMP ID. The advertiser has presumably instrumented their website for the DMP pixel in order to get that. The advertiser also is creating segments on the DMP's web UI to say that these are the users that are interested in a certain section of their product inventory, for example, and they are instructing the DMP to share that data with Bing Ads.
So in step 2, if you see, in the slide there, the advertiser asked the DMP to share the data with Bing Ads and at that point, the audience data, that is, the user IDs belonging to segments starts getting synced with us and we expose that in the Bing Ads platform.. So when you go in and I have a screen shot next to make that more concrete, is that the advertiser can then do targeting as well as bid boosting for those specific segments that were shared from the DMP to us. So the pilot for this will start in H1, probably in the middle of the second quarter of calendar 2017.
So I'll use the UI screenshot just to illustrate conceptually how this will work. Today people are used to associating remarketing lists with ad groups, so it's similar in concept, where you can go and create an association. Now, instead of just having the remarketing list, you have two new types of audiences that you can also associate. So the categories being added are in-market audience, which is based on the search behaviour of the user as well as the custom audience, which is based on the advertisers' data about the users that they have shared with us.
So you can choose any of these types of audiences and do a 'Bid Only' or a 'Target and Bid' setting.
The API support of it is planned to come with, coincide with v11, so as v11 comes out, we will enable support for the association as well as the management, the 'Create' association' as well as the management that includes the update and delete functionality, will be supported with the v11 API. And from a reporting standpoint, the "Audience" tab will rake out what the performance of each type of audience is. So remarketing lists will be there, but in addition, we'll have in-market and custom audiences as well in the report. So you'll clearly see what the performance of each segment is as well as the overall adgroup in campaign performance. Great. So next we have Akshaya Pragadeeshram, who will walk us through ad extension schedules.
Akshaya Pragadeeshram, Program Manager, Campaigns:
Akshaya: Thanks Ashwath. Hello everyone. We are excited to announce the release of this highly requested feature – ad extension scheduling. This feature allows you to control when your extensions are delivered for the time that's most ideal for your business. You can enhance your ads with time-sensitive offers with one of our many ad extensions to highlight DO's and promotions. This feature is available in both Campaign and Bulk API. The ad schedules start date, end date and [use] searcher time zone are added to each of the ad extension record types.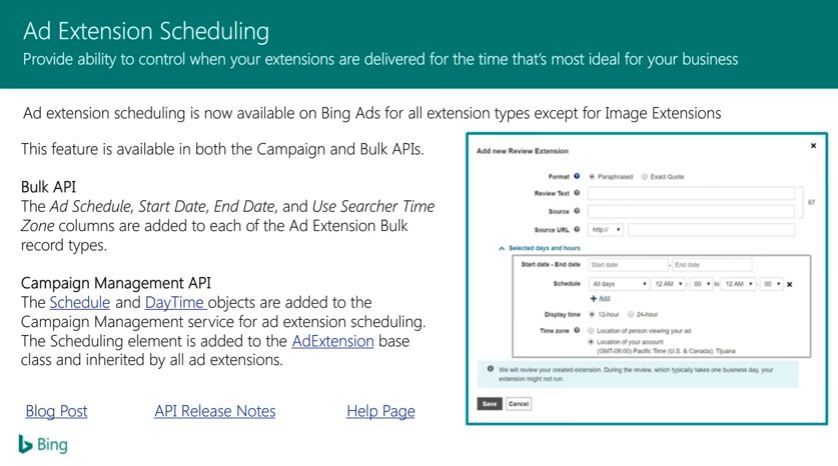 The "Schedule" and "Day-time Objects" are added to the campaign management service for ad extension scheduling. The scheduling element is added to the ad extension base class and inherited by all ad extensions. For more details about the API changes, please review our release note. Also, more details on this feature are available in our recent blog announcement as well as the "Help" page. Thank you, and we always appreciate your feedback. I will now pass it over to Joe to talk about price extension.
Joseph Damiani, Program Manager, Ad Extensions, Dynamic Search Ads:
Joseph: Thanks Akshaya. Hi everyone. This is Joe from the advertisers PM team. 2016 was a great year for us. In ad extensions, we released call-out, review, and structures with extensions and as Akshaya introduced to you, we're just getting started here at 2017. Complementing our release of ad extension scheduling, we started working on price extensions. If you take a look at the snapshot in the bottom left, a price extension is the extension you see attached to the bottom. You have a link or a header, 'Women's haircut', 'Men's haircut', 'Kids haircut', a description and then you're able to show a price alongside of it.
Price extensions are great to show searchers what they want, when they want it. You can imagine someone here who has come to the Bing surf on their mobile phone looking for best hair salons near them and looking to book right then and there. So instead of showing them, you know, an ad headline or simply call-out extensions, you can show them your converting experience right within the Bing surf. We support multiple languages with price extensions, currencies like the US dollar, Euro, units, if you're selling services, like, per hour, per week or per day, and lastly, price qualifier. So price qualifier, if you take your gaze back to the image again, is the word "From." So you might want to indicate that your prices start 'From $70' or alternatively, could be let's say 'Upto $100.'
Price extensions are a great way to enhance your mobile strategy. As with all our extension releases, we bring them to you because they increase click-through and conversions. And price extensions specifically are a great way to directly sell your products and services on the surf. We'll be running a UI pilot during the calendar year first quarter and then plan on releasing price extensions along with all of the other great functionality that's coming out in our API v11. And so, be on the lookout for price extension documentation coming out with other v11 release materials.
Our next stop… So we covered 2 new ad extension releases, we have 2 ad extension refreshers. I'll just spend a couple of quick minutes on each of these. And first off, we have the Sitelinks upgrade or upgrading your Sitelink extensions to Sitelink2. The benefits with this change using the – I'll use the visual aid in the bottom – is that we're taking what used to be a "Sitelink extension with multiple items" and translating that into "Each Sitelink is now its own extension."
The benefits from this are are you'll see per Sitelink reporting, simplified management… In the past, if you wanted to, let's say, take a Sitelink that was an item within one Sitelink extension with another, that was impossible. But now, as each extension owns itself, you can share Sitelinks between Campaigns and Ad Words. And then, we've also increased the limit up from 10 to 20, on the number of Sitelinks you can associate with your…. We've been working with many of you guys to schedule your upgrades this year or even this quarter. So be sure to be in touch with your TAM or contact our upgrade alias to align your schedules with us.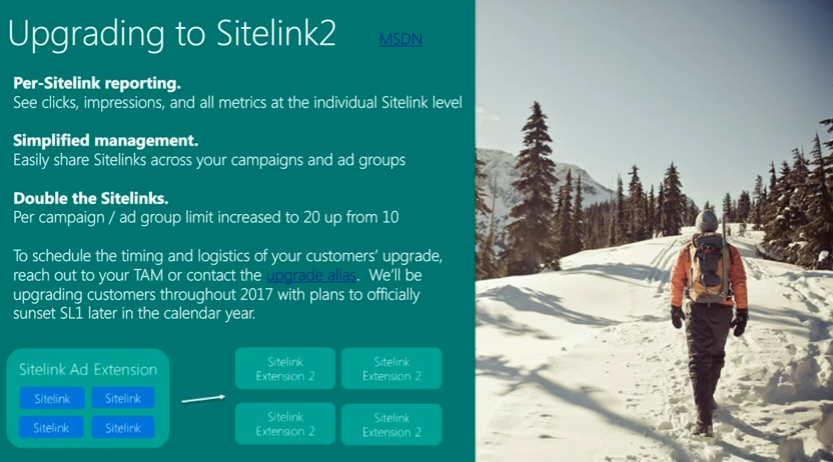 And our last refresher is, you guys probably remember from the previous call, is Dynamic Search Ads. DSA, for those who didn't have a chance to join us, is a keyword-less type campaign designed to reduce the burden of bulky operations for our large customers, so many of your customers as well. In the bottom, we have a simplified flow for DSA, which is, you provide us your website, tell us what content on your site you want to target or exclude, we generate ads dynamically based on searches that align with the content we found on your site. Benefits of DSA, as I mentioned, are simplified management, not needing to manage keywords. Since we're doing ad generation, you don't need to do manage ad titles or landing pages. We make targeting very simple; you can target all of the web pages on your site, specific pages based on rules or even categories that we have generated.
DSA is a great way to compliment your text ad campaigns and catch any queries that you might be missing and of course, from that comes increasing your ROI. So we have a UI pilot running, we started in our previous quarter of last calendar year and it's running well, we are increasing adoption. We're planning on ramping US availability of the GA throughout the second quarter, so be on the lookout for other updates and definitely DSA is something on your radar for the newer term. Thank you very much. Now going to pass it on over to Seniha, to talk to you about Vanity URLs.
Seniha Koksal, Program manager, Url Management, Bing Ads:
Seniha: Thanks Joe. So Vanity URLs, as you know, for extra customer would know, that we generally take the path from your Final URL and place it for you but for Vanity URL, since pharma customers have got different scenario responsibility for their ads, we let them to edit this path so they can enter their Final URL and for the Display URL path here, as you can see, they can still edit the first path that they…also generated from the Final URL. So this is like a limited [J] functionality that just covers pharma customers, so if you're interested, you can contact with us and we can provide this functionality for you. And there's an ad copy truncation. For more about that, you can check our 'Help' page. And next I will introduce you to Neha. She will talk about upgraded URLs.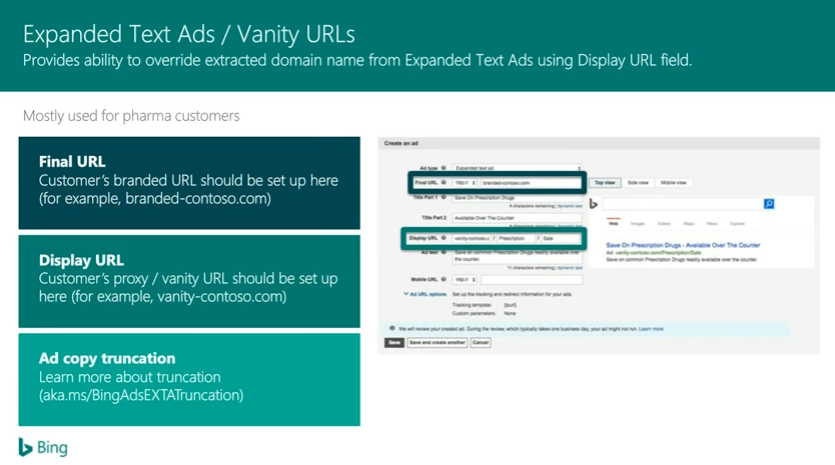 Neha Mohan, Senior Program Manager, Bing Ads:
Neha: Hi. Good morning everybody. This is Neha Mohan from product ads, Bing shopping campaigns. I'm glad to let you guys know that the biggest complaint which we were hearing once we launched upgraded URLs was the fact that BSE did not support this at the account, campaign or the ad group level, which was slightly not in parity with what was happening on text ads and hence this was creating a lot of problems for people who wanted to migrate holistically to upgraded URLs. So, with this release, we've launched support at the account level as well as the campaign and at the ad group level.
So in case anybody has any tracking template set at the account level, please go back and check. If you don't have anything set at the product group level, we will inherit the settings from the account level as well as the campaign level. So the existing rate or objects is not changing, it's just that we've added the back end support so that these are supported on Bing shopping campaigns. If you have something set at the product group level, the most granular setting will always take precedence, so nothing should change for you, but in case if you're waiting for these features to migrate everything on to upgraded URLs, we have this available in the API for everyone to adopt too.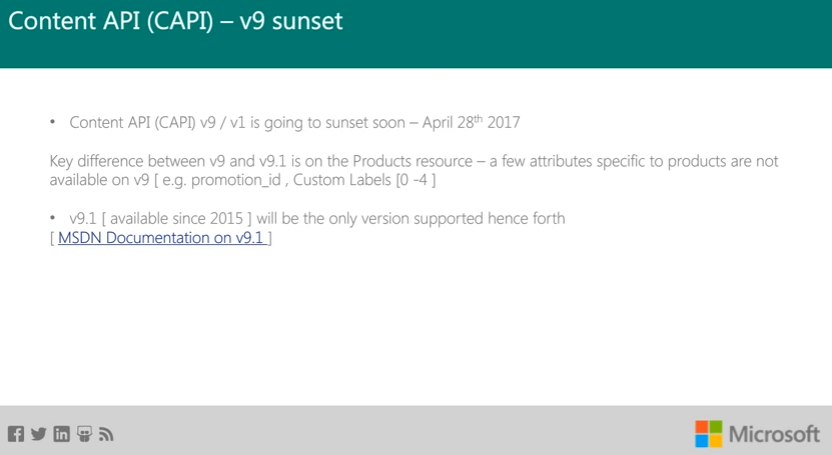 Nothing else changes in the 'Feed' perspective. In the 'Feed' side, you would still need the link column, you could still set a tracking template. In the 'Feed' side, we're not changing rules there, we've just added more support as part of this release. Moving on to the next one, Content API 9 sunset… So, folks who are familiar with Content API, we use that to submit offers on your Bing shopping campaigns store, which is the B & C store. So we use this Content API to adjust offerings programmatically. We have 2 versions so far, we had 9 and 9.1. 9.1 was released in October 2015, and by April end, we're planning to sunset the older version, which is the v9. Most of you should already be on the v9.1 but just a quick reminder for folks who're not still on 9.1 is to upgrade yourself onto, because we will be sun-setting v9 by end of April and any calls to v9 will fail after that.
A few quick notes on what's changed. The product resource has changed, we have added more columns in the v9.1 around customary boards and a few others which was not available in the older version, so upgrading to 9.1 will give you more options and more data rich feed. With that I would like to introduce you to Juan. Juan, the floor is yours.
Juan Carlos Ousset, Program Manager, Accounts & Billing, Bing Ads:
Juan: Thanks Neha. Good morning everyone. I want to take this opportunity to elaborate on the breaking change announcement that Sabeshan did for monthly budget application. As first announced last year during our June API quarterly call, we're now confirming that by April 30th, all Bing Ads entry points, including the API, web application, editor and mobile apps. will stop supporting the monthly budgets for all markets.
The following changes apply for the API: For v10, any attempts to add or update monthly budgets will result in an error and all existing budgets will be returned as daily. For API v11, we will never support monthly budgets moving forward. We strongly recommend that moving your campaign budgets to daily budgets before the end of April 2017, at which point we are going to be doing a forced migration to daily budgets for everyone.
Elaborating on that forced migration, all campaign level monthly budget will be converted to daily budget as follows: We're going to be using a formula where we'll grab the monthly budget amount and divide it by 30.4 and we're actually going to set it to be the campaign individual daily budget. If the results of the division in the formula above results in a value below the minimum of last campaign budget, then we will automatically set that to the minimum value. The delivery type will be set as accelerated for daily budgets given that they were actually able to spend as much as they could before being monthly. So again, the suggestion is to start moving budgets to daily as we're going to be having this forced migration from monthly to daily budget by end of April. Having said that, I want to hand it off to Elizabeth who's going to be talking about multi-account management.
Elizabeth Johnson, Sign-in, Sign-out, Bing Ads:
Elizabeth: Thanks Juan. Hi everyone. I'm going to change the turn over and talk about things that are more forward facing. But we just want to give you some context on the things that we're changing around how multi-account management works, so we were making it much more flexible and start thinking about how it may impact you in the future. So a couple of things that we're allowing our multi-account customers to do is we're allowing all customers to link to our account. So you don't have to be an agency in the system any more to do that.
We're also letting multiple customers up to 5 link to a single account, so this is the same functionality Google offers. We are just making things more flexible in our system as well. We're also going to be opening up the ability for you to create new accounts through the API. And we're going to allow one credential to be used to access multiple customers. And again, these are all things that are not coming in the immediate version but this is something that may have significant impact to you, so we wanted to give you a heads up that these things are coming.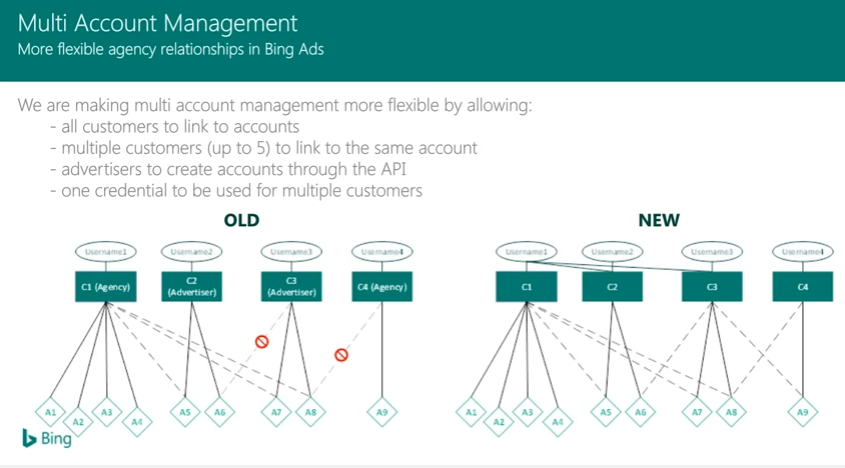 Another thing that is a bit more forward facing is Microsoft account credentials. So today, I'm sure you all know we support 2 different types of credentials. We have the old Manage Credentials and Microsoft account. Since we started supporting Microsoft account, we've been pushing users slowly and subtly over to Microsoft account but this year we're going to finish that off and we're going to have everyone on to Microsoft account, off with Manage Credentials so that they can always …increased security and recovery option that Microsoft account can provide.
And in terms of API impact, today after someone migrates from Managed Credentials to MSA, their old credentials still work with API but after moving over, we're going to stop supporting those in API. And so what you'll need to do is make sure that anyone who's using your tool or integrating with API directly is not relying on old Managed Credentials that may be have worked for a really long time and instead updating those credentials to use the new Microsoft account credentials that they migrated to. And with that, I want to hand it back to Tiffany for Q & A.
Tiffany: All right, thank you so much, Liz. Before we jump into Q & A, you should see a live poll question that has popped up. Please take a minute to provide your feedback. There will also be an opportunity at the end of the call to complete a survey as we would love to hear from you to help us improve these calls in the future. So if you could just answer: "As a result of what I've learned on a webinar, is it likely that I or my team will adopt one or more__ once they are available?"
And now that you've shared your feedback, I'm going to move into Q & A where I'll go over some of the great questions you've been submitting throughout the call today. And please do continue to submit those questions and while you're doing that, I'm going to go ahead and read through some of the questions that we've already received. So one question that we had was regarding v11 dates: "Will Destination URLs be supported in the new API version?" and that question also applies to Standard Text Ads. Sabeshan?
Sabeshan: Yeah, so we'll definitely be supporting Destination URLs in v11 at this time and we'll let you know when we have more information on when they'll be replicating.
Tiffany: All right. Another question that we had was, "What is the minimum budget value for the daily budget?"
Juan: If it varies by currency, so we'll probably post it in the blog on what the different minimum balance are per currency so that all the details are provided.
Tiffany: All right, thanks Juan. "Under v10 API, if a caller tends to set a monthly budget, should we expect an error message or send only ignore?"
Ashwath: I would say that we would throw an error message, plus it's more of the effect, it's not the …operation.
Tiffany: And, "When would the documentation be available for v11?"
Ashwath: End of March.
Tiffany: End of March, if anybody didn't hear that. All right, let's see… And we also had a question on, "Will the Bing Ads SDK be updated to support v11? If so, what is the release schedule for the SDK?"
Sabeshan: Yes, it will be updated and in fact, we have an almost [inaudible 34:41] so we will definitely make sure that we have the v11 updated and the SDK, on the release…
Tiffany: All right. And was there a date that was mentioned on pushing the user to MSA?
Liz: So we haven't mentioned a date yet. Pushing users to MSA through the web is something that has been an ongoing process and we're going to be continuing that and actually picking up speed over the next few months, but we won't remove support for the old Manage Credentials through the API until after we finish that, and we'll make sure to give you plenty of free time for how long that's going to happen but at this point we don't have a slot date.
Tiffany: All right. Thanks Liz. So another question here… "We have someone that's using v9 to download poll results, and they understand that the reporting API was not transformed to v10. But will it be available on v11, will there be any big changes, and will it still require…?" and actually that question cut off.
Ashwath: So I guess I can answer that question. It will be available in v11 and there is….l not going to be any changes at that time. We'll just be introducing a new end-point and it will have exactly the same functionality as v9. But throughout the year we'll be considering any changes, and we'll be making announcements before we feed those changes.
Tiffany: All right, thank you. And let's see… We have another question here: "What will the process be for switching over from Manage Credentials to MSA credentials? And when will those need to be done by and how seamless will this process be?"
Liz: Okay, so this actually gets a little complicated, but I'll try and explain it as well as I can verbally. But the process for switching from Manage Credentials to MSA, when you sign in on the web UI, if you're only using credentials on the API, then this doesn't exactly apply, but if you sign in while really on the web UI, we prompt you to migrate. We are, as we're pushing people over, we are sending them an e-mail notification where there is a link to get to this migration experience, so there's nothing that any of you need to do to actually migrate customers.
You just need to make sure that if you are currently using Manage Credentials or your users are using Manage Credentials, to make sure that they have gone into web Ui, they can sign in, just with the credentials that they're using, and go through the migration process, they be prompted, and it's really just you enter the email address that you want to use, you go in and do some things on the Microsoft account side and then you come back and you're finished. It's a relatively seamless process once you get into it but the entry point may be different depending on whether those credentials are used at both the API and the web UI or if they're only used at the API.
Tiffany: All right. Thanks Liz. Another question that we have is, "Do we have any plans on offering performance data in real time?" Neha, do you have any answer for that?
Neha: Sorry Tiffany, could you repeat the question please?
Sabeshan: I can really answer this question. So I don't think we have any plans for that right now, but any change, we'll let you know.
Tiffany: All right. And then, "Will we have a tracking template and product ad result and double redirect if the BFC product already has tracking?"
Neha: So, no, that will not happen. The lowest one will always [inaudible 38:31], so there will not be any double redirects or any appending of multiple tracking templates. The one at the lowest settings will always….and if they have something at the product group level, that will win. If they don't have anything there, then we'll default to the campaign one; if there's nothing at the campaign one, then we'll default to the account level one.
Tiffany: All right. Thank you. And thank you everybody for submitting all of the great questions. So I would like to end the call today by pointing out a few resources where you can find answers to your questions, announcements on new features and our Sandbox environment. You'll find everything you need at developers.bingads.com. And if you're looking for more information, please be sure to sign up for our monthly API read out newsletter where you'll find API alerts, new features and updates, current pilots and betas and highlights from our blog. And you can sign up for that email and there is an email subscription box on the front page of the desk on our site.
And if you are interested in signing up for pilots for API testing, please contact bingads-pilots@microsoft.com for pilot enablement. As we did share with you today, we do have several pilots launching soon. And you can also ask questions via twitter and we'd love to get feedback on features at our user voice page.
And we may have one more question. Nope, looks like we're good on questions, so with that, thank you again everyone, for joining our quarterly API call. The next call will be held in April and we look forward to sharing the next round of updates with you at that time. With that we will conclude the call. Thank you.
(Female Speaker) Thanks Tiffany. Please remember to take a moment to complete the event survey. Your feedback helps us create better, more engaging content. Ladies and gentlemen, that does conclude today's session. Have a great day.
Related Links: