While creating your Amazon Ads campaign, you will come across some default settings, that you must check before setting up your campaign.
In this post, we will address the default settings for Sponsored Product Campaigns:
Bids
1. For Sponsored Product campaign, the bidding strategy is by default set as 'Dynamic Bids – Down only'. If there is an alternate bidding strategy that you want for your campaign, then select that instead. Also, remember whatever option you choose here applies to all the bids within your campaign.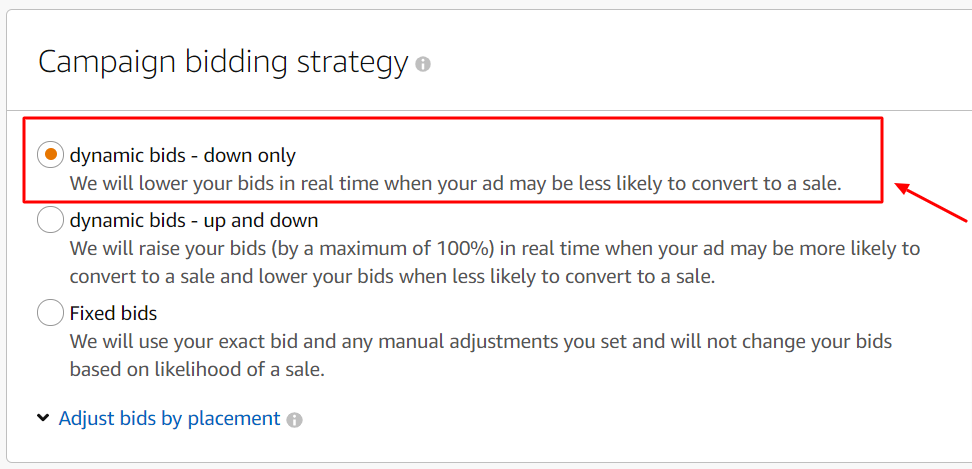 2. If you have chosen Automated Targeting, then you get to either choose a default bid or set bids by targeting groups. If you choose the latter then by default all the options are chosen, as shown in the snapshot below. You might want to choose how you want to bid here. You might also want to decide to bid higher or lower select groups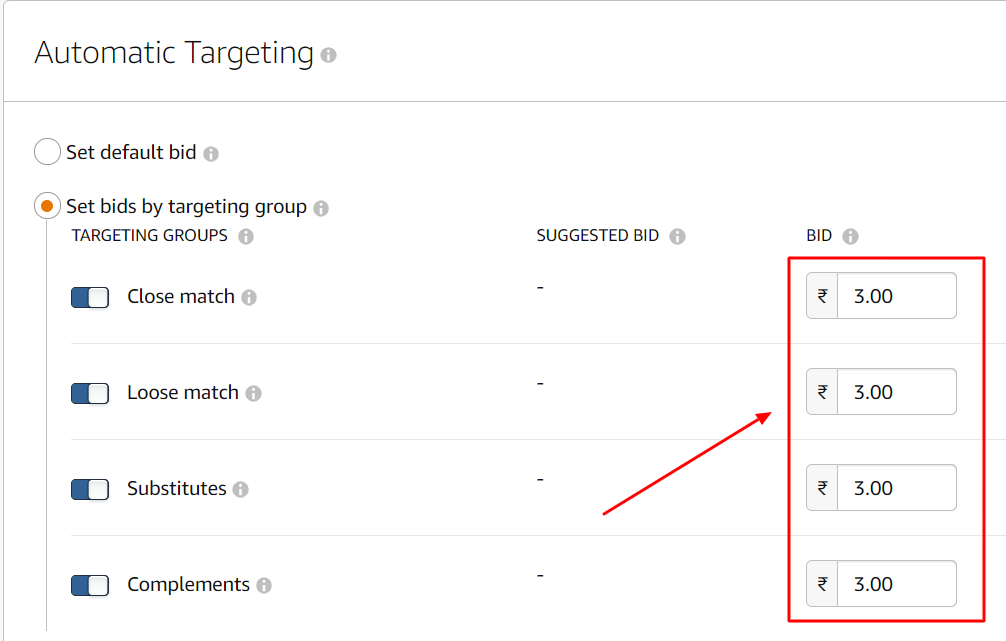 3. If you want to bid by a preferred placement, then you need to make bid adjustments for the same. It is by default set at 0% which you can decrease or increase as per your targeting objective.

Note that bid adjustments can be used only to increase bids for a placement. Negative adjustments (values less than zero) are not allowed.
Campaign Launch Date
No end date is set for when the campaign will end, where as the start date is set on the date the campaign was created. You might want to check these settings if you want to run your campaign at a later date or if you wish to run it for a predefined time-period.
Portfolio
With portfolios advertisers can group campaigns that meet their advertising goals. By default no portfolio is selected. But if you have created a portfolio that aligns with your marketing objective for the campaign then don't forget to select the portfolio option.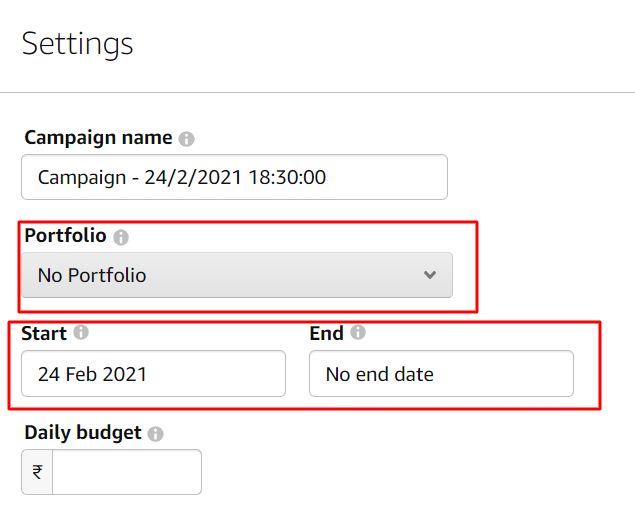 Active Campaign
New campaigns take approximately one hour before the ads begin appearing in searches. So, if you want to let your ads run then you can let it stay enabled or if you want to run it at a later time (post reviewing), you might want to pause the campaign
Campaign Targeting
You have two targeting options to choose from – Manual and Automatic Targeting. Once you have chosen a campaign targeting you can't edit it later. So, decide beforehand how you wish to operate your campaign.
Keyword Targeting
1. When under Manual Targeting you have chosen Keyword Targeting, then while entering your list of keywords, all match types are chosen). It would mean that any keyword you add from here would be added in the Broad, Phrase & Exact match type. Here, you might want to review the match types that you wish to add for your listed keywords.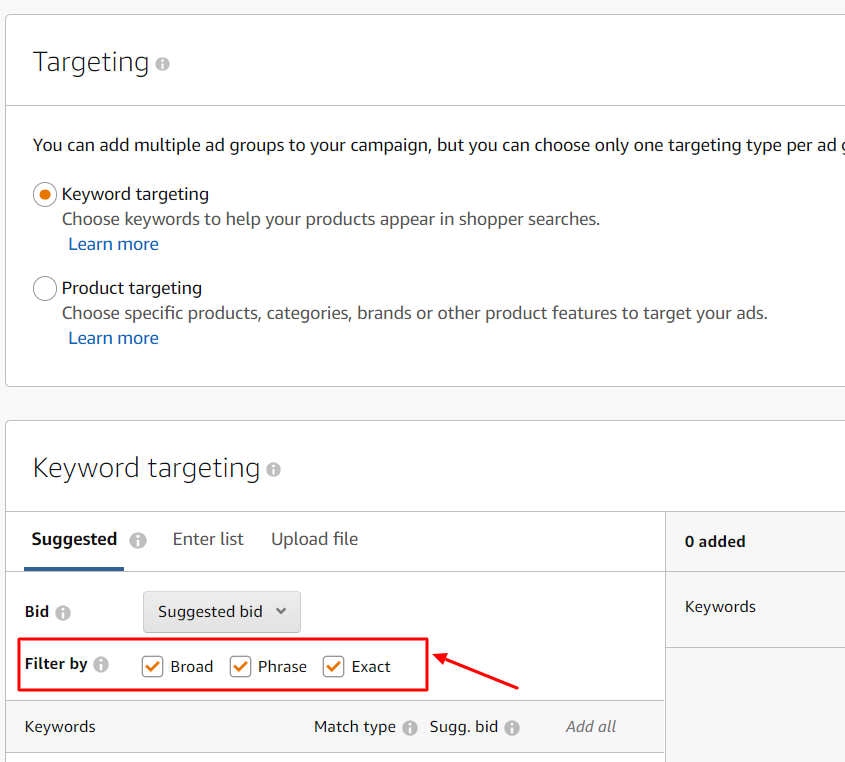 2. When Keyword Targeting is chosen, by default the 'Suggested Bid' is selected, which predicts the bids basis past activity. If you are not sure about that option you could choose from the other two available options which are 'Custom Bid' and 'Default Bid'
3. Negative Keywords are added as 'Negative Exact' by default so you might want to check which negative keyword match type to assign while creating your new campaign.
Budget Caps
You can control your total spend on Amazon ads by setting different budget caps at different levels.
1. Campaign level (Max daily budget) – It's a mandatory setting when you are creating your campaign. It controls the average daily spend of the campaign. You can later alter the budget from campaign settings.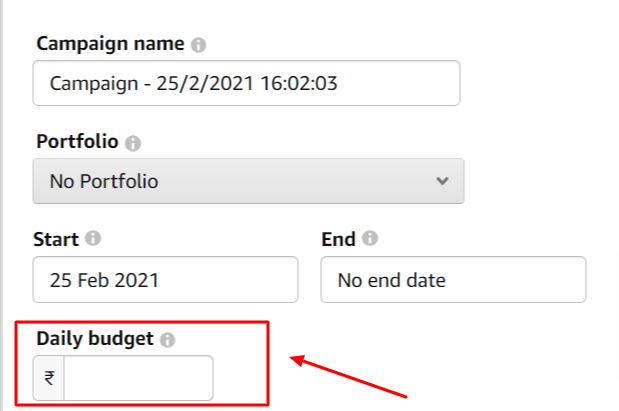 2. Account level (Max daily budget) – It's an optional setting. With this setting you can control the maximum amount you want to spend on Sponsored Product Campaigns from your account in a day. This is set at the account level.

3. Portfolio level – Portfolios can be created to group similar set of campaigns. You can set a budget cap at the portfolio level also. You can decide whether to set a monthly budget or for a custom date range.
Note: Karooya's negative keywords tool for Amazon Ads is a powerful tool that saves your ad budget and time. It is Free for accounts with a monthly spend of less than $3000. Learn more and sign up today to improve your ACoS. 
Related Links: