The Google Performance Summit held on 24th May 2016, shared some interesting developments that Google is introducing in the search engine advertising space. Expanded text ads, a sneak peek into the revamped AdWords interface, easy bid adjustment basis device types, demographics for search ads and many more major improvements and enhancements were shared with the world.

These developments were shared by key team leaders from Google. Sridhar Ramaswamy (Senior Vice President Ads & Commerce), Jerry Dischler (VP of Search Ads), Brad Bender (VP of Display & Video Ads), Matt Lawson (Director, Performance Ads Marketing), Samantha Lemonnier (Director of Engineer, Adwords Platform), Babak Pahlavan (Senior Director, Measurements & Analytics)
You can view the entire summit video here.
Here's the transcript of the summit:
Ladies and gentlemen, please welcome to the stage Senior Vice President of Advertising and Commerce, Sridhar Ramaswamy.
Sridhar Ramaswamy, Senior Vice President Ads & Commerce:
Sridhar: Good morning everybody. Welcome to the Google Performance Summit. Thank you for joining us today in San Francisco. As Matt said, we're also being joined by thousands of Ads Analytics customers, watching live, across the world. So let's say, 'Hi' to folks from London, Berlin, Mumbai and Tokyo. That's pretty awesome, across the globe! Welcome.
This is an exciting moment for Google. For the first time, the world's top marketers and Analytics experts and their agency partners are all here in one room together. Amazing companies like Xperia, American Express, Rocket Internet, Supercell, Agoda and MercadoLibre are all here, and so many more. And what I personally love about this event is the chance to hear from you, is the chance to learn from you, our customers and partners, round the globe. And one message that we continue to hear is "Mobile changes everything." And this isn't an evolutionary change any longer; it's a revolutionary one.
And over the last several years, we've made major changes to how we think about and build our products for mobile. But accounting for mobile, and designing mobile first are just two very different things. Today, I'm really privileged to share with you a whole new vision for Ad Words and Analytics, completely redesigned and rebuilt for a Mobile-first world. And I say Mobile-first for a reason. The shift to mobile is no longer something that will happen or is happening; the shift's happened. How do we know? Well, why don't we Google it? "Okay Google, how many searches were done on Google globally last year?"
Google: "There are now trillions of searches made globally on Google every year."
Sridhar: That's trillions. And as of last year, more Google searches take place on smartphones than on desktops and laptops globally. And across the millions of websites using Google Analytics today, we're seeing more than half of all that traffic come from smartphones and tablets. Marketers are no longer asking if they should invest in mobile; folks like you are asking how they should invest.
So how should you invest in mobile? To answer that question, we have to understand how consumers use technology to connect with the world around them. For many of us, our phones are the first thing that we pick up in the morning, and the last thing we put down at night. As a result, brands have more moments throughout the day to connect with consumers than ever before. So it's critical for marketers to know which moments matter, and which moments don't.
If I'm texting my spouse, or checking out my friend's vacation photos, I'm not necessarily looking to engage with a brand. In fact, brands that interrupt us get in the way. But then, there are these moments that truly matter, moments when we turn to our smartphones for help in making a decision, or accomplishing a task. At Google, we call these Micro-Moments. Morning commutes on the train are now an opportunity to book that long weekend getaway, or shop for a gift for Father's Day, which is only a few weeks away in the US.
And at the grocery store, people turn to their phones for help choosing the right product.
And back at home, their tablet might help them learn to fix a leaky faucet, or find a plumber when they give up, like I'm often subject to doing! So these are the, 'I-want-to-know', 'I-want-to-go', 'I-want-to-do', and 'I-want-to-buy' moments, and they represent a great opportunity to connect with your consumers.
But in order to win these moments, brands have to meet consumer needs by first understanding their intent, and the context around it.
And one of my favourite examples of a brand that understands intent and context is Toyota. Within the automotive category, search interest for pictures of specific brands has increased by over 35% in the past year. And 80% of these searches are happening on mobile, perhaps sparked by what people see on the road, or in parking lots. To be useful in these "Is it right for me?" moments, Toyota started using Google's new Automotive Ads.
These ads show beautiful images of Toyota's latest car models, from their leather interior to all the exterior colour options. Toyota understands the importance of delivering the right experience based on people's context. And on mobile, people are looking to swipe and interact, and not just click and go somewhere. Another customer that's innovating for Micro-Moments is Macy's. When consumers have an 'I-want-to-buy' moment, whether that's getting the perfect graduation gift, or finding the right running shoes, Macy's is right there.
And of course, Macy's both has an eCommerce website and lots of physical locations. So, building for mobile meant directing people to the right storefront, whether that's online, or physical. So, how did Macy's go about doing this? For people searching on their laptops, Macy's encourages a visit to the website, linking shoppers directly to the products that they are looking for. For people searching from their smartphones, Macy's offers the ability to call a local store or of course, get directions. Customers can also see which kinds of products are in stores, how many are available, and at what price – all from right from within the search result.
For Macy's, generating experiences from mobile allows them to improve not only online sales but also drive good traffic to physical stores. Successful brands like Toyotas and Macy's are the ones that have rethought their approach to marketing with Micro-Moments right at the heart of their plans. They're the ones that understand all aspects of these moments, and then deliver on them in a way that speaks to people's needs right where they are and right when they reach out. They're the ones that understand their customer's needs by understanding intent and context.
And as a company fundamentally built on intent, Google is in a unique position to help all of you. And we can do it at scale.
Google Search, YouTube, Maps, G-Mail, Android, Play and Chrome now serve over a billion users each. And the Google Display Network reaches over 90% of all internet users and includes more than 2 million publisher websites and apps. And every day, Google Analytics processes over 500 million digital interactions across devices; moments like site engagement, app downloads and yes, conversions.
And with insights into these billions of interactions and touch points every day, only Google can provide you with a deep understanding of consumer intent and context that you all need to win in this Mobile-first world. Over the next 40 minutes, our team will share with you how we've applied insights, technology and all of your perspectives to deliver amazing innovations in Ads and Analytics. These innovations, again, built based on our understanding of intent and context, and importantly, they're designed to help you be relevant to your customers based on the device that they're using, where they are and what's nearby, and the things that your consumers care about.
We will show you how we've combined the power of intent and context to grow your business in ways that only Google can help. We'll also be showing you amazing demos of the new Ad Words experience and the Analytics 360 Suite to show you how our platforms will enable this Mobile-first approach to marketing. And that'll be something you don't want to miss.
So, let's get started. Three years ago, our industry experienced a seismic shift. Consumers were increasingly moving between devices, searching for things on the go, and connecting with businesses throughout the day. Laptops and desktops were still the primary device for most consumers because most businesses didn't have mobile-optimized sites, and check-out processes were really clunky on mobile. In that Desktop-first world, we launched enhanced campaigns.
Dull marketers reached consumers with the right ad on any screen in a smarter and more efficient way. We did this by introducing mobile-preferred ads, and making it easy to adjust bids for mobile. But we anchored your entire campaign on desktop, and then asked about mobile. I know it was controversial at that time, but I've to say, it's worked really well. And that was three years ago, and a lot has changed in these three years.
Now, if the starting point for your consumer is a 5-inch screen, shouldn't your advertising strategy be anchored to that device as well? Mobile ads are no longer an add-on; they are the imperative. And mobile bids are more than an adjustment; they are foundational to your success. As a result, we've had to break three of the constraints of a Desktop-first world, and rethink how our products work in a Mobile-first world.
So, how should ads be designed for Mobile-first? How should bids work for Mobile-first advertisers? And how should marketers' measure impact, both online and offline, in a Mobile-first world?
Really, how should marketing work in a Mobile-first world?
Today we're announcing a whole new, completely re-imagined ad platform, built from the ground up, to help consumers and marketers succeed. We've completely overhauled and optimized how ad creatives look on mobile. We've redesigned bidding so that marketers are more controlled over how and when their ads show on all manners of devices. And we've re-imagined measurement to bridge the online and physical worlds. And we've completely redesigned the platform that you use to build marketing campaigns. So today, we'd like to show you how we've rebuilt ad words for this Mobile-first world.
First impressions are lasting impressions, and text ads are how you introduce consumers to who you are, and what you do. They help you be there, and be useful, when consumers are looking for answers. So, what does your text ads look like in a Mobile-first world? Earlier this year, we removed right hand side ads on desktop; we did to improve the search experience, but also make it more consistent across mobile, desktop and tablet. This opened the door to re-imagining what a text ad should look like. And these changes have let us do the biggest update to the ad creative since ad words was introduced over 15 years ago.
In rebuilding search ads for this Mobile-first world, we've made two critical changes. Our research shows that ads with longer headlines are more useful to mobile users because they provide more information before they actually touch.
We've also expanded the number of characters that can be in your description line. We now have one long 80-character description line. Combined with your two headlines, that's still nearly 50% more ad text for you to highlight your products and services.
Based on early testing, some of our advertisers have reported increases in click through rate of over 20% compared to current text ads. Taking advantage of this format early will be critical to your success.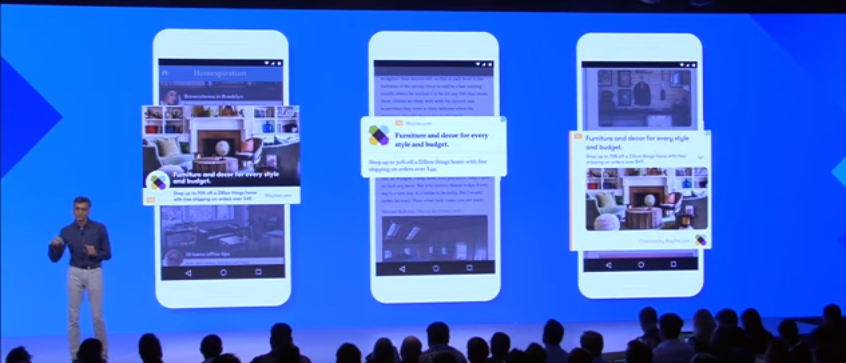 We encourage you to start thinking about what your ads should look like and making plans for when we roll out this format widely later this year. And display ads must also deliver a consistent experience across devices people use and fit seamlessly within the websites and the apps that consumers visit, whether that's a news website on a smartphone, or a gaming app on a tablet.
So we asked,
"What should display ads look like in this Mobile-first world?"
On the Google Display Network, we needed to design a system that will do the hard work for you, because there are a lot of different kinds of sites and apps. that are out there. So you can simply provide us with headlines, a description, an image and an URL, and let Google do the rest. We'll create beautiful ads for you that fit any webpage or app. And this redesign will also unlock native ad inventory across the GDN.
Somebody's happy [chuckles].
Making creatives beautiful and easy-to-click, tap and swipe is our top priority and this rethinking helps us to do it. Let's switch gears: what does bidding look like in a Mobile-first world? Well, first you need more control over the way you optimize across devices. And second, you need much more flexibility around how much you bid for each device. That's why, starting in the next few months, you'll be able to set individual bid adjustments for each device type – mobile, desktop, and yes, even tablet.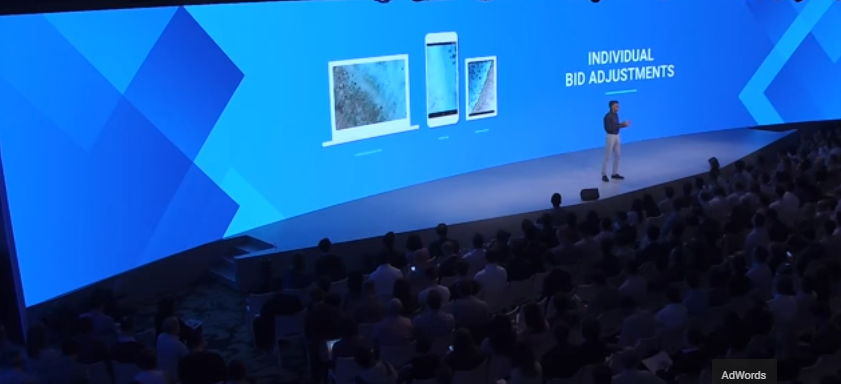 You folks have asked us about this, again, in this very forum last year, and I'm really glad that we're able to, you know, listen to you and bring this forward. So you anchor your base keyword bid to whichever device drives performance for you, for your business. And then you adjust the bid with up or down with expanded ranges all the way up to +900% for each of the other devices. With this additional control and flexibility, you can now optimize your bids for the devices that matter the most to you, all, again, from within a single ad words campaign.
All of this is in your ad words, redesigned and rebuilt based on a unique understanding of the intent and context that only Google has to help marketers win in the moments that matter the most. Now, I'd like to invite Jerry to share with you the next generation of products that'll help you reach consumers with relevance as they explore and connect with the world around them. Jerry.
Jerry Dischler, VP of Search Ads:
Jerry: Hi, everyone. Thank you, Sridhar.
This year, around 90% of global sales will happen in stores as opposed to online.
And if you think about it, that makes perfect sense. Whether it's a new car, a breakfast sandwich, or a pair of running shoes, most of the things we buy are from the stores, restraints and businesses around us. But in today's Mobile-first world, the way we find and discover things has fundamentally changed. Nearly one-third of all mobile searches are related to location – where we are, the places we want to go, and the things around us.
If I want a cup of coffee, I reach into my pocket and in seconds I'm on my way to the nearest café. Well, if my car is running low on gas, the closest station is only a few taps away. We do this now for every kind of Micro-Moment, from 'I-want-to-go' to 'I-want-to-buy' moments. As a result, location-related mobile searches are growing 50% faster than mobile searches overall. And that's just in the past year.
As we move across activities throughout the day, our smartphones have created a new front door to the brands and businesses around us. We're doing the digital and physical world in a seamless way. This represents a tremendous opportunity. Brands that put Micro-Moments at the centre of this strategy and reach their customers as locally relevant messages, those are the brands that win.
Two of my favourite examples come from Target, and Jerome's Furniture. Today, 98% of Target's guests shop digitally, and three-quarters of them actually start their experiences on mobile devices. The brand understands there's no longer a dividing line between the digital world and the physical world. With smartphone in hand, they shop whenever they have time; it flows seamlessly from online channels to physical stores.
Similarly, Jerome's furniture, a regional furniture chain, understands that its customers want to see and touch what they buy. Nowadays, when customers walk into this store, they want to sit on that sofa or lie down on that bed that they saw in a Google Search ad. For Jerome's, it's about connecting the mobile showroom to the physical showroom. Target and Jerome's have built the strategy that wins in this Mobile-first world. Using Google's store visits, Target has learnt that one in every three people who click the Search ad head in a store to shop. As a result, Target has accelerated its shift from traditional media to digital media like Google Shopping.
And in the case of Jerome's, they've increased their investment in mobile search significantly by 82% including local inventory ads, and this resulted in a 93% increase in sales. By providing useful, local information when people are looking to buy, these brands are delivering in-the-moments demand. Only Google has the technology to help advertisers do this and scale.
Today, over one billion people use Google Maps.
From the beginning, the mission in the Maps Team was to help people navigate and explore the places around them, wherever they are. And now, because we carry our smartphones everywhere we go, Google Maps has more data than ever before, and more opportunities to help guide consumers through their every day moments. For example, Popular Times help you escape crowd and avoid long lines, whether you're heading to the grocery store or heading to gym, reviews for restaurants and businesses can help you quickly decide where to eat or shop, and real time transit information helps you plan your commute around delays.
Google Maps delivers tremendous value to our users, and as marketers, you can deliver the same value to your customers. Every month people visit one and a half billion destinations related to searches that they've done on Google. These are moments for your brand to be there and be useful. Ads in Google Maps are new. We've had a basic product for a number of years. Significantly, in 2013, we enabled ads into the new Google Maps apps on IOS and Android.
Last month, we made a number of additional enhancements like showing ads in the local find results within Google Maps, and making Google Maps part of the ad inventory for search. These products and features represent the ground floor of what we're building. Today, I'm excited to show you the next generation of local search ads.
Advertisers using location extensions can now take advantage of richer, more relevant ads within the Google Maps properties. These new forthcoming local search ads will appear across google.com the Google Maps apps, and the desktop, mobile and tablet websites helping you reach more people who're searching for businesses.
Let me show you what this looks like. Many of you in this room travelled here from places around the world, and if you're like me when you travel, you might have forgotten your phone charger; game over, right? In these 'I-won't-make-it-through-the-day' moments, most of us wouldn't know where the closest phone or electronic store is. And these days, you just don't have to. Luckily I still have a little battery power left, so I open up the Google Maps app. and search for "electronic store."
Immediately I see the most relevant retailers near me in a branded pattern for Best Buy. Details about this 'Best Buy' location are also highlighted at the top of the search results. "What do you know, there's an in-store promotion for 10% off cell phone accessories!" This type of promotional tags is unique to Google Maps. The 'Best Buy' promotion definitely speaks to me, and the location is nearby, so I tap in. A customizable business page expands highlighting features unique to promoter locations. I see the 10% off promotion, and I even have the ability to search within the store for chargers that work for my phone.
For retailers like Best Buy, showing shoppers that the products they want are in stock is critical. In fact, one in four people who avoid stores say it's because they don't know whether an item's in stock. That's why we're bringing local inventory information to these business pages along with the ability to search through that inventory. With additional details, like store hours, phone number, address and directions, these business pages are designed to help increase foot traffic to your stores.
The Best Buy location opened at 10 a.m. and it's not too busy right now, so let's go. So now, I've got the charger, and I'm on my way back to the hotel. As I'm walking, I see a promoted hint for Starbuck's and a dollar off any drink when I use my Rewards Card. It's pretty early; I can go for an iced tea, so let's stop by.
Giving businesses more opportunities within Google Maps to highlight their brand is an exciting area of focus for us. Over the next year, we'll be testing new formats to see which ones deliver the most value for our users and advertisers. One format we've started testing is this promoted pin. Within the Google Maps app, as people explore and navigate through the world around them, you can promote your businesses nearby or along the road. For example, someone getting directions for a weekend getaway might see a promoted pin for a Shell gas station. Or as they're navigating to their destination, a promoted pin for McDonald's might convince them to stop for a bite to eat.
As consumer demand for local information continues to grow, digital marketers are now more accountable for in store activity than ever before. Consider this: Three out of every four people who search on their smartphone for something nearby visit a business within that day, and 28% of those searches result in a purchase. Capturing these mobile interactions in offline sales is fundamental to growing your business.
But measuring a customer's journey that starts online and ends in a store is really, really hard. We introduced a Store-Visits measure a little less than two years ago to help solve this, and it was the first in the industry. Using technology and insights that are unique to Google, adwords has now become the largest Omni-Channel measurement provider in the world. In less than two years, advertisers have counted over one billion store visits globally.
But what the best of our advertisers may be asking us, "How many of these store visits were actually incremental?" To figure this out, we ran a randomized controlled study with ten of the largest US Big Box retailers, names like Target and Bed Bath and Beyond. What we found was incredible. What we found was that on an average, the number of incremental store visits driven by mobile search ads actually exceeded the number of online purchase conversions. These are store visits that otherwise would not have happened, proving the substantial off-line impact delivered by mobile search ads.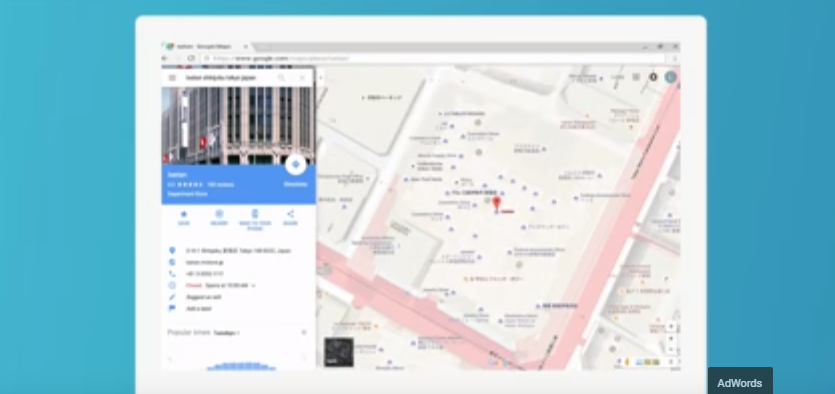 The technology behind Store Visits is revolutionary. The same machine learning that helps people find the shortest route can help you understand if someone walked into your store after clicking on an ad. We worked closely with the Google Maps team, matching opted-in location history for hundreds of millions of users with maps data for over two hundred million buildings. To ensure the accuracy of our metrics, we surveyed over five million people to confirm that they actually visited a store. As a result, our results are over 99% accurate.
Today I'm excited to announce that we're enhancing that accuracy even further for even more store locations by using Beacon Signals to improve our existing location data.
Only Google has the technology to offer this level of precision and scale. Businesses in all sizes and across a variety of industries around the world are using Store Visits to measure the impact of online ads on offline activity. For example, the average car shopper today makes just two dealership visits in their search for the perfect drive.
That's because today's car shoppers turn to a mobile first to research models, find deals and get real time advice before setting foot in that dealership. Nissan UK saw this as an opportunity, and transformed its measurement strategy to drive its business forward. Using Store Visits, the auto brand can now see which keywords actually drive people into its dealerships. What Nissan UK discovered was that 6% of its mobile ad clicks resulted in a dealership visit.
Considering the average person makes just two visits to a dealership when buying a car, this is incredible. What's even more than that, these clicks delivered an estimated 25:1 return on investment. In Japan, Seven and I Holdings, which is one of the largest retailers in the world, turned to Google Store Visits to accurately measure online to offline activity. Store Visits revealed that 10% of mobile search ad clicks led to a store visit. And the cost per visit was 40% lower on mobile compared to desktop. As a result Seven and I Holdings has shifted significant additional marketing spend to mobile search in order to drive better return on investment.
There's no question that mobile has changed the way people behave online and in the real world. With the new ad innovations in Google Maps and the most powerful platform for measuring store visits, advertisers can now build a local strategy to win consumers' hearts, minds and dollars as they explore and connect with the world around them. And now Brad will show you what we're building to help personalize the ad experiences across search and display. Thank you.
Brad Bender, VP of Display & Video Ads:
Brad: Thanks Jerry. As many of you know, at the heart of any successful marketing campaign is a deep understanding of our customers. The better we understand our customers, the better job we can do as marketers. But the challenge has been reaching them with precision and scale.
To understand what this looks like today, we did a longitudinal study of a real consumer named Stacy from the Midwest. As a 32-year-old mom of two with her third on the way, Stacy was looking for a minivan that could fit three car seats, and her large family dog Trixy. She also wanted a minivan that was exceptionally safe, that had high crash test rating scores and that could handle the icy Midwest winter storms.
Now to visualize this, each line behind me represents one of the 900 touch points that Stacy had in the course of three months in this journey. As part of this, Stacy browsed multiple car view sites while she was waiting for kids to get out of school. She browsed YouTube videos to really deeply understand how some of these features of the minivans performed, and she searched on specific terms such as "Best car for families with car seats and a dog."
Billions of moments like this are happening every day. That's why display advertisers are increasingly turning to Programmatic to deliver relevant messages to the right people at the right time across web and apps. With Programmatic, you can use the power of data and automation to be there and be useful to reach your audience. Programmatic does the heavy lifting for you, it factors in many signals to determine exactly where, when and who to show your ad to.
Google offers the leading suite of Programmatic solutions to meet the needs of every advertiser, with DoubleClick Bid Manager and the Google Display Network. DoubleClick Bid Manager or DBM is for advertisers who're seeking advanced control such as the ability to buy from specific exchanges or directly from publishers. The Google Display Network or GDN puts powerful Programmatic technology in the hands of all advertisers, right from adwords. Whether you're a local flower shop or a national retailer, the GDN gives you easy access to powerful Programmatic tools such as automated bidding, creative optimization and dynamic remarketing. These solutions are unique because they're built on a rich understanding of intent coupled with demographics, interests, and yes, context.
For instance, with in market audiences on both the DBM and GDN, auto brands can reach consumers like Stacy who are browsing minivan content but who're also ready to buy one. So, what goes into showing a single display ad on Google's Programmatic platforms? Intelligence and speed. Google's machine learning technology analyses contextual information – people's location, interests, in order to show them the most relevant ad. We evaluate millions of signal combinations in real time to help you set the optimal bid for each ad.
And all this happens in milliseconds, literally faster than the blink of an eye. Now one of these signals is whether or not someone has previously visited your website or app; that's why advertisers have found tremendous success with remarketing on the GDN.
Today, I'm really excited to announce that we're extending the reach of your GDN remarketing campaigns by giving you access to Cross-Exchange Inventory. This inventory lets you reach additional websites and apps around the world.
We also take steps to ensure that this additional inventory delivers the same high quality traffic you've come to expect from Google's network. More reach, same precision, now part of every GDN remarketing campaign. SAS, a European airline ran remarketing campaigns on the GDN to drive more ticket sales. With the extended reach that the GDN now offers, SAS stored about 20% more conversions at a similar CPA.
Now, we know, in Search, the user's query is the most powerful signal of intent. But successful advertisers have realized that adding interests and behaviours can help maximize performance. Search marketers have found this to be especially true when applying Remarketing Lists for Search Ads or RLSA to their keyword campaigns. RLSA is a powerful way to improve the effectiveness of keyword-based campaigns by focusing on consumers that have already expressed an interest in your brand by visiting your website or app.
For example, Marriott International, a major hotel brand with over 4400 properties, used RLSA to reach past site-visitors looking to find a place to stay for an upcoming trip. Using Remarketing Lists for Search Ads, they were able to bid higher for this valuable customer segment while still achieving a 4x higher ROI compared to Marriott's other campaigns.
Many customers like Marriott have shared success stories like this one with us. And they've also shared ideas for improving the product, like extending Remarketing Lists to reach prospective customers who are unfamiliar with the brand. Today, I'm really excited to announce that we've built a new offering based on this feedback – 'Similar Audiences for Search.'
The idea behind 'Similar Audiences for Search' is powerful, yet simple – to reach searchers who have similar interests as those who previously visited your site.
For example, if users on your Remarketing Lists have searched for "Sunglasses," Google can help you be there for people who have searched for the same term, but who haven't yet visited your site. Fiat Chrysler Automobiles saw the efficacy of Similar Audiences first hand. They found that most of their new site visitors were interested in their cars, SUVs and trucks, but they weren't converting as well as their returning visitors.
With Similar Audiences for Search, they focused on new site visitors who shared the same characteristics as visitors in their Remarketing Lists. By bidding more aggressively for this segment, the brand increased click-through Rates by 5% and decreased CPA by 14%. Like Similar Audiences for Search, Demographics for Search Ads combines the user's intents with additional signals, in this case, age and gender. AARP, a non-profit organization for people aged 50 and over was one of the first advertisers to use Demographics for Search Ads.
After adjusting bids based on age, AARP saw strong performance including 65% higher click-through rates and 15% lower CPAs. We're committed to making our audience products even harder for you and we're going to be rolling out 'Demographics' for Search Ads in the coming months. And moving forward, we're to invest in 'Audience Signals' for Search.
As you'll see across all of our upcoming launches this year, we're bridging intent and context with the same technology that powers everything from Search to Google Maps. With that, I'd like to invite Matt up to the stage next who's going to be talking about all the exciting new products the team is adding to your toolbox to help you manage and measure media in a Mobile-first world. Matt?
Matt Lawson, Director, Performance Ads Marketing:
Matt: Thanks Brad. Sridhar talked about the need for marketer's to create relevant and helpful experiences for their customers. Well, you're our customers, and we care deeply about creating great experiences for you. That means building marketing tools that make it easy for you to accomplish your goals. We know that the shift to mobile has made you just more complex. There's now more opportunities than ever to reach people and measure their behaviour. But with an increasing number of screens, channels and touch points, it can be hard to keep it all straight.
You can't do effective marketing in today's world with products that were built for a desktop world. That's why we're making major investments in two of our most important products, AdWords and Google Analytics. So how do we know what you need from our tools? Well, we asked you. Over the past two years, our Product teams met with businesses large and small, from power users to beginners, and companies from all around the world. We held customer panels; we conducted usability studies with filtered research, all to understand what we're doing well and where we're falling short. Your direct feedback and insights are shaping what we're building next.
We'll start with AdWords. To design a new experience, we focused on three key principles, each rooted in your feedback. First, the data you care about needs to be in your fingertips. We want to help surface insights – you can identify opportunities and take action. Second, AdWords should be more about your business and less about our products, which would be super-easy to run and then optimize campaigns based on your unique marketing objectives.
And finally, the tools you use should be powerful, and yet simple. You can accomplish so much more in less time when work flows are intuitive and remove the clutter. To help me preview this, I'm going to invite Samantha. She's our Director of Engineering for the AdWords platform, and she leads the 500-person global team that is undertaking this massive redesign experience. Samantha?
Samantha Lemonnier, Director of Engineer, Adwords Platform:
Samantha: Thank you. Hello, everyone. Matt touched on the three design principles that are the heart of the new AdWords experience. I would like to now dive into each and show you exactly how we are infusing all of your feedback directly into our product. You know, when you log into AdWords today, you are bombarded with data. It's hard to know where to look, and what to look for.
So, the first thing we have done is surface the insight you care about, and visualize them in a way it's easier to take action.
Overview pages like this one are the new Home Page for your account. It's where you unearth deeper insights about your account to understand what's performing well and what requires your attention. At a glance, you can quickly see your top performing campaigns as well as what devices are driving the majority of your clicks and conversions. For example, from the cart on the left, it looks like the women's T-shirt campaign is doing really well, and on the right, the majority of the clicks and conversions are coming from mobile.
You can also see how your ads are performing by hour of the day. Here we see mornings are more active. We probably want to check if we're accounting for that opportunity. The second design principle is to focus more on your business, and less on the product. We have built our campaign creation flow around this idea. Simply tell us what your marketing objectives are, we'll recommend the features to help you get them. For campaigns that are trying to drive Store-Visits, the "Settings and Features" are used, are geared towards achieving that objective.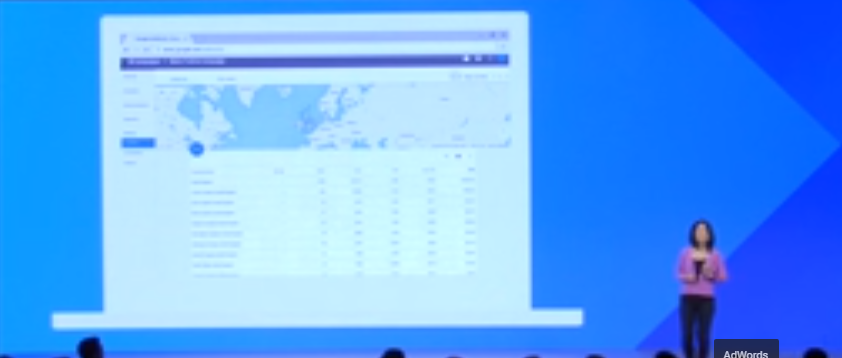 Here you would create a search campaign, and select "Visit your business" as the actions you want to drive. It's a perfect fit, keeping in mind you can still use every feature with the Adwords, and hopefully this way, you won't have to look for the ones you really need. Your campaigns will also run the same as they run today, so there's no upgrading or migration of any kind.
And finally, at the end of the day, we all just want the tools that help us do more with less time.
The new AdWords experience does just that. It brings the most important features like targeting front-end centre devices, locations and ad scheduling just like the keywords, and now accessible with a single click from anywhere in your account. That's the speed and convenience marketers expect.
Thank you.
Matt: So Samantha, this looks incredible. I'm going to ask the question that's on everyone's minds in the room, which is: When is this going to be in the advertiser's hands?
Samantha: Good question. Through 2016 and into 2017, we'll continue to build on this new Adwords experience, and along the way, we'll be inviting advertisers to try that out and provide feedback. We're super excited about where we are today and thank you for letting me share with all of you.
Matt: Thank you Samantha.
Samantha: Thanks.
Matt: Okay. Just like for AdWords, we're also updating Google Analytics to meet your needs. That's why in March, we announced the Google Analytics 360 Suite, an enterprise class solution built from the ground up for the multi-screen world. This suite is comprised of six products that cover everything from Tag Management to Analytics to Attribution and Reporting. Each of the products in the Suite is designed to work beautifully together and also to plug right into ads platforms like Adwords and DoubleClick.
I'm excited to say that starting today we're going to begin rolling out this Suite to all current Google Analytics premium and our dormitory customers.
Also like AdWords, we designed the Google Analytics 360 Suite based on your feedback. Here's what you told us: First, you told us tools need to be integrated, especially your Ads tools and your Analytics tools. These integrations make your data more valuable by allowing you to easily use your data to improve your marketing.
For example, Panasonic saw a 30% improvement in their row ads by connecting their Analytics data to their advertising campaigns. Second, you told us tools need to be easy to access and use and they need to encourage collaboration so your teams can get more things done. We're going to show a demo in just a second of how we're bringing the sharing and collaboration that you've come to know and love in Google Docs to Analytics.
And finally, your tools need built-in intelligence that can process enormous amounts of data to find and surface the most valuable insights. You can see this approach today in features like Google Analytics Smart Goals which more than 60,000 advertisers are using to automatically optimize their Adwords performance. Now, I want to show you these three themes – deep integrations, simple collaboration and built-in intelligence – all come to life in the Google Analytics Suite.
Let's start with Integrations. Optimize 360s deep integrations with Google Analytics increase your testing agility and reduce set-up times. With just a few clicks you can use the audiences and goals that you already have created in the Analytics to run site experiments with Optimize. Results of the course beta have been pretty amazing. One of our beta customers reduced the time to deploy a site experiment from 3 days to less than 10 minutes.
I'm happy to announce that starting today all of the Analytics 360 customers can join the paid beta for Optimize 360.
We know that our second theme, Collaboration, is a huge challenge. 57% of marketers stated that it's difficult to get hold of their stakeholders in different functions access to their data and insights. Right now, you're all probably using multiple analytics tools, building spreadsheets and then e-mailing attachments back and forth. We built Data Studio 360 to eliminate these frustrations and allow you to access data, create beautiful reports and collaborate, all in one tool. Please welcome Babak Pahlavan to take us through a real life example.
Babak Pahlavan, Senior Director, Measurements & Analytics:
Babak: Thanks Matt. So, I want to start off with a question. Has anyone here ever been in a situation that your boss walks in out of nowhere and then says, "I need the reports for an important meeting that's happening this afternoon?" And this is a report you've never pulled before, and it's for a super urgent meeting that's right around the corner. Am I only one or you know…? I see a lot of nodding heads. All right.
Matt: Hey Babak, that was unexpected.
Babak: Yes, Matt.
Matt: That reminds me, I was talking to Sridhar beforehand about some of our great marketing campaigns, and he said he wanted to see a dashboard with paid search broken out from our website traffic to see how they're performing. Could we do that?
Babak: Yeah, totally. How much time do I have?
Matt: These people are kind of busy, how about three minutes?
Babak: I think [chuckles] we will better get to work then. Alright so, here you can see I've opened up Data Studio 360. It already has a bunch of reports that I've created before, so just to get this started I want to show you something that I already have, some of the analytics data already on there. So, I click on "Existing Report" and you can see it already has some of the GA that are already built in. To get things going I just put it into the "Edit" mode, and you can see instantly it'll turn into something you're all familiar with if you've used Google apps before. There's a toolbar on top, there's a working area in the centre and there's also a sort of a property pane on the right hand side.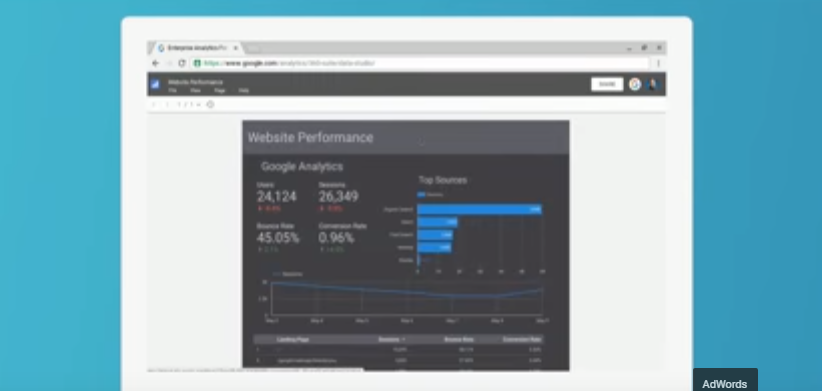 So, to create the report that Matt was talking about, I need to first create more room to add more data into this. So I put it into a "Landscape" mode, I'm going to adjust the "Title Bar" on top, and I can easily copy paste any object that's already on the screen using sort of the same techniques that I'm used to already. So maybe I can just grab one of that "Users" object and put it on the right hand side. Now, I have to add AdWords data to this existing report.
To do that it's actually pretty simple. I just click on the "Data" tab on top, click on "Data Sources" and then add a new data source. Now, already I've launched Data Studio support to multiple different connectors so that we support things like AdWords, Attribution 360, BigQuery, Sheets, even YouTube Analytics and a few more. You can imagine that as before, we're going to add a few more Google data sources as well as a lot more third-party data sources to Data Studio.
For this example, we're going to click on "AdWords" and you can see it automatically loads accounts that I have access to along with all the reports that are within that account. So for this particular problem, I'm going to click on "Campaign Performance Report" and "Connect." So you'll see it understands the data scheme automatically and pulls it through, you can just double check it, everything looks good, then you can simply attach it to the report itself. And then, all I have to do is to change the metric for that object to something within AdWords, maybe Iike 'Impressions' and that's it.
So now you can see everything is seamlessly integrated; there's no more complicated set up of waiting for others to give access to the data that you need. But I've already taken up roughly about a minute, so I need to speed things up. I'm going to invite two of my colleagues to help me finish the rest of this report.
So, Data Studio 360 natively, just like Google Docs, supports Collaborations, true Collaborations.
So, I can easily click on the "Share" button on top, and then as you can see, as the team actually gets it going, so we can easily… There we go, and they're up and running almost… There we go.
So, I already added… I clicked on the "Share" button on top, and I added Nikhil and Dave to come and help me do the rest of it. They're already joined and it's a pretty simple dialogue box that opens up; I just put in the e-mail address and everything gets going. As you can see, the three of us are already live on this report. So Nikhil is the blue one icon and Dave is the purple one. So we can see already Nikhil added the Click-Through rate metrics as well as Clicks and Dave already added the Campaign Performance Table at the bottom. So notice how fast and seamlessly they're working together; we're truly collaborating. So Nikhil's putting in the final touches…
And by the way, these guys are sitting anywhere in the audience or actually could be back in the office; I actually don't know where they are right now. But you can see we're working together seamlessly. Just get out of the "Edit" mode, and voila, we have our report built under three minutes and everything's up and running. What do you think?
Babak: Matt, so I'm done, right?
Matt: Looks amazing. Could you maybe show me this data for last 28 days?
Babak: Oh yeah, it's pretty easy. So all I have to do is to add a Date Range Filter to this. And again, gone are the days of complexity. I just put it back into the "Edit" mode, add the "Date Range Filter" on top – I can also add other filters such as "Geography," for instance – get it out of the "Edit" mode, and you can see I can change the date range from 7 days to may be like the last 28 days.
This is a dynamic report; this is not a static page. So notice with Data Studio, you'll be able to collaboratively build rich, dynamic reports and easily share them with the rest of your organization. Now I can easily now share this report with Matt and Sridhar so they can use it in their meetings later this afternoon. So, gone are the days of e-mailing back and forth spread sheets and presentations. This you can just easily share and natively collaborate just like Google Docs. Back to Matt. Thank you.
Matt: Great job, Babak. I am so excited to see how people use this tool to filter insights and put it in the hands of everyone on their team. In fact, we have two new announcements. First, Data Studio 360, the 'Enterprise Version' is now in paid beta. And second, we're launching a 'Free Version' of Data Studio, so starting today you'll be able to use Data Studio yourself to create up to five reports. Both versions include unlimited sharing, editing and collaboration. We're going to start in the US and then roll it out to other regions throughout the year.
Our final theme is Built-In Intelligence. As we look across our customers, we see an interesting paradox. As you get access to more and more data, it becomes harder for you to put it to good use. And so we have one more thing to show you. Here's Babak again, to give you a sneak peek at how we're using Google's Machine Learning to solve this problem.
Babak: Thanks Matt. So if you watched I/O, Google I/O, last week, you saw Sundar talk about how Google Assistant is enabling people to interact naturally with Google to get help with their daily tasks. So you might wonder, "Why can't I use the same technology of machine learning and AI to my Analytics business to get answers to my business questions?" So want to show you…so that's a really good question. So we want to show you a sneak peek of something that we're working on, that we're calling 'Q & A Conversation on Search', that's built right into the Analytics 360 Suite.
So wanting me to switch back to Demo mode, there we go. So, I've loaded up Analytics' page here and you can see that we've put a smaller button over there on the corner that says "Ask a Question." Why don't I just activate it? I can speak or I can type in a question in a natural language. Why don't we try it?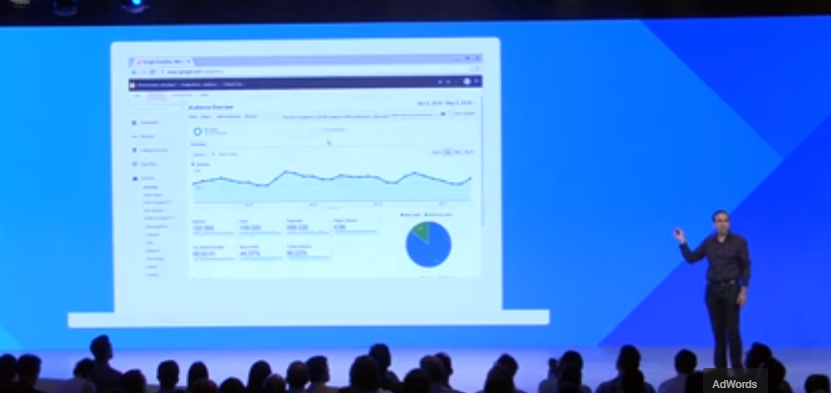 So I'm going to ask a question such as like "How many users did we get from organic search in April?" What do you think is going to happen here? Complicated charts may be? Nope. The system parsed the question, understood my intent, ran it over our business data and came back with an exact answer – 23,843. Isn't that cool?
Now let's try something more complicated. "What were my best selling products for April?" That's a lot more complicated. It needs to understand my business that they can have little access to and look what it did. It understood that by "best products" we mean the "top producing revenue products." Instead of coming back with one answer, it came back with a table that is a list of our best selling products for the month of April. Isn't that cool, again?
Just think about how much more productive your entire team can be if analysts and marketers alike, they can just ask their questions about their business, and in their own natural language, and get their answers instantly. So, we hope that you are as excited as we are about these things and we can't wait to show you more in the future. Now back to Matt, thank you.
Matt: Thanks Babak. In everything we do, we're working to drive greater value for your business. We're doing this by listening closely to your feedback and building tools to meet your needs. I hope you're as excited about these innovations as we are when they come to life in Adwords and the Google Analytics 360 Suite. And now to close things up, we'll hand it over to Sridhar.
Sridhar: Thank you for joining us and for tuning in. All of this is just the start of what we're doing this year to help you not only reach more people than ever before, but also to connect with them much more meaningfully. So a big thanks to all of you. All of your feedback has played a huge role in all the innovations that we announced today.
So, I'm pretty incredibly excited about what we can do together, from helping you be there for consumers in more places with innovations like Ads and Maps, to helping you be useful with a redesigned canvas for text and display ads across devices, and giving you tools to understand journeys in this multi-device world with the Google Analytics 360 Suite.
To learn more about everything we discussed today, check out our new websites for AdWords and the Google Analytics 360 Suite. I'd like to encourage you to visit them to learn more, and of course, provide feedback to us both there and here in all of these sessions today. Thank you so much.
Related Articles: