Are you anxious about your PPC campaign reaching to the desired audience? Have you ever wondered, how can you extend your reach? To increase your market presence, there are many ways to follow and Google Ads Audience Targeting is one among them.
(This is the first post on the series of Google Ads Audience Targeting) 
Let's get going with Google Ads Audience 
When it comes to ads, targeting the right audience is very crucial. Your market presence depends upon the right audience you choose to target. Google Audience let you do the same. You must be wondering, what is Google Audience? When we say "Audiences", what comes to your mind?
According to Google,
Audiences are groups of people with specific interests, intents, and demographics, as estimated by Google.
Moving on to Google Ads Audience Targeting
Now that you know what Google Audience is, lets move on to Audience targeting.
Audience Targeting allows you to be more precise while selecting who will see your ads. With Audience Targeting, you can segment the audience you wish to reach basis 'who they are', 'what they are looking for' and 'how they have interacted with your business' .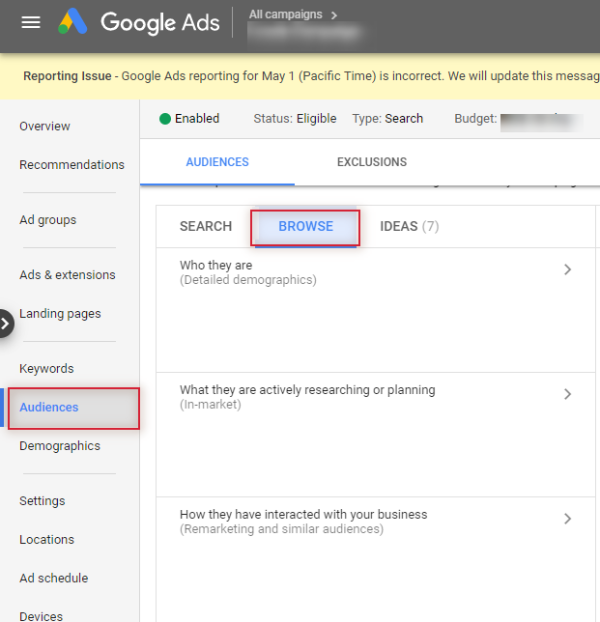 A peep into available audience type for Search Ads 
Below is the list of available audience types for your search campaign and a brief description about each of them:
1) In-Market Audience:
This audience type helps find potential buyers who are out their in the market and searching to buy products or services you offer. In-Market audience is quite helpful for advertisers who are focused to get conversions from a potential buyer.
For example, if a person is reading reviews about smart phones and watching videos to know the features, Google -might consider him to be a potential buyer of smart phone and put him in relevant In-Market audience.
You can find list of categories used in In-Market Audience here .
2) Remarketing Audience: 
With Remarketing audience you can reach out to audiences that have previously visited your website and tailor your ads around such users to create a more informed and compelling ad
Taking the same above example, person visited your site and read reviews of a smart phone but did not eventually complete a conversion action. Building a remarketing list of such users, you can create a more focused ad that directs them to make the final purchase by giving them a discount or offer on the viewed product category.
3) Customer Match Audience:
This audience type has to be created by advertisers which includes customer's email addresses, phone numbers, physical address etc.This list has to be uploaded manually into Google Ads to target your search campaign.
For example, you got the list of customers with their phone numbers who purchased t-shirts from your website last summer. You can put this information in an excel and upload it. Google will match the sheet with its targeting data.
4) Similar Audiences:
If you have created a list initially and uploaded it into Google Ads, Google looks into this list and creates a brand new list of people similar to the available one. It helps to find new potential customers who share the same liking and interests like previous list and you are most likely to convert them to potential buyers.
Take the example of Remarketing Audience list. If you have already created a list of people who were looking for smart phones on your site but couldn't buy it,Google will look into this Remarketing list and creates a new list of people who are also interested in smart phones. 
5) Demographic Audiences:
With this audience targeting, we can reach to the potential customers within specific age range, household income, gender, parental status. This way, advertisers filter their audience targeting further.
For example, if you sell perfumes specially targeted for women who are 25 and above , demographic audience can help you to exclude men and only target women above 25.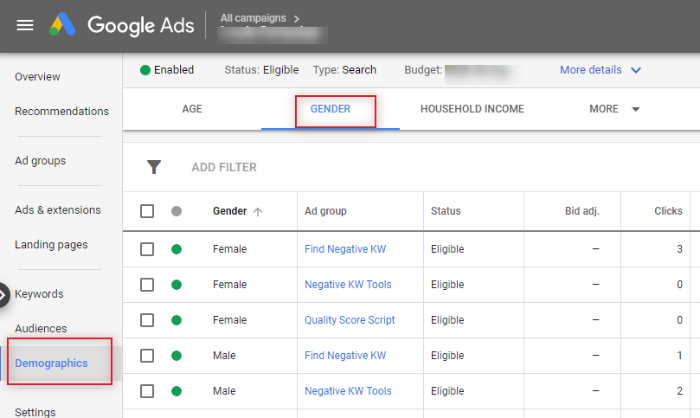 Using Bid Adjustments in Your Audience Targeted Search Campaign
Bid Adjustments is a percentage increase or decrease in your bids, that allows you to manage where your ads are shown. Using bid modifier in audiences helps you optimize your reach to the high-converting audiences. With this not only do you spend effectively but also strengthen your reach to audiences that could possibly complete a conversion action.
Bid modifier can be set at the campaign or ad group level. The bids can be specified within the range  from -90 through +900, inclusive.
Lets take an example of bid modifier in Demographic Audience Targeting.
You are targeting your ads for audiences within the age group of 18 to 45, however data suggests that your ad performs convincingly for audiences within 25-34 age group.  You can then increase your bid for the performing age bracket and focus your ads there.
(You can adjust your bid to that particular age group clicking on the pencil icon
)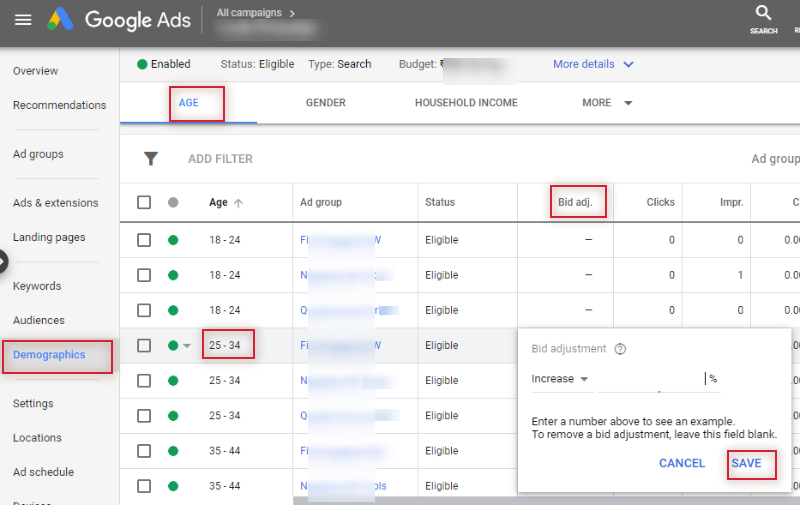 Why should you use audience targeting?
To build a successful marketing campaign, you need to define your target . Now,you might think "when keywords do the targeting job very well, why audience targeting?"  As per PPC experts,audience targeting will overshadow keywords as the key advertising trend in 2019. Nevertheless, you could also layer your keyword targeted campaigns with audience targeting.
Here are few points which will shed some light on the importance of audience targeting:
Better target to the potential buyers
Increase market presence
Easy to attract high quality leads
Helps to improve products/services
Widen your range to reach probable clients
Targeting the right audience is very crucial for your business if you want to succeed. A clear understanding of your audience will increase the effectiveness of your Google Ads thus conversions.
Related Links: