After including rewording and reordering to the exact match keywords last year, Google Ads announced changes to close variants of exact match keywords last week that allows similar terms matching.
With this change now, any query that matches the intent of the keyword will be matched with the keyword. In other words, they have now added implied words, paraphrases and queries with the same intent to the close variants. This update only applies to exact match type only and not to phrase, broad or BMM match types.
Here is an example of the same as explained by Google on their support page: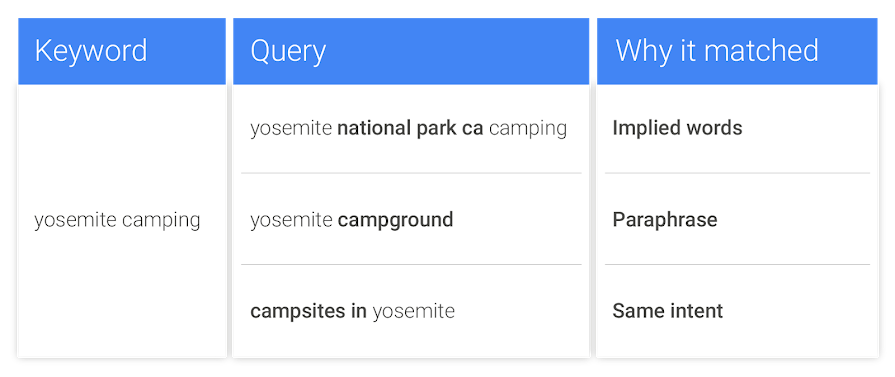 It is Google's machine learning that determines whether a query matches the intent of the keyword or not. So instead of showing your ad for a specific query you end up displaying your ads for queries that your keyword was earlier not getting matched to.
What this change means to you?
As per Google's :
Roughly 15% of the searches we see every day are new
So a particular term has unique different ways of being searched. In order to help advertisers refrain from creating an exhaustive list of keywords, this solution is a step towards discovering new keywords without manual intervention.
Here is what early tests about this change resulted in:
Early tests show that advertisers using mostly exact match keywords see 3% more exact match clicks and conversions on average, with most coming from queries they aren't reaching today.
Nevertheless, it also means that you need to keep a close watch on your search terms report to identify the negatives and add new prospects, if any. So, on one hand new avenues are opened, on the other you need to ensure that they are relevant ones.
You might want to have a look at this post from SearchEngineLand 'Google's exact match close variants expand again: Now include same meaning variations'
Note: Karooya's Negative Keywords Tool is now Free for accounts with ad spend less than $10,000 per month. Save 10-20% of your search ad spend for free. Sign up and start saving your ad budget now.
Related Links: