Merkle released its Digital Marketing Report for Quarter 1, last week. We elaborate some of the key findings from the report in this post.
You can download the digital marketing report from here.
1. Expanded Text Ads still outshined by Standard Ads
On comparing the ad groups with active Standard Ads competing alongside ETAs, it was observed that the older format was still able to garner 40% of impressions even though the option to add Standard Ads was removed in late January this year.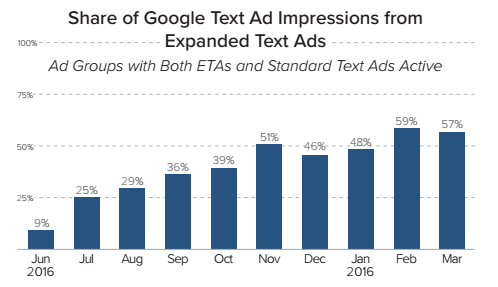 Though it was speculated that ETAs would result in higher CTRs, still there hasn't been any substantial improvement observed. As seen below, CTR from ETAs across devices was lower than that of standard ads clearly indicating that there hasn't yet been a considerable contribution from Expanded Text Ads.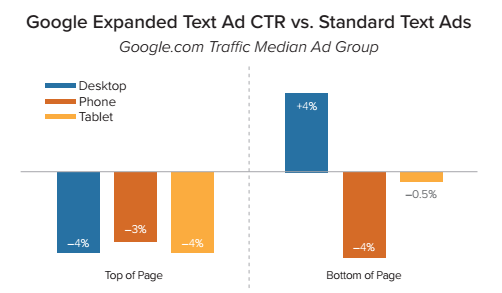 2. PLAs spending and click volume increases
In Q1 PLAs have driven about 52% of the search ad clicks which was up from 48% in the last quarter. The click volume has grown by 39% in comparison the 9% click volume generated from text ads. Also the spending on PLAs grew by 32% this quarter from 30% in Q4 where as spending on text ads went a little low at 12%
Overall Bing Ads also benefited by PLAs, as in Q1, 2017 they witnessed a rise in the search ad clicks from 17% in Q4, 2016 to 19% in this quarter.
3. Local Inventory Ads driving high CTRs than PLAs
The Local Inventory Ads (LIA) are quickly growing than any other ad format and accounted for about 19% Google Shopping clicks on phones. Though CTRs for LIA was 18% higher than PLAs on both desktop and phones, the online conversions were lower as searchers are most likely to visit a store than make an online purchase.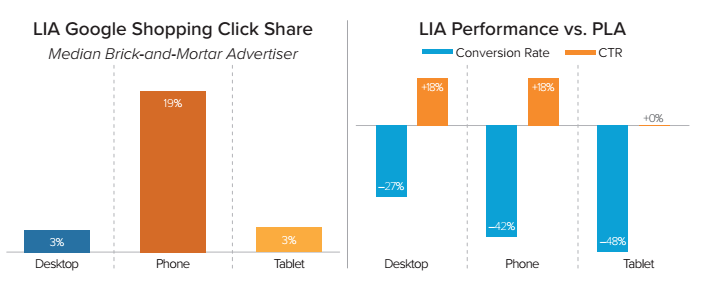 4. Top of page ad position having greater impact
Ever since Google introduced a fourth ad in the search results, text ads have received benefits from it, as the ads in position 3 and 4 have produced 4% of the phone search clicks. The increase is substantial when compared to the position 3 impact a year back.
5. Phone revenue and clicks improves
Phone clicks across all search platforms and paid spend share increased to 48% and 30% respectively in Q1 2017. The phone ad CPC rose to 15% YoY whereas the revenue per click was 52% lower than desktop revenue (which was earlier 62%), showing  considerable improvement.
An overall device performance across search engines show that where Google produced 52% of its search ad clicks where as Bing produced 25% clicks. Alternately Bing produced 77% of desktop ad clicks whereas Google was able to garner only 38% of the clicks.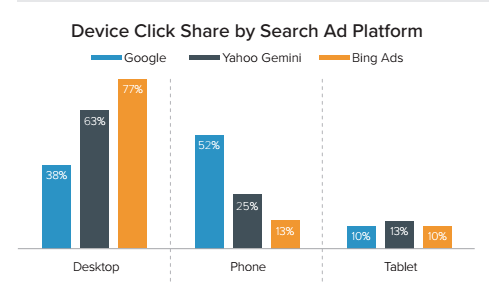 Once again
download

the digital marketing report here to access more findings and unfold other paid search

trends


Related Links: