Merkle released the Q4 2016 Digital Marketing Report, covering some of the major findings in Paid Search, Organic, Social Media. We have picked some of the key highlights of the report in this post.
To view the entire findings and analysis, you can download the report from here.
Google Shopping Ad Traffic Rises
Q4 saw significant rise in Google Shopping traffic generated by Google Search Partners. Much of the growth, from 6% in Q4, 2015 to 10% in Q4, 2016, is attributed to rolling out PLAs to image search and YouTube.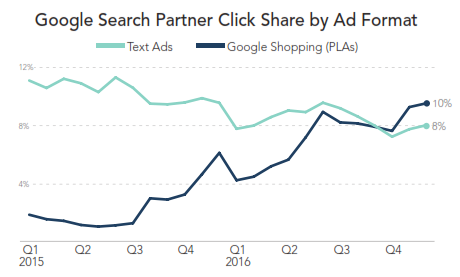 Overall the click volume of PLA increased by 43% inclusive of traffic led by google and its partners, whereas the text ads fell behind as partner clicks dropped by 13% YoY. The spending on PLAs stayed at 30% in comparison to the 12% rise of text ads spending from 9% in Q3, 2016.

Mobile Ad Inventory Driving Gains
The introduction of four ads at top of page results, made the mobile ad inventory grow, as a result of which there was significant click volume throughout the year. The new ad positions were observed to have driven close to 5% Phone text ad clicks in the fourth quarter.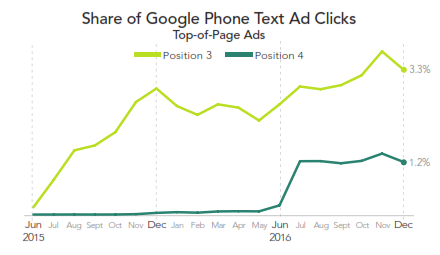 The overall traffic share of phones was 47% in Q4, 2016 in comparison to 33% the last year same quarter. Comparatively, tablets contributed with 9% of clicks, as a result of advertisers shifting their bidding to a more converting 'Desktop'. This change was as a result of device bidding announcement made by Google last year.
As a result, the desktop clicks grew by 3%, whereas tablets fell by 12% and phone's click grew by 37%. On the other hand, the tablet search spend fell by 9%, phone's search spend tripled by 27% and desktop was the leader with 63% search spend in Q4 2016.
No wonder, advertisers are vouching for mobile as the next big thing, as positioned by Google during the Performance Summit in 2016.
Expanded Text Ads Exhibit Mixed Impact on CTRs
Since its official launch in April, Expanded Text Ads have had an average impact on performance. Despite Google initially announcing expecting a 20% hike in the CTR, the CTR was observed to be 1-3% lower than standard text ads for the same location in Q4 2016. It is assumed that this new ad format might not have a significant impact even after it takes over the Standard Ads.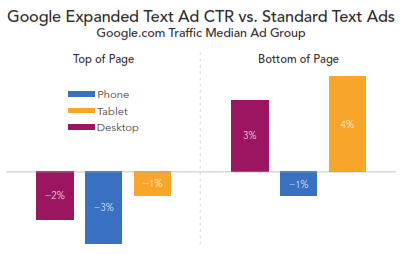 So, it appears this year will be filled with strategies to make the ETAs outperform Standard Ads. With the due date of bidding goodbye to standards ads nearing, it is time to let ETAs takeover and for advertisers to drive all focus in making the most out of this format.
Related Links: