After the launch of Expanded Text Ads in 2016, here is the much awaited ad format advertisers have been waiting for. Responsive Search Ads are here (in beta) and now you can automatically A/B test your ads.
About Responsive Search Ads
With this new ad format AdWords offers advertisers with the option to show more text. They get to create multiple headlines and descriptions of which AdWords will automatically test different combinations to find the ones performing the best for your target audience. The tweaking of the ad content is to match it to the customer's search term, in order to drive positive results, and hence help your campaign performance flourish.
Here is what makes this ad format unique:
You can display up to 3 headlines and provide about 15 unique headlines from which AdWords can choose
You can display up to 2 descriptions which have a limit of 90 characters each. Here you can provide about 4 unique description options
But there is one hitch. This is currently in beta and is available to limited advertisers. Only time will tell when Google will finally roll it out to all advertisers. Till then it is worth the wait.
For advertisers who haven't yet got access to this new ad format and even for those who have, we have a good news to share. Today we announce the Responsive Search Ads Preview Tool. With this tool you can build your ads in the new format, add your ad extensions, view how your ads would appear on desktop and mobile and share it with your team or client.
There is a 'Reset' button to (of course) reset the ads and a 'Share' button to get the link of the ad created to be shared with colleagues or clients.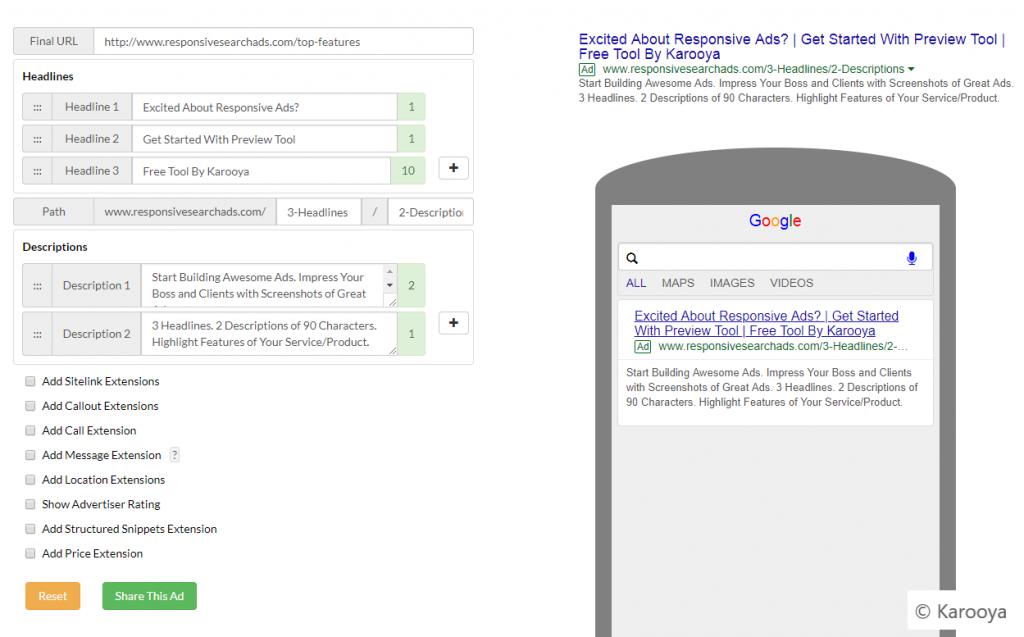 You can switch positions of your headlines/ description by dragging the textbox to the desirable position. This is to help you preview an alternate combination.
Like, in the below snapshot we added a headline 4 option.

And then we switched its position with Headline 3 to view the ad's appearance.

The same way you can try the preview of other Descriptions too.
So, go ahead, give our tool a try and start creating your responsive search ads.
If you have any feature request, feel free to comment here or send us an email to support AT karooya.com.