The Flywheel effect on PPC growth is based on the idea that there are some key elements in paid search, which if focused on for a period of time, gains momentum and creates a suitable environment for your campaign to grow.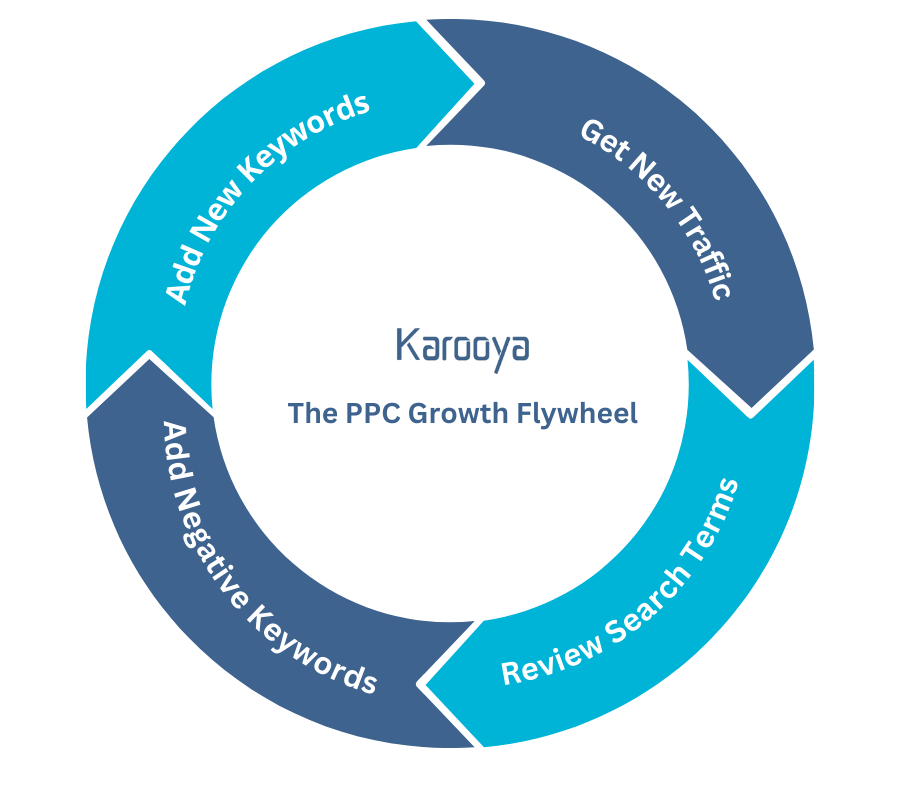 The above picture is the framework for identifying the keywords that are wasting your ad budget and the keywords that can be targeted in order to optimize your PPC advertising efforts.
It illustrates the four essential steps a PPC marketer must take during the course of their campaign. Though these are not the only elements that contribute in scaling your campaign performance, however, they are as important as any other feature.
We at Karooya closely monitor these elements and assist advertisers in growing their marketing initiatives. Our tool is designed to help you determine where your advertising spending is effective and where it isn't. But whether you use a tool like ours to simplify the task or end up doing it manually, these key areas must be added to your to-do list.
Let's quickly look at what each of these elements focus on:
Add New Keywords
Advertisers carefully choose the keywords that are related to their business. Newbees in paid search, might need to experiment with a broad range of keywords to find the ones that they must focus on. For advertisers running campaigns for a while, reviewing their search terms on a regular basis helps them find new keywords to target. The aim of this step, is to drive traffic that interacts with your business or services
Get New Traffic
The keywords added by the advertiser drives users to their website. This is the result that the advertiser expects from their advertising activities. The purpose of the subsequent visits to your business is to make customers aware of it so that, if it is of interest to them, it may lead to a successful sale.
Review Search Terms
Checking the search terms that triggered your ads helps you evaluate the relevance of the keywords. You can get insights on the performing and non-performing keywords and take next steps to optimize the campaign for performance. At this level you can decide whether to alter bids for a specific keyword or remove it from your targeting.
Add Negative Keywords
The most crucial element is to find the keywords that are shelling out sizable portion of your ad budget. Adding them as negative keywords avoids your campaign from wasting the ad spend
Though these elements are key to your PPC growth, however they are not solely responsible for your campaign to succeed. Your ad copies, your landing page, your targeting, your bidding strategy are as much important. Focussing on all these areas will boost your PPC efforts up a notch.
Related Links: