Have you perhaps missed some of the prominent PPC updates shared in August? Here's a concise rundown of the content that was gaining attention.
Vehicle ads will be upgraded to Performance Max with vehicle feeds:-Starting from September, vehicle ads will be automatically upgraded to Performance Max. This enhancement will support automotive advertisers in extending their outreach to customers across YouTube, Display, Gmail, and Discovery platforms. Campaign settings, structure, audience signals, vehicle feeds, and assets will all be transitioned over to this new campaign automatically.
New Google Analytics 4 features for better App campaign performance:- For app marketers who use Google Analytics 4, some more new features are made available. These features are:
Robust audience tools
Additional performance uplift
Comprehensive web-to-app conversion measurement
Better iOS campaign measurement and performance
Get ready to upgrade your Discovery ads to Demand Gen:-Demand Gen is an AI-powered campaign that drives conversions, website visits and actions like sign-ups, call now, add to cart etc. Starting in October, all your active Discovery campaigns will be eligible to upgrade to Demand Gen. Its powerful new features like video and image ads, Lookalike segments, Maximize clicks bidding etc. will fulfil the needs of today's social marketers.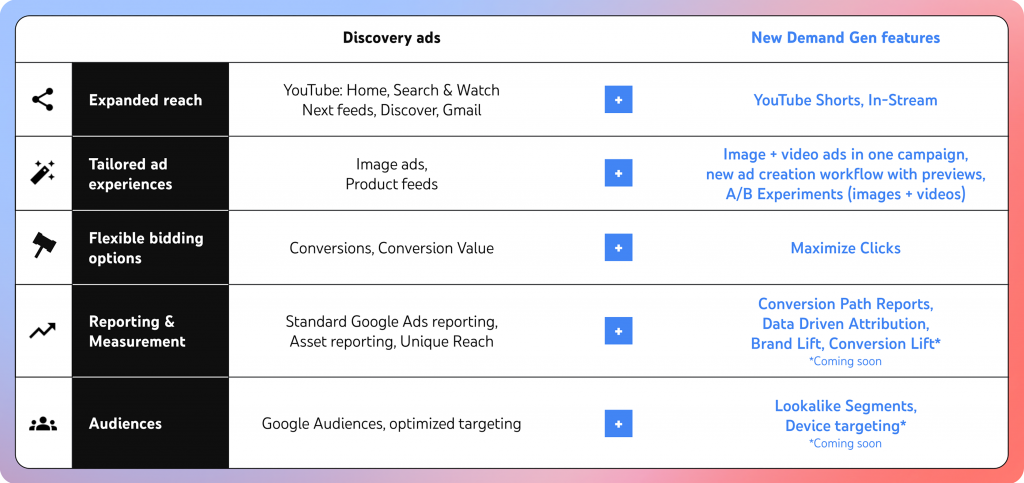 Multiply your holiday performance with new ads and insights features:- In today's world, AI-powered tools are transforming businesses' ability to move faster, better understand the intent of their customers, and engage them in new ways across the path to purchase. To help advertisers to do more with Google AI new tools have been launched. A few tools are mentioned here:
Local inventory ads
Pick-up later annotation
Performance Max for store goals
Google Ads to sunset Enhanced CPC on Shopping campaigns:- Starting in October, Enhanced cost-per-click will no longer be employed in Google Ads Shopping campaigns. Instead, Shopping campaigns that utilize eCPC will mirror the behaviour of those utilizing Manual CPC bidding. As Google is moving towards full automation, advertisers were not caught off guard by this transition.
Helping customers discover new selection with Sponsored Products on premium apps and websites:- Amazon has always thrived to make Sponsored Products more helpful for customers and advertisers. As customers discover products in many ways, Amazon is extending Sponsored Products to premium apps and websites like Pinterest, and BuzzFeed, to name a few.
Instagram tests Multi-Advertiser ads, cramming four ads into one screen:- Instagram is currently testing a fresh advertising arrangement in which four sponsored posts are condensed into a single screen. This represents the platform's most recent approach to Multi-Advertiser ads, a concept that clusters relevant sponsored posts from distinct businesses and presents them to individuals who have recently displayed an interest in correlated products or services.
A new level of control for X advertisers:- X (formerly called Twitter) is making progress in building brand safety tools to help advertisers while curating the content in which the ads appear. These tools are Sensitivity settings & an enhanced blocklist for advertisers.
Reddit doubles interest targeting categories for ads:-Reddit is substantially broadening its interest targeting categories for advertisers, expanding the options from 66 to a total of 152. This expansion will open up numerous additional possibilities for brands to deliver advertisements to audiences that are closely aligned with their offerings, potentially enhancing both reach and campaign effectiveness.
Reddit launches first-party measurement tools:-Reddit has introduced two proprietary measurement tools, known as Reddit Brand Lift and Reddit Conversion Lift. These tools are designed to assist Reddit advertisers in more effectively tracking the performance of their campaigns.
Related Links