Ad Schedule option lets advertisers schedule their ads as per how it is performing or as per when their business is operational. This feature saves the ads from running incessantly without contributing in driving results. Deciding when your ad is served is as important as what message is being served.

Need for Ad Schedule
If your business has operational hours or days, then you might want to reduce your bids during that time or day. Similarly there might be rush hours in a day when you observe maximum, for that time period you could increase your bids to show more of your ads.
For instance the Clothing store, as shown below, closes by 9 pm. It would be a wise step for them to not show their ads when they have closed down.

Deciding when to show your ads makes your business flourish as it ensures meeting timely requirement of a customer. For e.g., a B2B company whose conversions happen primarily through phone calls attended during weekdays (9 AM to 6 PM) might not want to show their ads when the customer care team is off duty. They should switch off their campaigns during weekend and from 6 PM to 9 AM on next day. However, they might still want to direct customers to the services page during off hours to fill up a registration form. In this case you could simply limit the hours of the campaign with the 'call extension', while still showing an ad created for lead generation.
Ad Schedule in The New UI
In the new AdWords interface, the placement of ad schedule has been altered. Details of 'Day' & 'Hour' are made available in separate tabs as well clubbed together under 'Day & Hour' tab. Every information is accessible with a single click.
Here we take you through how to set up your Ad Schedule and make bid adjustments.
Start with creating your ad schedule. If you haven't yet scheduled your ads, you will see the following message in your AdWords campaign. It means that your ad is running from 12:00 AM to 11:59 PM everyday.

If you aren't sure of when you need to schedule your ads or when serving your ads drives more results, then click on the subsequent tabs 'Day & Hour', 'Day' & "Hour' to get the insights.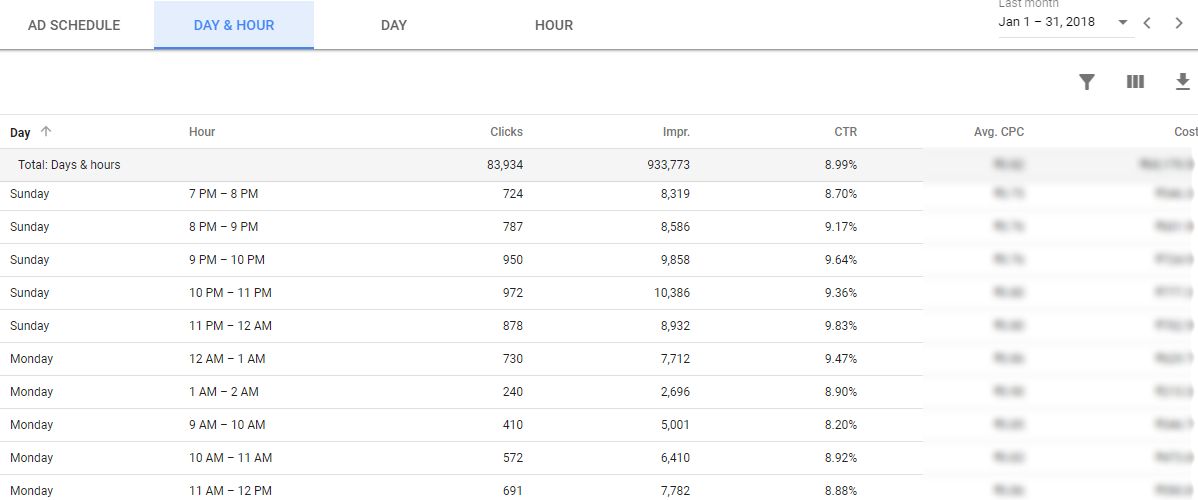 Once the schedule has been decided on, click on the 'edit' icon to create your ad schedule

Add the ad schedule details

You have successfully set your Ad Schedule. Your ads will now be served on the predefined schedule.
Note: Remember to add your ad schedule appropriately. For instance, If you wish to run your ads on Sunday from 5 pm to 9 pm only, then you also need to add schedule for other day(s) or hour(s). Setting up a schedule lists your ad to show only during that time or day. If you do not add the schedule from Monday to Saturday for all the hours then your ad will not show for that time period.
Making Bid Adjustments
Once you start seeing traction, you can accordingly take decision of whether you would wish to increase or decrease bids for the time and day when its served. For instance if you observe that your ads are at its peak during the afternoon time then you can increase the bids to serve your ads more often then. Similarly if you find that your ads don't drive any clicks or conversions in the night, then you can reduce the bids then.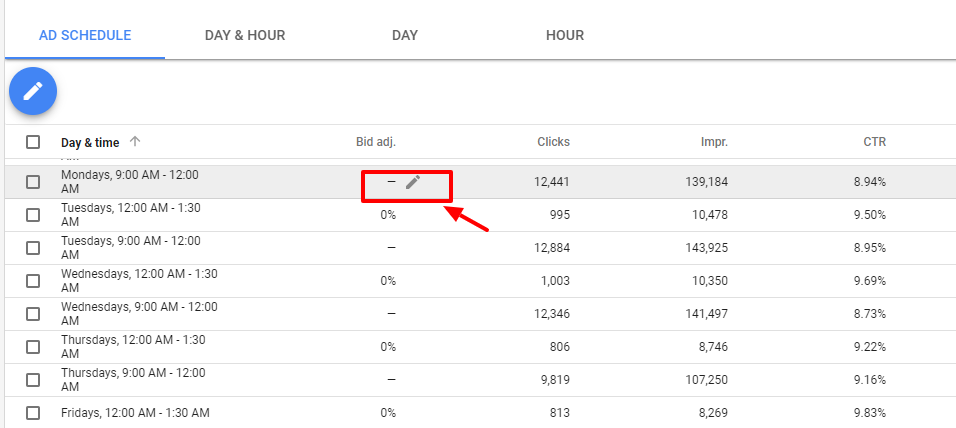 On clicking the edit icon in the Bid adj. column, you will get the option to increase/ decrease the bids for your ads. Whichever option is appropriate for your business, you can add it here.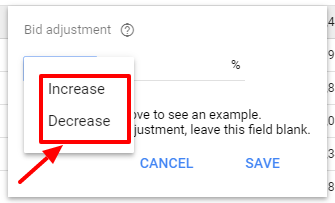 Related Links: