AdWords Experiments is a resourceful feature with which advertisers can perform A/B testing to test their campaign settings without actually modifying it. It is most useful in campaigns that have been running for a while and to which making changes are a big decision to make.
What are 

AdWords

 Experiments?
Experiment is the process of testing changes to your campaign without applying them immediately to your original campaign. You choose how much traffic you wish to split up with your experiment. This process lets your original campaign performance stay unaffected while you test the results of the experiment.
What's new?
The new AdWords UI offers an additional option while creating an experiment, which was previously not available. While creating an Experiment for your search campaign you can specify if you wish to count the users or the searches.
To view these options, go to your AdWords account, click on Draft & Experiments > click on Campaign Experiments > Create the Experiment > Expand 'Advanced Options > Select your experiment split type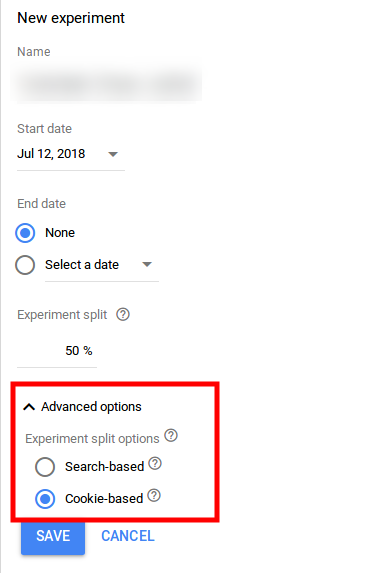 Here are what these options are called and what it aims to do:
Search based – With this option (available as default option previously), every time a search happens, users get to either see advertiser's original campaign or the experiment randomly. Here there is a likelihood of the same user seeing both versions of your campaign. As clear, the aim of this experiment split option is to count the searches.
Cookie based – With this option (made available in the new AdWords UI), users are assigned to a bucket and get to either see the experiment or the original campaign regardless of how many times they conduct a search. The aim of this experiment split option is to count the users.
If you want to track the performance of your AdWords Experiments, here is a nifty script that does so by giving advertisers a report that puts cumulative experiment stats together and shows how the experiment is performing when compared with the original campaign.
Related Links: