Duplicate Keywords is an unnecessary competition that you would prefer to avoid, as it builds competition not with competitors ads but your own ads. Though advertisers might find its presence harmless, it does have significant affect on your campaign's performance.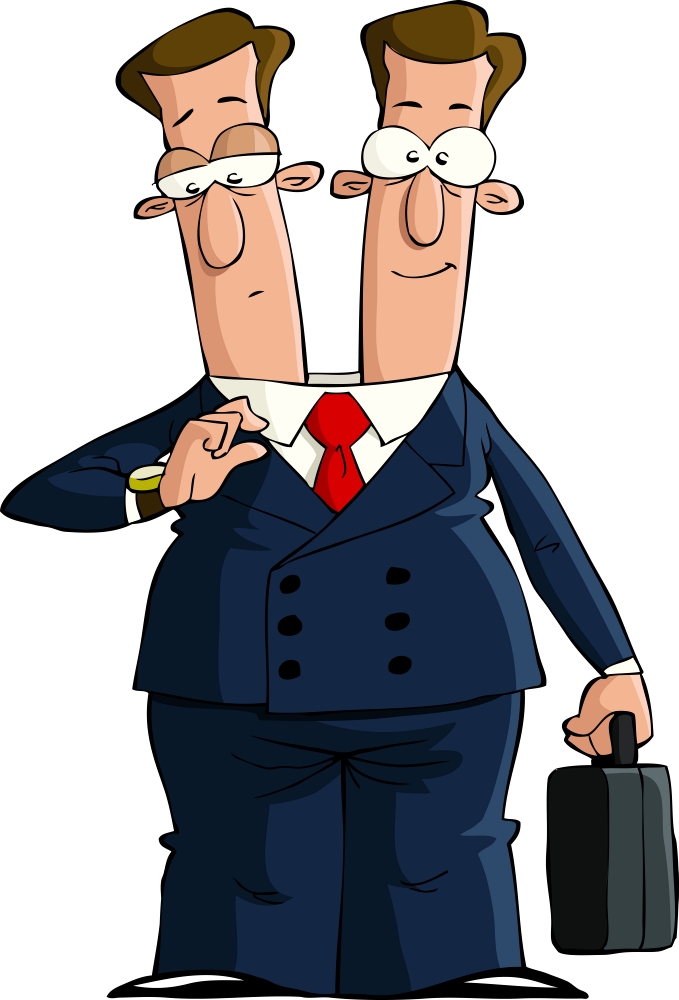 What are Duplicate Keywords in AdWords?
By definition, duplicate keywords are those keywords that are being shared by more than one ads in different campaigns or ad groups. Though AdWords doesn't consider the presence of the same keyword at multiple places an error, you get affected because:
The keyword-ad relevancy gets lost as more than one ad compete to show for the same keyword
It will impact you quality score, as the CTR might drop as a result
You could end up impacting your cost per click, as bid again is a factor basis which Google will decide which ad to choose
There will be no consistency in which ad shows when, and as a result leads to poor experience at the user's end and lack of relevant data at advertiser's end
All this will gravely impact your ad's performance in the long run. It is advisable to find these duplicate keywords from your account and delete or pause that keyword which you consider irrelevant.
How to resolve the Duplicate Keywords issue?
We will discuss the three ways to find the duplicate keywords from your AdWords account:
1. AdWords Editor
AdWords Editor has a tool that will give you a list of duplicate keywords. Here are the steps to follow:
Step 1: Go to AdWords Editor
Step 2: Select Tools and then Find Duplicate Keywords

Step 3: Select the criteria for finding duplicate keywords and hit the Find duplicate keywords button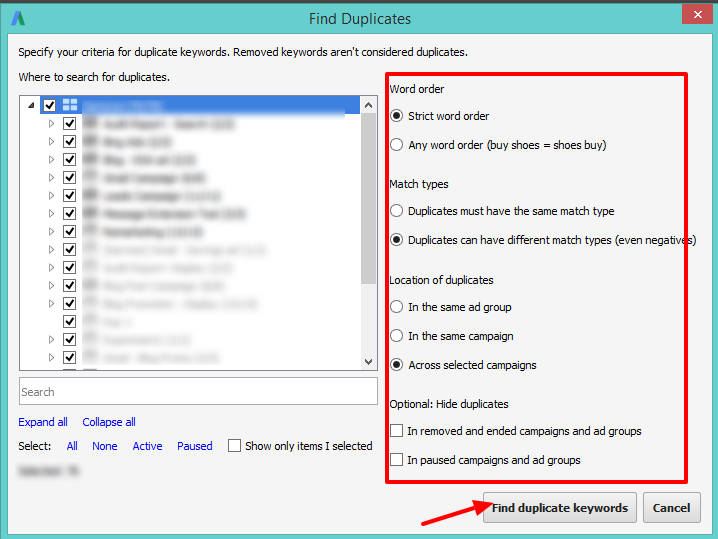 Step 4: The following page will show with the list of duplicate keywords picked up basis the criteria selected.

Step 5: Sort the duplicate keywords basis the metric you want and take the necessary action for the keywords that you do not wish to show your ad for.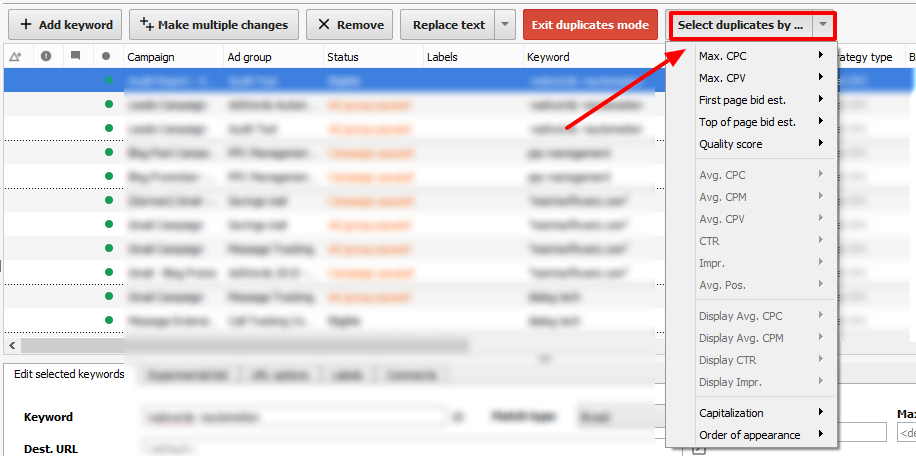 2. AdWords Interface
This is a rather time consuming task, as you would have to manually scan through the keywords yourself. to find the duplicates.
Follow these steps to find duplicate keywords from the AdWords web interface.
Step 1: Go to Keywords Tab directly
Step 2: Sort the keywords list by name or match type to find keywords alphabetically or through the keyword match types. You can manually enter the keyword for which you wish to search the duplicates, in the search box that says 'Find Keywords'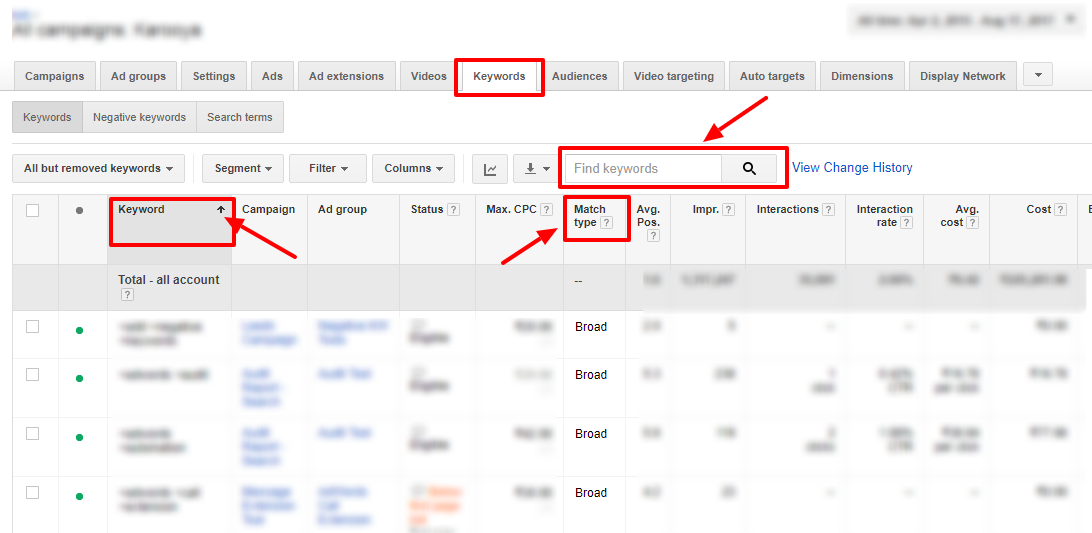 3. Karooya's AdWords Script
Most of the existing solutions identify presence of one keyword across multiple ad groups. This doesn't solve the problem of close variants.Whereas our AdWords Script helps identify duplicate keywords including close variants. On running this script it will flag even the close variants as duplicates
You can get the script by clicking here.
Conclusion
If you still find that the presence of duplicate keywords is unavoidable then try to work out a different targeting for those keywords. For example, you could have the same keyword red shoes in different campaigns that have different geo-targeting. One is targeted to United States and the other to United Kingdom. In such a case the clash is not likely to happen, as the user in United States will be shown a different ad than the user is United Kingdom.
If your keywords have different match types for example "pets food" and [pets food], then add the terms [pet food] as negative keyword in your phrase match type campaign.
Such strategic actions can assure that your ads don't compete against each other and only the relevant ad gets triggered for relevant search terms.
Note: Karooya's Negative Keywords Tool for Google Ads provides Negative keyword recommendations while saving 10-20% of your search spend for free. This tool is now Free for accounts with ad spend less than $10,000 per month. Sign up and start saving your ad budget now.
Related Links: