When a user searching for something sees a relevant ad, clicks on it, and visits the advertiser's landing page, Google wants that entire experience to be good. Quality Score for keywords is a Google's way of ensuring that advertisers create most relevant ads and landing pages for the search terms. Google awards, by means of a lower Cost Per Click, those who take great effort of ensuring right ads are shown for right keywords and the landing page is relevant to the keyword.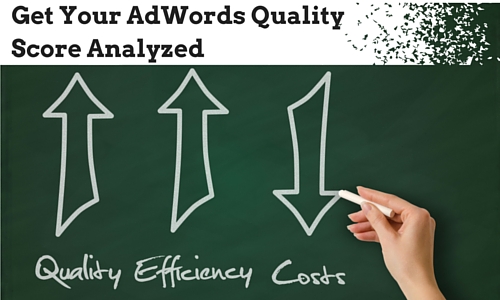 Quality Score has 3 components – Expected Clickthrough Rate, Ad Relevance and Landing Page Experience. Each of these components is given a score of Below Average, Average and Above Average. Final Quality Score is a weighted combination of these 3 attributes and it results in a number between 1 to 10. A score of 6 is considered average.
Typical workflow to identify QS problems involves filtering keywords by "low" QS and going through them. Hovering the mouse on the keyword status provides the details of the 3 attributes. Here's a screen that shows quality score for a keyword along with how that keyword performs for each of the attribute.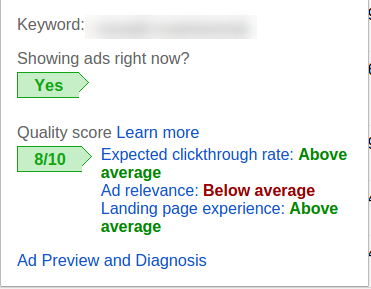 If you want to find out all the keywords where Ad Relevance is rated as "Below Average", it is rather tedious to go through all the keywords' status.
Last month (February, 2016), Google released an update on Quality Score in their APIs. Now, in addition to the Quality Score number, Google provides the break down of individual components for a keyword. This update makes working with quality very easy.
But, this data is available only with APIs and AdWords scripts. It is not yet available through the AdWords Web UI or AdWords Editor. Hence, we are publishing an AdWords script that will provide you break up of the Quality Score attributes for each keyword. Let's understand what insights the script will provide you.
Here's a report that is very similar to keyword performance report that you can download from AdWords Web UI. There is one addition to it. For each keyword, you can see the 3 components of Quality Score for that keyword. To help you visually understand the data, the Below Average score is highlighted with red background and Above Average score has green background. Average score has a neutral grey background. For example, in the result below, you can see Ad Relevance for many many keywords is Below Average. Time to write some new ad copies.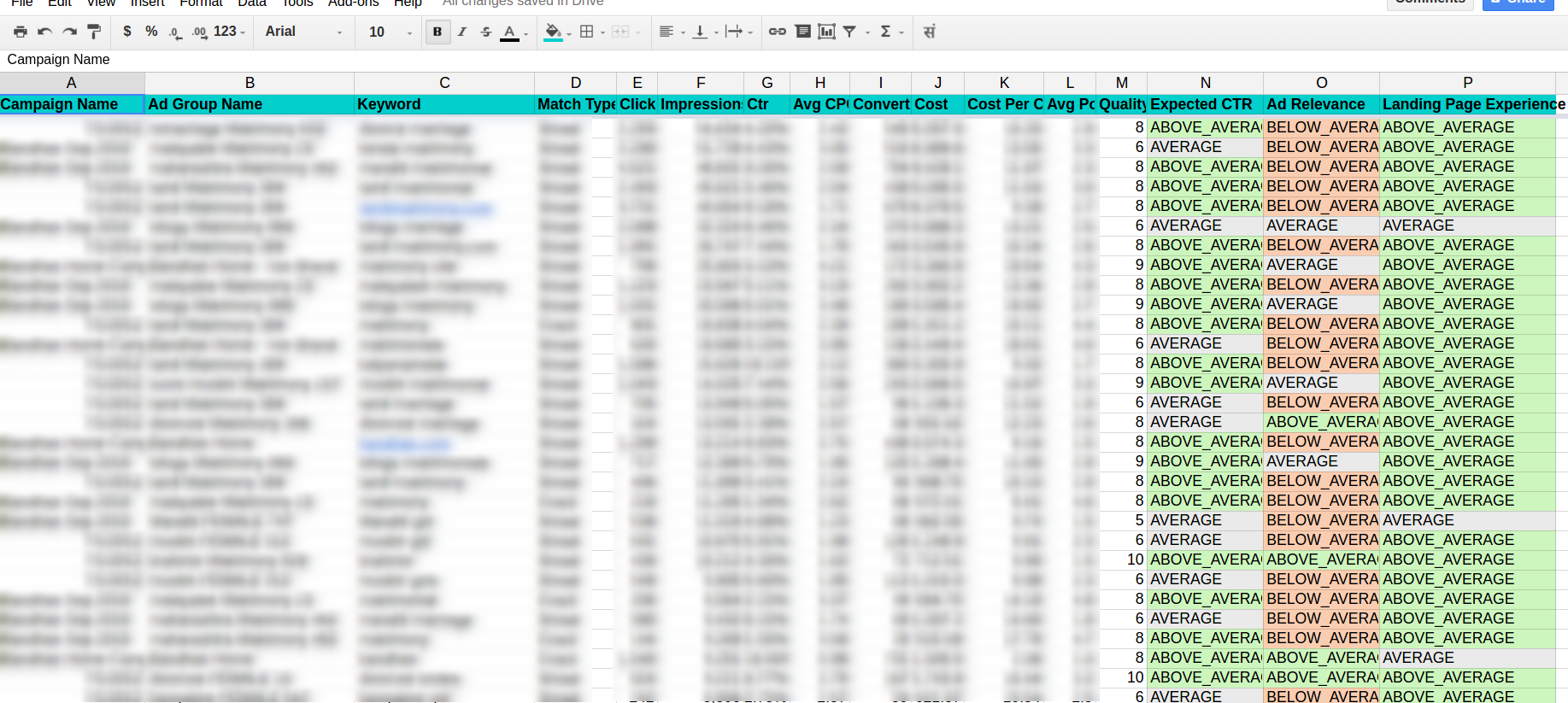 Since this data is available in Excel, you can sort and filter it in any way you want. This wealth of raw data is waiting for you to mould it to your liking.
Beautiful Quality Score Charts Pre-Cooked for You
If you want a bird's eye view of your account or campaign, this AdWords script creates a summary sheet for your data. It also creates some great looking charts that you can take a look at and understand exactly what is happening.
For example, this chart will show you total number of impressions happening at each quality score. That is, for each quality score from 1 to 10, impressions for all the keywords at a particular QS are clubbed together and that becomes the cumulative impression for that score. Here, you can see that QS of 8 has the highest impressions with score of 6 being the next highest one.
You can create similar chart for Quality Score vs Clicks/Spend/CPC, etc.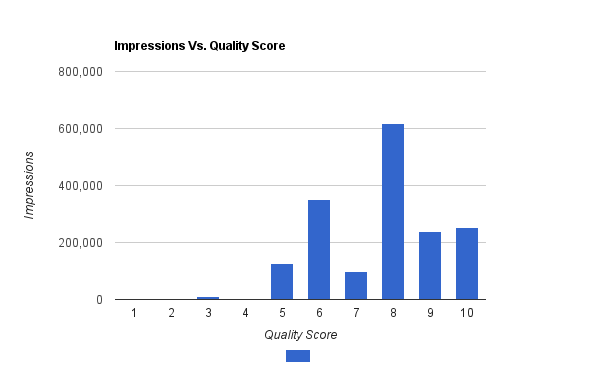 Now, some charts using the newly available data. Let's find out performance of landing page across the account.
This pie chart will show that 88% of the impressions for the keywords have Landing page experience of Above Average. High Five!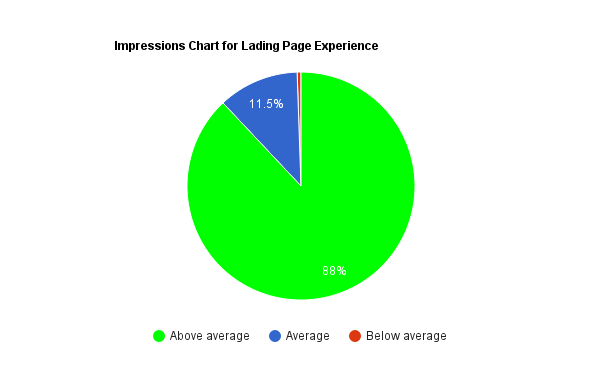 Similarly, this chart will show you impressions by expected CTR and Ad Relevance.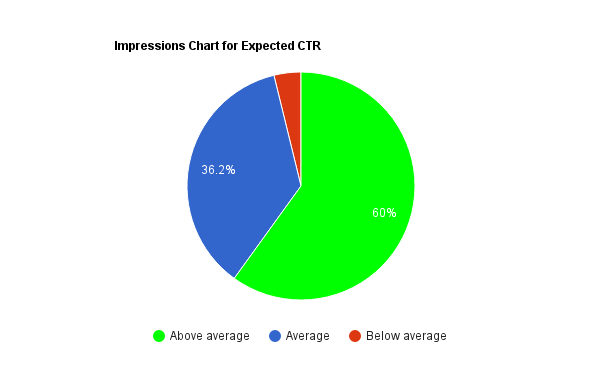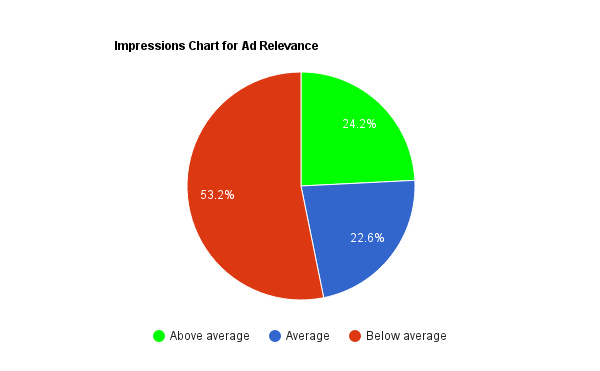 If you wish, you can draw similar chart for Cost vs any of quality score attribute. The summarized data is right there.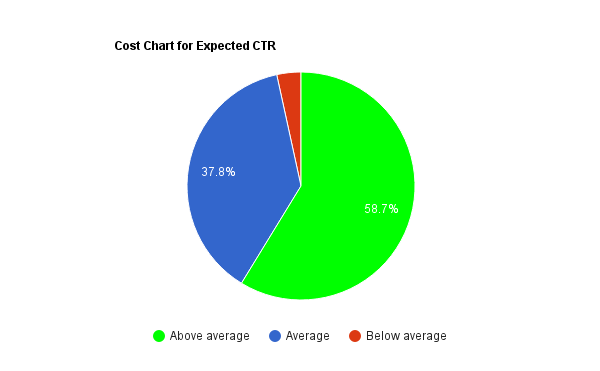 The Quality Score Script
Now that you know all the data that you can get from this script, let's talk about the script.
Here are the variables that you can change to customize it to your requirement.
REPORTS_FOLDER_PATH : This is the name of the folder that gets created in your Google drive. By default the name is 'Quality Score Analysis'. If you wish to change the name you can do so here.
DATE_RANGE: You can use some pre-defined ranges like LAST_30_DAYS or LAST_14_DAYS. By default, the script will get the data for last 30 days.
USE_CUSTOM_DATE_RANGE : If you want a particular date range to be used then, set this flag to "true" and modify the START_DATE and END_DATE to indicate the date range. The date format is "yyyy-mm-dd" aka "Year-Month-Date." For example, if you want a report from last quarter of 2015, the START_DATE would be "2015-09-01" and END_DATE would be "2015-12-31."
IS_MCC_ACCOUNT : This flag is to indicate whether you will be running this script at MCC-level. By default, it is set to false. Change it to "true" if you want to use for all the linked accounts in your MCC account. The results for each account will be stored in a separate sheet. Be careful, if you have many many accounts.
IGNORE_PAUSED_CAMPAIGNS and IGNORE_PAUSED_ADGROUPS : These flags indicate to ignore paused campaigns and ad groups. By default, these are set to true. All paused keywords are ignored by default.
MAX_KEYWORDS : You will get report for top 1,000 keywords (ordered by impressions in the decreasing order) in the account. You can get results for more keywords by changing the value here.
FILTER_ACCOUNTS_BY_LABEL : If your MCC account has tons of linked accounts, you may not want to run this script for all the accounts. In that case, turn this flag to "true" and then specify the label with ACCOUNT_LABEL_TO_SELECT variable. Only the accounts with the specified label will be analyzed to generate this report.
Once again, here is the link to the AdWords script.
Feel free to send us an email (support AT karooya.com) if you have any queries for this script.
Related Links: