Google makes another significant update to the matching behaviour of the match type. And this time it is Phrase Match!
Traditionally a phrase match keyword would match to a search term written in the same order. For example "cotton shirts" would match with men's cotton shirts or cotton shirts for boys but not with shirts that are made of cotton or shirts and skirts in soft cotton.
But post the announcement, phrase match will start reaching to even the broad match modifier traffic, while maintaining the order sequence. Here is an example: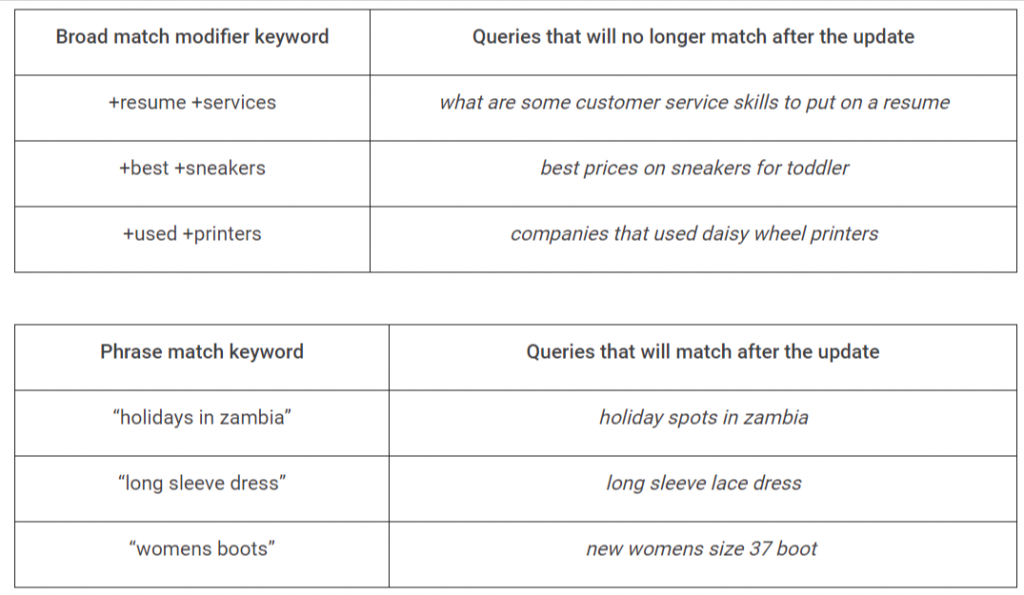 Here is another explanation provided by Google
This change means that the keyword will not match when the order changes and loses its meaning. The order in which the keyword has been added will be respected especially when it isn't meaning is important.
For example, if the keyword is "leather bags", it will be equivalent to +leather +bags, the following case scenario can be witnessed withe the new phrase match type:
| | | |
| --- | --- | --- |
| Search Query | Broad Match Modifier | Phrase Match |
| leather bags for women | YES | YES |
| rexin bags and leather jacket for women | YES | NO |
| leather jackets and bags | YES | YES |
| | | |
Here is the timeline on when the changes will start materialising:
1) Starting mid-February, both phrase match and broad match modifier keywords will begin transitioning to the new matching behavior
2) In July, advertisers will no longer be able to create new broad match modifier keywords
We also looked into how PPCers have been responding to this change:
Looks like it's another "improvement" to get more budget spent, with phrase match increasing the terms it will attract, while eventually replacing BMM.

— Ross Stevens 🖥️🏃📈 (@rossstevens_uk) February 5, 2021
Is there a reason to switch all BMM keywords to Phrase at this point? if we just leave BMM it sounds like they will just move BMM to the "new phrase" and we can keep our historical data. Otherwise i feel like we'll loose valuable BMM data. #ppcchat

— Mark Subel (@marksubel) February 4, 2021
I'm not too concerned…it just goes back to the notion that Google is taking more liberties with what queries your ads can show for. They continue to push us to use their automation…which I think is a good thing. #ppcchat

— Matthew Umbro (@Matt_Umbro) February 4, 2021
Looking acros data, G serves the 'wrong' keyword often. Wrong = broader keyword over more specific or queries w/ different intent than the keyword. This is going to cause more duplicate query issues. N-Gram and duplicate query analysis will be a must for #GoogleAds

— Brad Geddes (@bgtheory) February 4, 2021
Google has also made additional keyword changes that said:
Keyword matching is now more predictable: an exact match keyword that is identical to a query is now always preferred as long as it's eligible to match. This gives you more control over which keyword matches to a search, and can help reduce account complexity
Broad match now looks at additional signals in your account to deliver more relevant searches. When paired with Smart Bidding, these broad match signals–which include landing pages, keywords in your ad group, and more–can help you unlock new opportunities for your business.
The year has kickstarted with a major update. Let us wait and see how this change impacts overall campaign performance
Related Links: