[Post Updated on 18 September 2019] The post was updated with screenshots from the new Google Ads Interface.
To ensure continuity of a result-driven PPC campaign, marketers need to keep on building their negative keywords. So, if you thought of creating negative keywords list once was enough, the answer is 'Definitely Not'.
With time you might find more irrelevant terms for which your ad is getting triggered. It is advisable to stay on top of such search queries for which you are still getting unwanted clicks.
Why is expanding negative keywords important? Here's why:
Brings more relevant audience to your website
Increases the chance of bettering your ROI
Reduces unwanted spend
The below list showcases the ways through which you can identify more negative keywords.
1) Search Terms Report
The Search Terms Report gives an overview of the search term that a user-entered to view your ad. You can scan this data for terms that are relevant or irrelevant to your business. Here's a helpful guide on 'Using The Search Terms Report In New AdWords UI' that briefly explains the process.

Though this report helps in identifying irrelevant terms, however, unwanted users have already been driven to your site, as this data is a real-time report of the action already taken place. Nevertheless, it is a suitable option to figure out "what terms led users to the site'. For new keywords ideas, you could refer to the other options listed down here.
2) Free Online Keyword Tool
There are many alternate options of Google Keyword Tool available. These online tools, some free and paid, generate keyword ideas basis a sample keyword entered. You can scan through the list of keywords and pull out the words that you find irrelevant.
This is a time taking task as you have to drill down a comprehensive list of keywords. But it is a great way to figure out what users are searching for, their volume and competitive impact (relevant for bidded keyword)
3) Google Keyword Planner
The Google Ads platform offers a tool where you can find new keyword ideas, which is called the Keyword Planner. It can be accessed under the tools tab in your Google Ads account. You can enter a word or a phrase that closely describes the keyword that you wish to block.
Google Ads generates a list of keywords basis the details entered. You can select the keyword that best suits the objective and add it to the desired campaign.


4) Use Google Search For More Terms
You can directly enter your keywords on Google Search Engine Platform and get ideas from there. This data doesn't get captured elsewhere, as these are reflection of the possible search queries that people are searching for on Google.
Such is the reach of Google's Search Network, that many developers incorporated autocomplete feature in their service offering. Google recently announced blocking the unpublished usage of autocomplete API.

You can get some new negative keyword ideas from here that you can implement in your campaign.
5) Automation Tools
You can take help from automation tools for easy discovery of your negative keywords. Karooya's Negative Keywords Tool simplifies the task of identifying keywords that are irrelevant to your business. With a simple click, you can add the desired negative keyword to your account and save time spent in scanning through pages of keyword suggestions.
This tool identifies keywords that are non-performers, recommends new negative keywords, suggests similar negatives, etc. You can sign up for the tool here.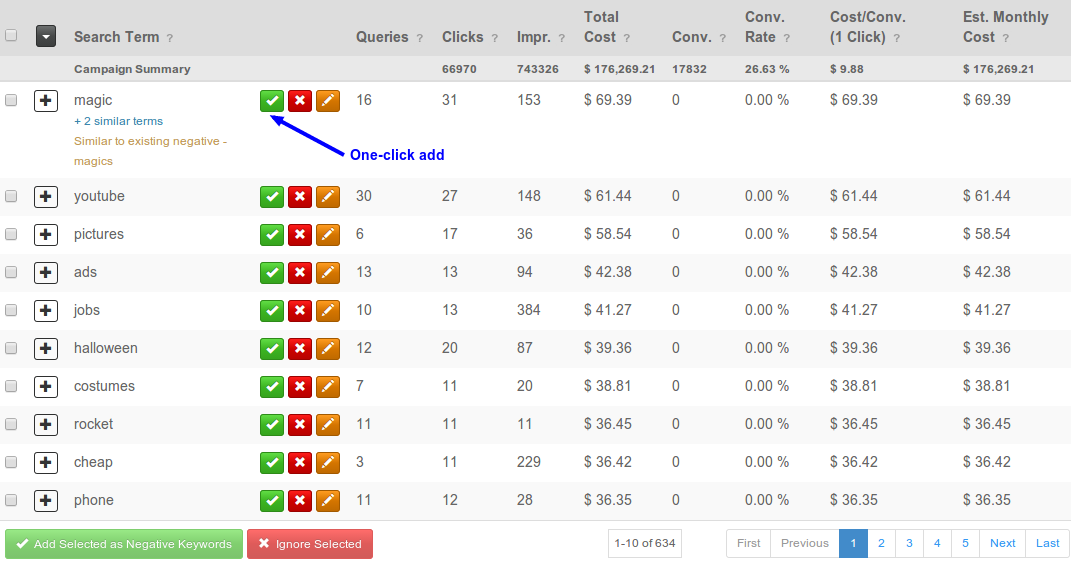 Note: Now, our Negative Keywords Tool is Free for accounts with ad spend less than $10,000 per month. Save 10-20% of your search ad spend for free.
6) Use a Thesaurus
Thesaurus can offer considerable keyword ideas that you could bank on. You can use this as a source to find related concepts and synonym of a keyword you have in mind. You might think that adding one variation of a keyword is sufficient, however, if you really want to direct relevant traffic then all related terms of a keyword should also be added as negative.
So, visit online thesaurus websites and enter the keyword for which you want suggestions. You will be showcased a list of words from which you can start doing your shortlisting. You can opt for one or all the options listed here to identify negative keyword ideas for your business.
7) Google Analytics
You could take insights from your organic traffic to identify what search terms are triggering your website's landing pages. The ones that appear irrelevant could be added to your list of negative keywords.
EndNote
Negative keywords is an ongoing task. You must review your search terms occasionally to ensure that no single penny is getting wasted on audiences your business doesn't wish to cater.
Identifying negative keywords for large accounts or multiple client accounts can be tedious if done manually. An automated negative keywords discovery tool can save tons of time and effort for the PPC Manager. Not to mention, this will also save the wasted ad spend on Google Ads. Give our negative keywords tool a try.
Related Articles: