Negative keyword lists make it easy to add a group of negative keywords to several campaigns without having to manually do so. Understanding how to group comparable negative terms together becomes critical in this situation.
Negative Keyword is an essential component of campaigns. If you are into the business of selling red shoes and don't want to show for search terms such as red socks, then you add socks as a negative term. Negative keywords control irrelevant traffic from seeing your ad and you have an ace up your sleeve, by saving money on your ad spend.
Why Negative Keyword List?
You might think, that adding one or two negative keywords is sufficient. Your campaigns and negative keywords, on the other hand, will increase in tandem with your business. Lists are a lifesaver when it comes to tactically managing the surge of negative keywords.
For example, if your business of shoes has 15 ongoing campaigns, then you may realize that the following areas may use some work: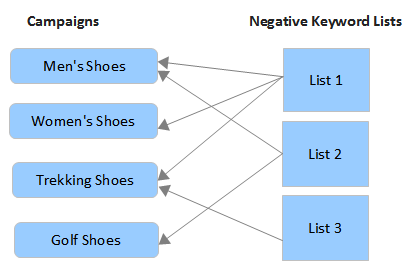 There are some common negative keywords for 4-5 campaigns
You find that each campaign needs some individual negative keywords
There is a generic set of negatives for all the campaigns etc.
Many more such questions would come up now and then. Simply put, you want to centralize some negatives and assign individual negatives to some campaigns. But assigning lists manually to campaigns can become tedious. As you go on modifying and adding new keywords you tend to lose track of where you added and where you missed. You might find it tiring to sync the keywords across the campaigns. This purpose is met by Google Ads Shared Negative Keyword Lists, which lets you add negatives to one or more campaigns.

Note: In your account, you may add up to 5,000 negative keywords per list and build up to 20 negative keyword lists.
Having said that, it's even trickier to identify what negative keyword lists you could create. We will simplify that for you and give you some of the ways to identify and group some common negative keywords.
Types of Shared Negative Keyword Lists to put to use:
Before creating negative lists, segmenting your negative lists should be adopted as a practice. Why? Each of your campaigns is built with an objective. A negative list should in no way obstruct achieving that intent. Also, an organized account is what marketers crave. Separating your negatives will allow you to manage smartly and assign relevant keywords to relevant campaigns. Let us assist you in understanding the negative list categories that can be created:
1. Brand Negative Keywords
If you have different campaigns for brand and non-brand keywords, you may wish to add all brand terms to your non-brand campaigns as negatives. The performance of brand keywords differs significantly from that of non-brand keywords. They have lower CPC, higher CTR, lower CPA. Brand keywords typically get higher visibility with all the extended site links, call-outs, and other extensions that you may have enabled. Hence, you don't want non-brand campaigns to cannibalize the brand traffic. That also messes with your metrics.
2) Competitor Brand Negatives
You may not want to bid on your competitors' brand name for a variety of reasons. You may have an agreement with each other not to do the same. Your competitor names may be protected by trademarks, preventing you from utilizing them in the ad content or even as keywords. Or simply because the traffic from your competitors' brand converts very poorly. After all, they are looking for your competitor and not you.
3) Partner Brand Negatives
Your affiliates or business partners may be bidding on the same term and vying for the same audience. In such cases, you don't want to show up for your search queries with your partner's brand name. Creating a negative list with affiliate brand names can prevent your ad from showing. You might want your affiliates to do the same i.e., not bid for your brand name as it may dilute the brand's essence.
4) Product or Audience Based Negative List
If you have campaigns targeted for a highly segmented audience then you would not want them to see ads of services or products not meant for them. For instance, if you sell kids scarves and women scarves and have created different campaigns for each, you would want to add all keywords under women scarves as negative keywords in kids scarves and vice versa. This would prevent your audiences from viewing products that don't cater to their needs.
5) Related Product Negatives
There is a chance of repeating keywords for online marketplaces or firms providing a wide range of products and services. Even if you create distinct campaigns for each of them, there is a possibility that traffic will breach the line. For example, if you are selling mobile battery, battery charger, and laptop battery and have the common keyword 'battery' across the individual campaigns created for each, you might want to do the following:
| | |
| --- | --- |
| Campaign Name | Negative Keyword |
| Mobile Battery Campaign | "battery charger", "laptop battery" |
| Battery Charger Campaign | "laptop battery", "mobile battery" |
| Laptop Battery Campaign | "mobile battery", "battery charger" |
6) Shopping and DSA campaigns
Dynamic Search Ads show based on your site's content and Shopping Campaigns refer to the products groups to show the product ads. There are no keywords in either of these campaigns, thus they may conflict with advertising from other campaigns. All current campaign keywords must be added as negative keywords in these campaigns to avoid cannibalization. Adding negative lists to the campaigns will ensure that DSA and shopping campaigns become the "catch-all" campaigns to soak up any residual traffic missed by existing keywords.
7) Irrelevant Business Terms
There are some terms that are irrelevant to your business and you would want to opt them out. For example, if you are into the business of taking cakes orders online, you would not want to show for search terms such as how to make a cake, ingredients for making cake, make icing for the cake. These are terms which though contain your business term, but the intent is different. All these irrelevant terms may most probably be applied to all the campaigns. Unless you are running a blog where you are sharing such information then barring the campaign created for your blog, you could apply it to the rest.
8) Generic Terms
Terms such as jobs, employment, Facebook, Twitter, etc. could simply be done with. So, if your brand name is Cake4U, taking orders for cakes online then you would prefer not to show your ad for search terms such as follow Cake4U on Twitter, jobs in Cake4U, etc. These are those generic terms that sometimes might get clicks and unwanted visits to your site.
Expand Your Negative Keyword List
Now that you have an idea of the type of lists to create, here is how you can populate your list. This ensures that you have a comprehensive list of similar negative keywords that you can restrict from your campaign targeting.
But, why is expanding negative keywords important? Here's why:
Brings more relevant audience to your website
Increases the chance of bettering your ROI
Reduces unwanted spend
1) Search Terms Report
Through the search terms report, you get an insight into the actual terms that the user searches for. You could scan this report for any potential keywords or negative keywords. Refer to our post on How To Identify Negative Keywords Through Google Ads Search Terms Report? to get more details
2) Google Keyword Planner
The Google Ads platform offers a tool where you can find new keyword ideas, which is called the Keyword Planner. It helps marketers identify the right set of keywords that can assist them in reaching a relevant target audience.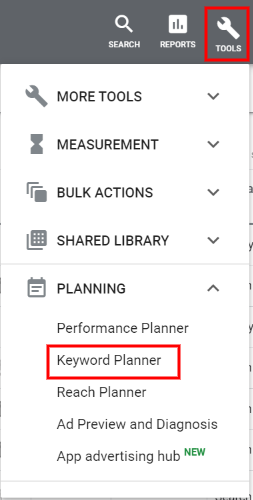 3) Use Google's Autocomplete
You can directly enter your keywords on the Google Search Engine Platform and get ideas from there. This data doesn't get captured elsewhere. These are reflection of the possible search queries that people are searching for on Google.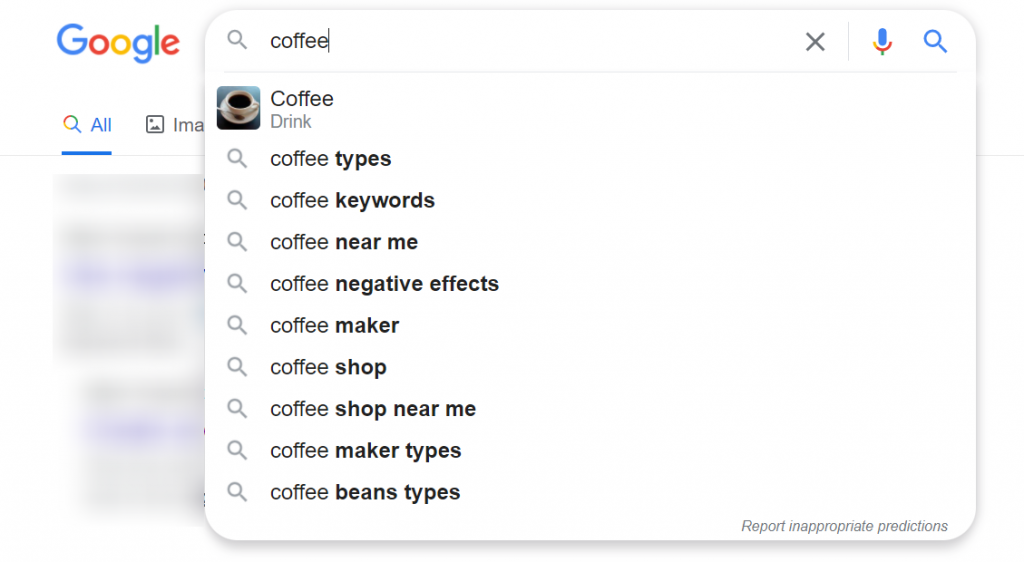 4) Google Search Console
You may use the information from your organic traffic to figure out which search phrases lead to your website's landing pages. Negative keywords might be added for the ones that appear to be unimportant.
5) Use a Thesaurus
Thesaurus can offer considerable keyword ideas that you could bank on. You can use this as a source to find related concepts and synonym of a keyword you have in mind. You might think that adding one variation of a keyword is sufficient, however, if you really want to direct relevant traffic then all related terms of a keyword must also be added as negative. So, visit an online thesaurus website and enter the keyword for which you want suggestions.
6) Automation Tools
You can take help from automation tools for easy discovery of your negative keywords. Karooya's Negative Keywords Tool simplifies the task of identifying keywords that are irrelevant to your business. With a simple click, you can add the desired negative keyword to your account and save time spent in scanning through pages of keyword suggestions.
This tool identifies keywords that are non-performers, recommends new negative keywords, suggests similar negatives, etc. You can sign up for the tool here.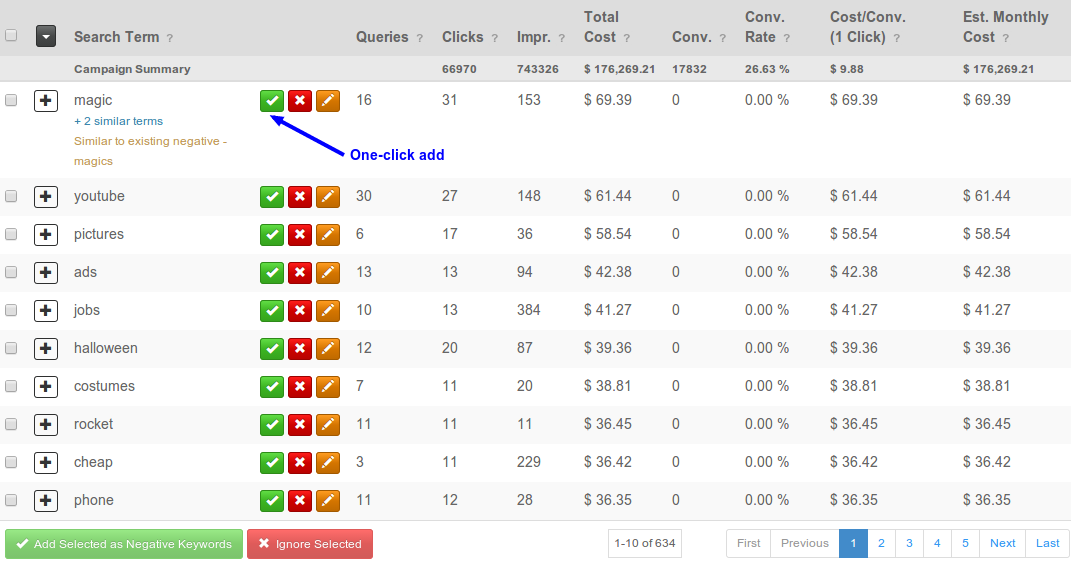 An Important Note: Our Negative Keywords Tool is Free for accounts with ad spend less than $10,000 per month. Save 10-20% of your search ad spend for free.
Related Links: