Merkle released its Digital Marketing Report for Quarter 3, this week. We elaborate some of the key findings from the report in this post.
You can download the report from here
1. Google search ad spend & Facebook ads continues to grow YoY
Spend on Google search ads rose to 24% YoY, while the clicks and CPC grew 19% and 4% respectively. The overall paid search spending increased from 20% in Q2, to 22% in this quarter. Google shopping ads still seem to be outpacing text ads with 37% growth YoY in Q3 in comparison to 15% growth for text ads.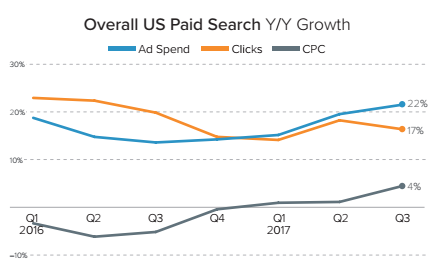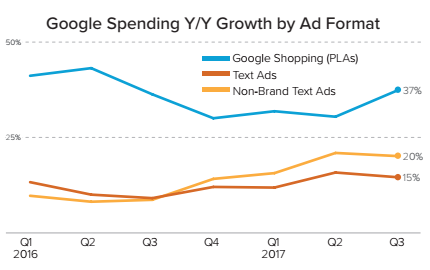 2. Desktop spending gets revived
Though mobile continues to have larger search ad spend, last year since Google gave advertisers the ability to segment desktop and tablet bids, desktop is showing a relatively stronger performance and and is a key contributor in Google's overall growth.
3. Audience impacts Google search ad clicks
Ever since Google has made updates to Google audiences, 20% of Google search ads have got impacted as a result of Customer Match, RLSA and similar audience targeting.These segments have been observed to have resulted in above average CTR, conversion rate and average order value.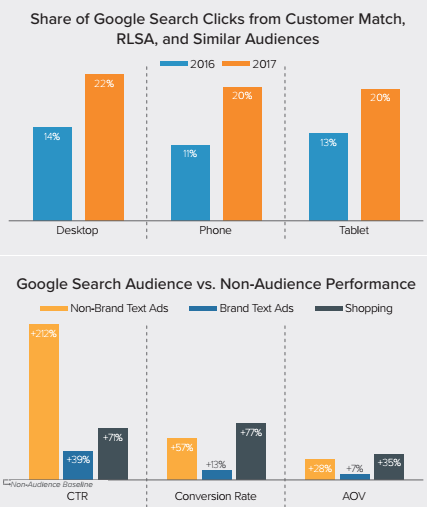 4. Facebook continues to grow as an advertising platform
Facebook ad spend grew 40% YoY, but declined from 56% growth in Q2. Of the total Facebook ad spend, News feed ads accounted for 84% of the spend while Instagram received only 3%. Mobile and tablet accounted for 70% of the total ad spend and desktop 30%.
Overall paid social spending increased by 29% and Facebook made the maximum contribution in this growth.
5. Organic search visit falls
Visits by organic search fell 3% YoY, this quarter. Across all device types the organic search visits fell. For phone it dropped from 15% in Q2 to 9% in Q3 and desktop fell by 10%. Though Google's organic search visits slumped from 5% in Q2 to 1% in Q3, the gap was huge for Bing's organic search visits, that dropped 16% YoY.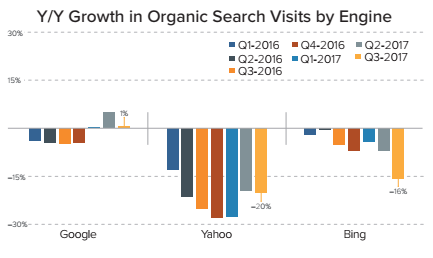 Related Links: