Merkle released its Digital Marketing Report for Quarter 4, 2017 last week. We elaborate some of the key findings from the report in this post.
You can download the report from here
1. Overall Search Ad Spend Increases
Across all major platforms, the paid search spend increased. Google witnessed a growth of 24% YoY in Q4,2017 which rose by 2% from 22% growth in the third quarter. Of this growth the search ad spend rose by 23% YoY while Google shopping ads spend saw a growth of 32% YoY and text ad spending remained untouched at 15% YoY.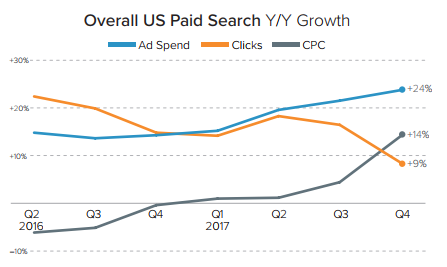 On the other hand, Bing Ads and Yahoo Gemini also observed an increase in their paid search spend. Together they were able to amass a growth of 32% YoY which rose by 6% from what was witnessed in Q3, 2017.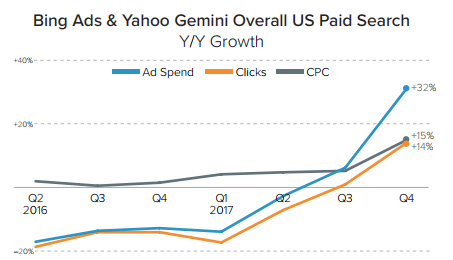 2. Bing Product Ads Sees Major Rise
The fourth quarter saw a massive growth in Bing Product Ads spend, the highest observed in the last two years. The spend increased by 43% while the clicks rose to 62% and clicks declined to 11%. Attributing this growth to the influx of mobile traffic, the text ads spending on phones comparatively fell by 8% though overall the text ad spending still saw a rise by 29% YoY.
3. Facebook Impressions Decline
While the ad spend on Facebook increased by 20% YoY, the impressions decreased by 27% YoY in Q4, 2017. On the other hand, spend on Instagram nearly doubled in Q4 at 122%, resulting from increase in impressions at 99%.
Of the total Facebook spend, Phone and Tablet together contributed about 83% of the spend, leaving the remaining 17% to Desktop.
Facebook share in the total paid social investment was witnessed to be 82%, with Instagram accounting for 8%, other networks (Twitter, Snapchat and LinkedIn) at 3% and Pinterest at 7%.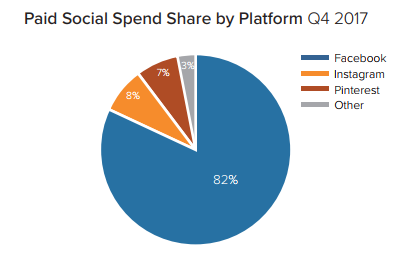 4. Amazon Sponsored Product Ads Dominates
In Q4, 2017 spend on Amazon's Sponsored Product Ads and Headline Ads increased by 64% and 75% QoQ respectively, whereas the Product Display Ads declined by -29% QoQ. Of this spur, Sponsored Product Ads accounted for 82% of the Amazon ad spend share with Headline Ads at 11% and Product Display Ads at 4%.
5. Organic Search Visit Grows 
Overall, the total site visits by organic search rose by 6% YoY, with mobile organic search rising to 15% YoY, visibly higher than Q3, 2017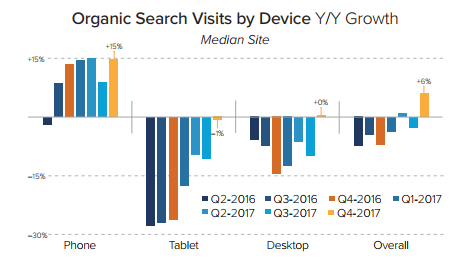 Google Organic search visits rose by 8% YoY, which was up by 7% from Q3, 2017 and its share of mobile organic search increased to 96% which was up by 3 points in comparison to the third quarter.
For more insight, here is the link to the full report again.
Related Links: