Merkel recently released their Digital Marketing report for Q3 2019. We have managed to arrange some key findings from the report in this post.
The complete report can be downloaded here.
 Paid Search Spending Growth
Spending on paid search ads grew 16% Y/Y in Q3 2019, up from 14% growth a quarter earlier. Overall, search ad click growth improved to 10% Y/Y in Q3 2019, matching a two-year high, while CPC growth accelerated a point to a little under 6% Y/Y.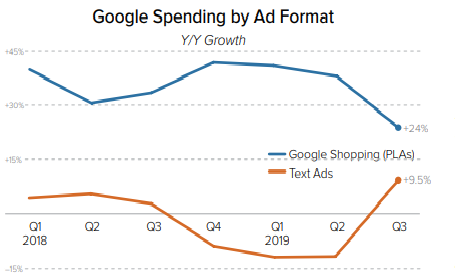 Advertisers increased their Google search investment by 16% in Q3 2019, up from 15% growth in Q2 2019. While CPC growth was unchanged at 4.5% Y/Y, click growth improved from 10% in Q2 2019 to 11% in Q3 2019.
Amazon's presence in Google Shopping ad auctions reached new highs during prime day 2019. Although Amazon paused these ads over the two-day event itself, it returned to capture an even larger share of Shopping impressions.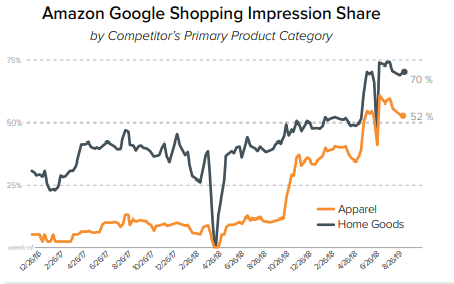 Organic Search and Social Visit Growth
Organic search visits produced by DuckDuckGo grew 68% Y/Y overall in Q3 2019, a solid acceleration from 49% growth in Q2 2019.  DuckDuckGo now produces half as many organic search visits as Bing, and it is closing the gap fast.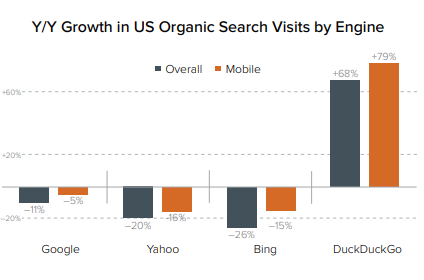 Phones and tablets generated just under 65% of DuckDuckGo organic visits, compared to 64% of Google organic visits. Importantly, mobile generated 73% of Google paid search clicks in the quarter.
Visits to brand sites driven by Instagram grew 22% Y/Y in Q3 2019, down from 56% growth a quarter earlier. Across other major social platforms, visits driven by Pinterest grew 24% Y/Y in Q3 2019, Facebook visits grew 23%, YouTube saw 13% growth, and Twitter visits fell 11%.
Display and Paid Search
Facebook ad spend, excluding Instagram, increased 12% Y/Y in Q3 2019, among advertisers with established programs, Impressions rose 20% in Q3 2019, down from 25% growth in Q2 2019.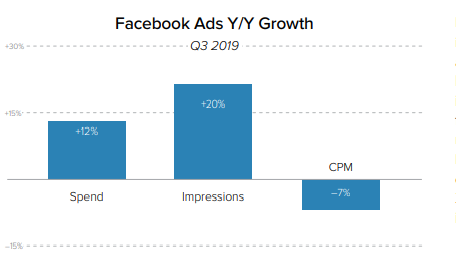 Among brands running both YouTube and Google search ads, YouTube generated 19% as much ads spend as Google search. Spending on Instagram ads grew 44% Y/Y in Q3 2019. Instagram ad impressions grew 138 %, but average CPM fell 39%.
Amazon Ads
Amazon Sponsored Products Spend Growth Accelerating Again. Spending growth was 35% in Q3 2019, up from 12% growth a quarter earlier. Spending growth for Amazon Sponsored Brands ads also accelerated, coming in 20% higher Y/Y.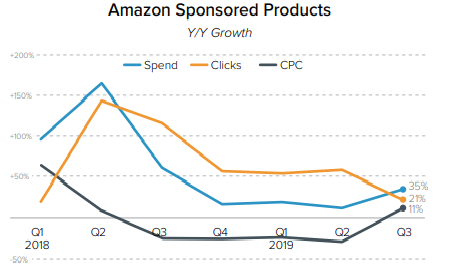 For Sponsored Products ads, brand keywords received 39% of spend in Q3 2019 and generated 50% of sales, up from 28% and 45%, respectively, in Q1 2019.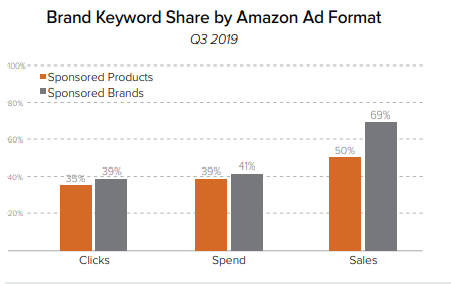 For advertisers who are running Amazon Sponsored Products ads,  the average conversion rate in Q3 2019  was about 3.6 times the average conversion rate for advertisers running Google Shopping ads. This was a slightly higher advantage compared to a quarter earlier.
Once again, to download and view the complete report, click here.
Related Links: