Lots of campaigns. Lots of optimizations to do. And lots of pressure to improve results in ever-competitive paid search marketing effort. We plan to take at least one worry off your list. You have already used Karooya's Negative Keywords Tool to add negative keywords to your campaigns. Today, we take it a notch higher. We have made it incredibly easy to add new negative keywords to your campaigns.
Now, you will see a new tab of "Must-Add" negative keywords. These keywords are performing really really bad. They have eaten significant chunk of budget but have performed really poor. We have analyzed significant amount of data (I hesitate to say "big data") to discover patterns for bad traffic. Out of these patterns, we have selected a few conservative rules to identify "Must-Add" negatives.
You will also see an estimate of savings before you accept the must-add negative keyword recommendations. (Imagine, 21% savings in just a minute!)

Here are the steps to quickly add these terms.
Go to Must-Add tab. You probably do not have do anything, as you will be taken to this tab, by default.
Increase the number of suggestions per page to 100. Scan the recommendations.
Bulk-Select all the recommendations.
Add all these selected terms as negative keywords.
Repeat, if there are more than 100 suggestions.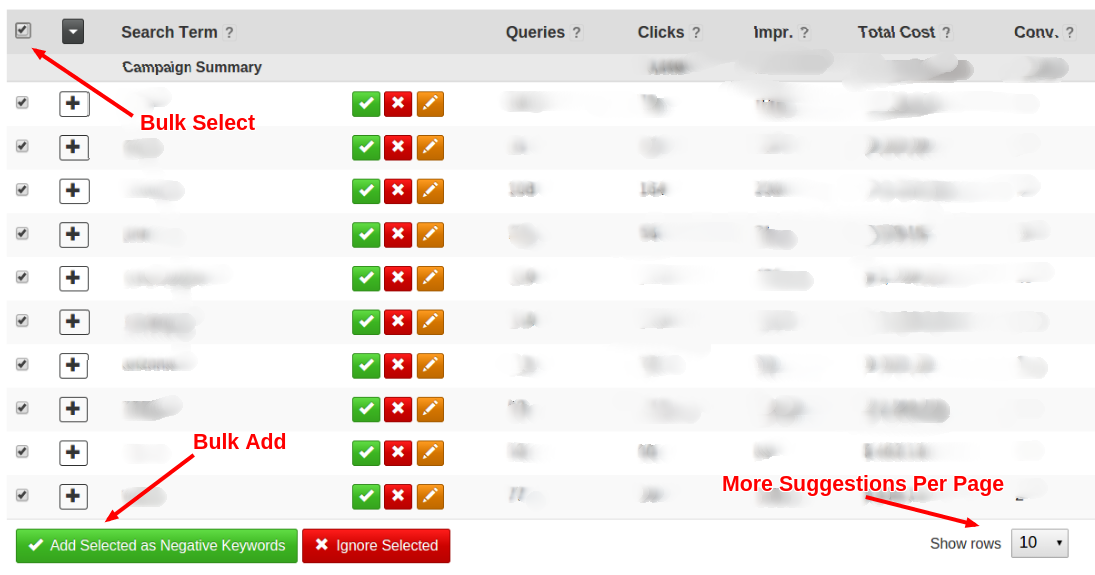 One final word. We have taken a conservative approach to suggest these negative keywords. But, you may want to eyeball these suggestions once. A trained eye like yours can spot anomalies quickly.
Give it a try and let us know your feedback.
Note: Karooya's Negative Keywords Tool is now Free for accounts with ad spend less than $10,000 per month. Save 10-20% of your search ad spend for free. Sign up and start saving your ad budget now.
Related Links: