A year back, Google announced their new ad format, Expanded Text Ads. Following that announcement, we launched the Expanded Text Ad Preview Tool to help advertisers create ads in the new format, share the ads and review it.
We have recently upgraded the tool and added features to further optimize the Expanded Text Ads creation process. Here are the changes with which the tool has been updated.
Expanded Text Ads Preview Tool Changes
1. Description added to Sitelink Extensions
We understand the importance of Sitelink Extensions. Hence we have added a new section that lets advertisers add description to their sitelink extensions.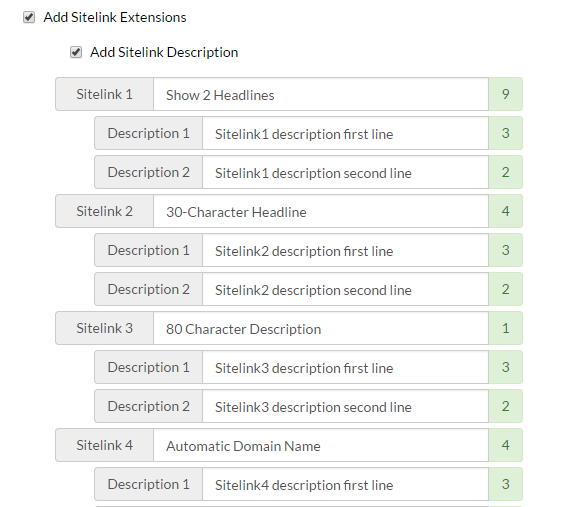 User can toggle the checkbox named 'Add Sitelink Description' to see how their ad will be displayed with and without sitelink descriptions.
Here is how your ad with the sitelink description appear in web results: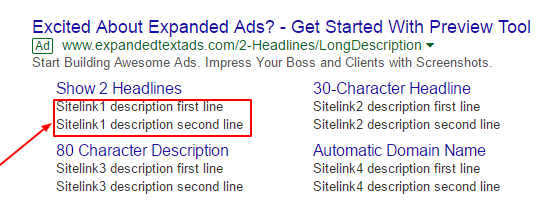 2. Message Extension Added
Last year, Google announced Click-to-message extension that lets users on mobile send an instant SMS to the advertiser. Knowing that users are moving on mobile and advertises wish to tap their audience there, we have updated the Expanded Text Ad Tool to include the message extension messaging

You can also use our Message Extension Tracking Software that helps you track the conversions being driven from your message extension.
3. Call Extension display updated
The call button displayed in the mobile search results has been made akin to how google displays it. Google recently changed how the call button is displayed on mobile. Here is how it previously looked like: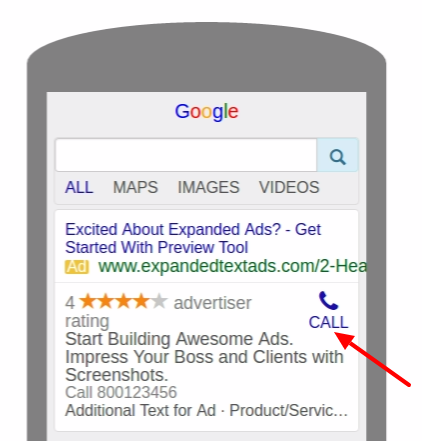 We updated the preview tool to make the change in display and format. It now looks like this:

4. Ad label color
Google had updated its previous yellow ad label to a green one, as shown in the snapshot below:

Earlier this year it was reported, that Google was sporting a green outlined ad label, instead of the solid green background.
We have updated the same in the preview tool too, to give you how your ads will appear in real-time. Here is how the new ad label appears.

All these changes are live and active for you to use. You can access the Expanded Text Ads Preview Tool by clicking here.
Test Your Expanded Text Ads
Once you launch bunch of ads, you may have to come back and check their performance. This AdWords script to find best performing ads will help you find the winning ads in your account. Run this script an pause the poor performing ads.
Related Links: