For a PPC search campaign (whether in Bing Ads, Google Ads or Amazon Ads), the user search queries that triggered your ad are highly insightful and actionable. These are the actual search terms that users are typing in search box to reach to your product or service. The search terms provide an peek into the users' mind.
When the search terms data across users is aggregated, that provides powerful information about your ads (impressions, clicks, cost, etc.) and their impact on conversions or sales. As is the case with most of the data, the more search terms data, the better is the analysis. With more search terms data, you can be far more confident about the behavior of a specific search term.
With search advertising platforms like Google Ads and Bing Ads, advertisers can download all the historical search terms data associated with their active or paused campaigns. (The search terms data for deleted campaigns may not be available.) One could go back months or even years with Google Ads and Bing Ads to understand the traffic received by the active campaigns at that time.
With Amazon Ads, however, the search terms data is available only for the last 60 days.
But with Karooya's new archival feature, you will now be able to access all the search terms data. All the search terms data along with the performance metrics like impressions, clicks, sales, etc.
How does Amazon Ads Search Archival feature work?
You sign up with Karooya and link your Amazon Ads account. When you link your Amazon Ads account, this tool fetches the search terms data for last 60 days. From that day onwards, we fetch the search terms data every day and archive it. Now, at any point in future, you will be able to download all the historical search terms data available with Karooya.  Over next few months, you will be able to get large chunk of historical data for comparison.
For illustration, if you sign up with Karooya on 1st January, 2019, we will have search terms data starting from 1st November, 2018. That is, on 1st May, 2019, you will have 6 months of data. In December, 2019, you will be able to compare data from November 2018 vs November 2019. Based on that, you can start preparing your campaigns for December 2019.
Here is the snapshot of how you can select the time period of your search terms data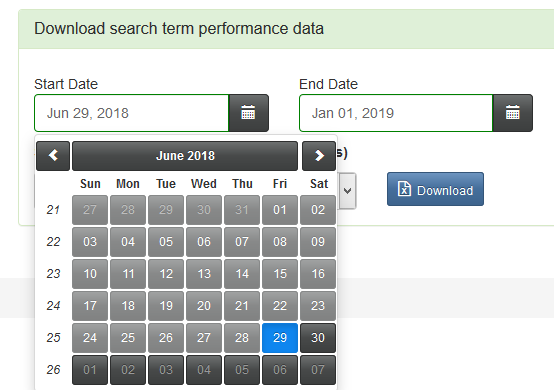 The data is available in an excel sheet that you can use to run your own custom analysis.

What more you can do with search terms data?
We are providing powerful tools to analyze your search terms, primarily to achieve two things. One, know what is working well for you, so you can double down on that. You can use this data to improve organic ranking of your products that will bring you more sales. Two, know what's not working for you (which could be either irrelevant terms or terms that convert poorly for you). The terms that are not working can be added as negative keywords to your campaigns.
Of course, the utility of search terms is not limited only to these benefits. Over a period, you will be able to glean tons of insights from these search terms data.
Excited about archiving ALL your search terms data? Get started right here.
If you have any queries, feel free to reach out to us on our support email address.
Note: Karooya's negative keywords tool for Amazon Ads is a powerful tool that saves your ad budget and time. It is Free for accounts with a monthly spend of less than $3000. Learn more and sign up today to improve your ACoS.
Related Links: