Having already served customers with Negative Keywords Tool for their Bing and AdWords account, we now extend this tool to Amazon ads advertisers too.
The Growing Amazon Ads
The recent digital marketing report affirms how Amazon is a growing platform. The advertisers spend on Amazon ad format increased by 165% YoY in Q2, 2018. Also, it was found that Amazon ad clicks converted at a much higher rate than Google's Shopping Ads.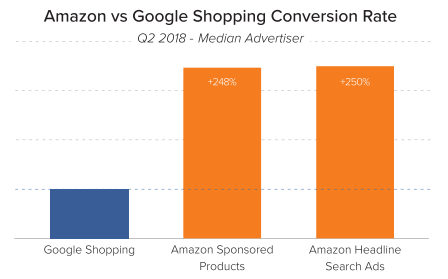 Much to prove Amazon ads' growing chart.
Amazon it is !
Knowing that advertisers are keen to invest in Amazon ads and want it to bring in profitable returns, we have devised a tool that helps advertisers with negative keywords. Earlier launched for AdWords and Bing Ads, we thought it was best to extend this offering for Amazon users as well.
So, today we announce the launch of our new Amazon Negative Keywords Tool
The tool provides you with Campaign and Ad Group level negative keyword suggestions and the following:
Helps identify terms that are irrelevant to the business that are eating away major chunk of the budget
Provides you with multi-word or single word recommendations that you can add as negative keywords to avoid unwanted clicks
Recommends terms similar in nature to an existing or suggested negative keyword (plural or different forms of the same term)
Add custom negative keywords. You can get performance data for a keyword to determine whether you should add it as a negative keyword or not. If it is a multi-word keyword you can test to check the performance of certain keywords and remove it if required. Example, for a suggested negative keyword such as black shoes for men, you can search for the performance of a certain keyword such as black shoes and basis that decide the best.
Give the tool a try here! We offer this free negative keywords tool for Amazon Ads with a generous free tier.
Using our Negative Keywords Tool helps block irrelevant terms and save on your ad spend as you will end up blocking the terms not bringing enough conversions.
Karooya's negative keywords tool for Amazon Ads is a powerful tool that saves your ad budget and time. It is Free for accounts with a monthly spend of less than $3000. Learn more and sign up today to improve your ACoS.
Related Links: