Google has added a number of automated tools in recent years, including Smart campaigns, Maximize Conversion Value and Maximize Conversions strategies, Google ad scripts, and others. Performance Max campaigns are the newest addition to its advertising automation solutions.
What Is Performance Max Campaigns
Google has launched the Performance Max campaign globally in November 2021 and since then, many more features have been added to it. In Google's words,"
Performance Max is a new goal-based campaign type that allows performance advertisers to access all of their Google Ads inventory from a single campaign. It's designed to complement your keyword-based Search campaigns to help you find more converting customers across all of Google's channels like YouTube, Display, Search, Discover, Gmail, and Maps.
So, Performance Max is a new type of automated, goal-based campaign that allows you to advertise across all of Google's inventory in one campaign. This means a single campaign is displayed across both the Search and Display networks.
By the end of Q3 2022, Google Ads will be replacing Smart Shopping and Local campaigns with Performance Max campaigns. If you could not make the transition by the end of July 2022, smart shopping and local campaigns will get automatically upgraded to Performance max by September 2022.
How To Create Performance Max Campaign
As this is a goal-based campaign type, you will only be able to create a Performance Max campaign if your advertising objective is sales, leads, website traffic, local store visit & promotions, and a campaign without goal guidance.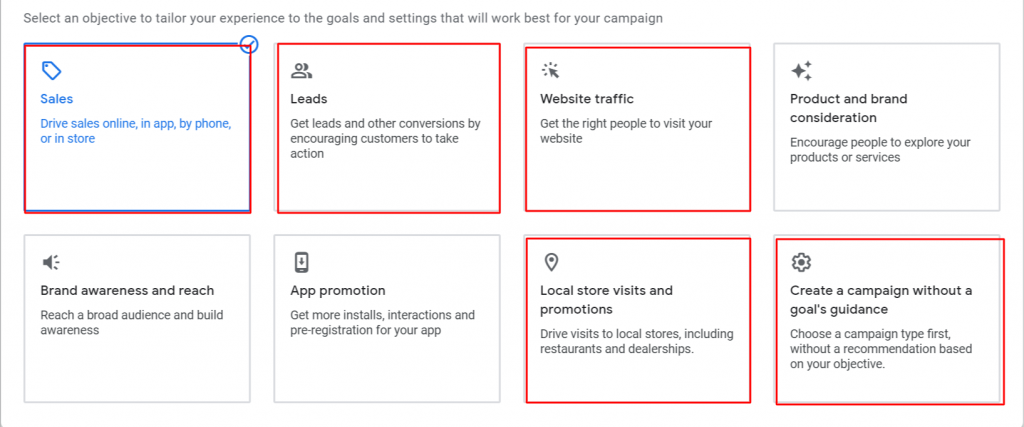 You can follow the steps mentioned here to create the campaign per your goal perspective.
Options & Controls Performance Max Serves Us With
While creating the Performance Max campaign, you are free to choose your objectives as per your goals. Let's see what options do you have:
1) Budget & Bidding: The first step is to set your budget and select your bidding strategy. The bidding strategy includes Maximise conversion values & Maximize conversion but you can also set Target CPA and Target ROAS strategies.
2) Asset Groups: An ad is called Asset Group in performance max. You can create multiple asset groups. This is something similar to a Responsive Display ad. Asset groups act as an asset to all platforms ( YouTube, Gmail, Map, etc)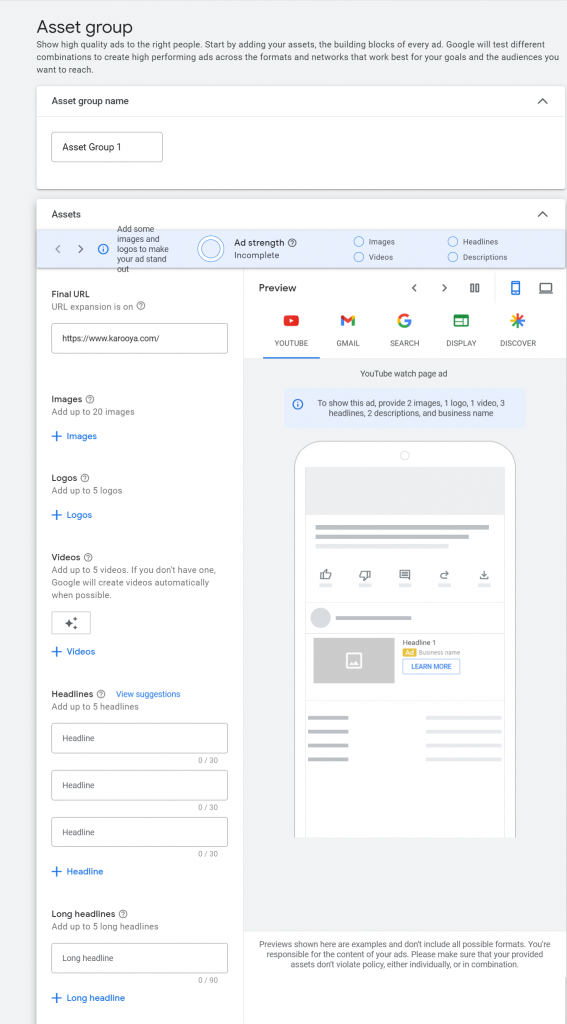 3) Targeting: You can select your audiences to help Google find the relevant one and you can optimize this by providing Audience Signals. As per Google " Use an audience signal to reach the right audiences faster. Start by creating or adding an audience. Performance Max will use it as a starting point, to find new conversions across Google."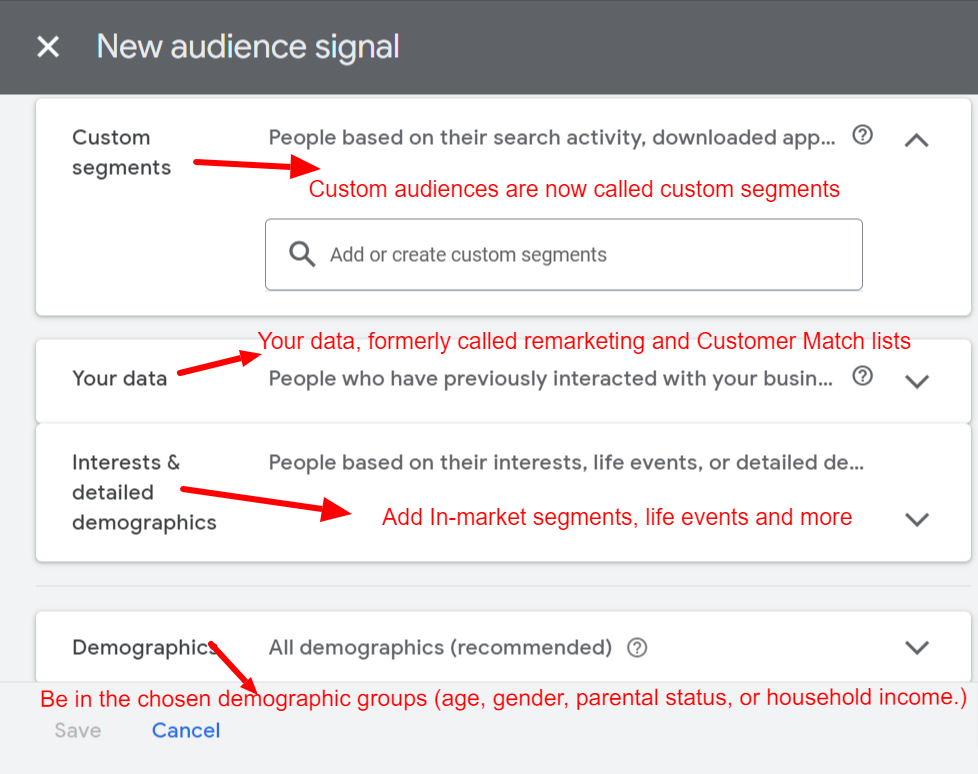 Apart from audiences, you can select locations and languages to target your desired reach.
4) Final URL: If you don't specify your final URL, Google will do so until you disable this option.

If you allow Google to send traffic to most relevant URLs on your website than you do get the option to exclude links.

Advantages & Disadvantage Of Performance Max Campaign
This campaign type offers several advantages over other campaign types, but it also has some limitations. Let's look at the advantages and disadvantages of running this type of campaign.
Pros Of Performance Max Campaign
Goal Oriented & Conversion Focused: When you have your goals set up, you are focused and it becomes easier to achieve them. With performance max, you can concentrate on what you want to get out of the campaign and so accomplish 100% conversion.
Easy Advertising for New User: New advertisers can achieve all their marketing goals without setting up multiple campaigns. This makes learning easy for them.
Manual Work is Reduced: The best part with performance max is, that it automates most of your manual tasks such as bidding, budget optimization, audiences, and more. So you can save time and focus on other important tasks.
Cons Of Performance Max
Lacking Control: Automation takes the control away from the advertiser to a certain extent. Advertisers who want complete control over their campaign's performance might be cautious to choose a performance maximum campaign.
Need to have Clear Goals: The performance campaign will not function as expected if your conversion goals are unclear. This holds true for the quality of your ads as well. No automation can assist you to outperform your competitors in terms of ad quality. To attain desired results, you must construct your ads according to your goals.
No Negative Keywords: As of now, you can not add negative keywords to the performance max campaign. However, Account-Level negative keyword will soon be available.
Lack Of Data: You won't be able to examine keyword/search phrase level data within performance max. Some PPC experts have mentioned this as one of the biggest challenges with performance max during one of the PPCChat sessions.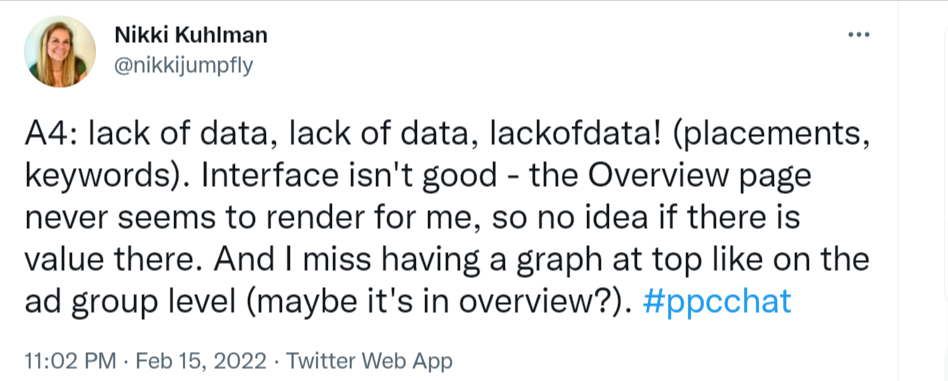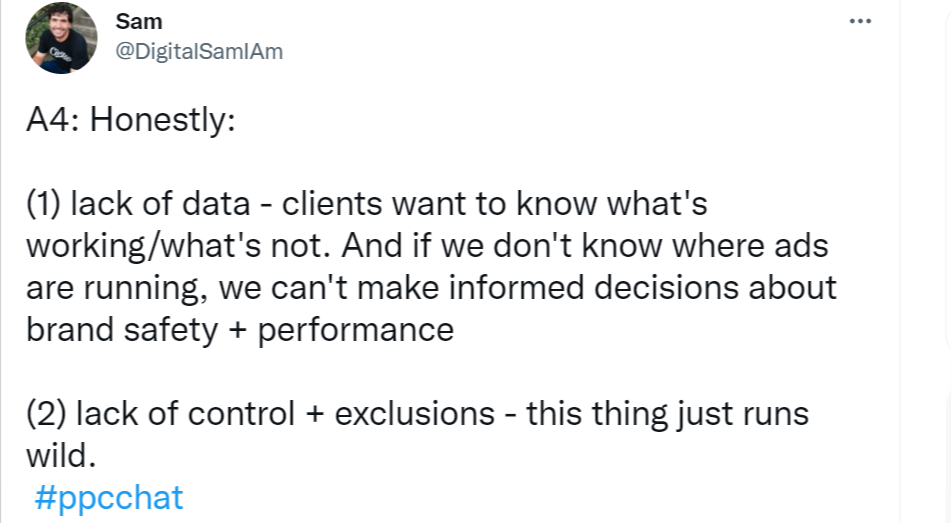 You must entirely trust and rely on Google's algorithm to provide the appropriate ad traffic to the appropriate audience.
There are some more pros and cons of Performance Max. Knowing them will help you to use this new campaign type wisely.
New Updates To Performance Max Campaigns
Google unveiled new Performance Max capabilities at Google Marketing Live 2022 that will help advertisers attract more customers, increase performance with better understanding, and update your smart shopping campaign with the One Click Upgrade Tool.
An article on SearchEngineLand by Greg Finn explains the new features very well. There are 7 new features Google has announced during its annual event:
In-Store Goals
Optimization Score for Performance Max
Brust Campaign
Additional Insight & Explanations
Performance Max Experiment Tool
Performance Max for Hotels
Manage Performance Max Campaigns using Google Ads app or Search Ads 360
Wrapping It Up
Performance Max Campaign type is automated and largely depends on machine learning. This new campaign type has undoubtedly lifted some of the weight from your shoulders, allowing you to concentrate on boosting the overall effectiveness of your marketing efforts. So, utilize Google resources to understand this campaign type better. The earlier you test these campaigns, the more you'll learn and have a chance to get ahead of the game.
Related Links