Display campaign helps you to show your ads on the display network. Of the myriad targeting options available, with audience targeting (for display campaign) advertisers can connect to customers with similar interests, intent and habits.
(This is the second post on the series of Google Ads Audience Targeting)
In our previous post, we have discussed about Audience Targeting in Search Campaign where we explored the available audience types and how it is helpful to run a successful marketing campaign.
Here,we will gather insight on available audience type in display campaign and how can you use them to boost your market presence.
Display Vs Search  Campaign Audience Targeting:
Audience targeting helps you to be more precise when it comes to choosing who will see your ads. Often, advertisers get confused about which campaign to be used when it comes to audience targeting. So what's the difference? Let's find out!
Search campaign allows you to target your audience through search engine platforms like Google and its partners wherein, Display campaign helps you to target all the websites which users are browsing across the web.
In search campaign,if you realize that Remarketing list isn't pulling the conversions, restructuring it for display campaign will bring back the visitors to convert.
Dive into available audience type in Display Campaign
By using audience targeting, one can find new customers or engage with the ones who are most likely to buy your products. Here is a list of the available audience type in display campaign and a quick understanding about them.
1) Remarketing Audience
This audience targeting type will let you show your campaign to such people who have visited your website earlier and showed interest in your products and services.
For example,people who checked beauty products on your website couple of times but could not make a purchase, Google makes a remarketing list of such users. This list will help you to create your campaign accordingly by giving them discount or some extra benefits and make them complete the conversion.
2) Similar Audience
Similar audience targeting helps you to target new users which have similar interests to those who have visited your site earlier. Remarketing list is the most commonly used while targeting new potential users.
If you take the above example,Google will use the remarketing list of people who liked beauty products displayed on your website and will search new users who shares the same interests to boost the visibility and make a purchase.
3) Affinity Audience:
Affinity audience offers 80 unique pre-defined lifestyle segments based on interest and demographic. Affinity audience is created by Google based on customers browsing and search history.
For example, if you have a website which displays women clothes and beauty products, Google will see which section of the website ladies are visiting most, how often they visit and how long they spent there.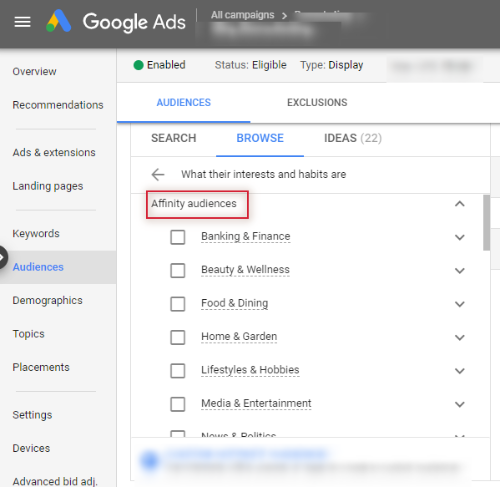 4) Custom Affinity Audiences
Unlike Affinity audience, custom affinity will not limit you to predefined segments and gives you scope to reach different audiences. Here,advertisers get to decide who to reach. You can create audiences using interest, apps, keywords ,URLs and places.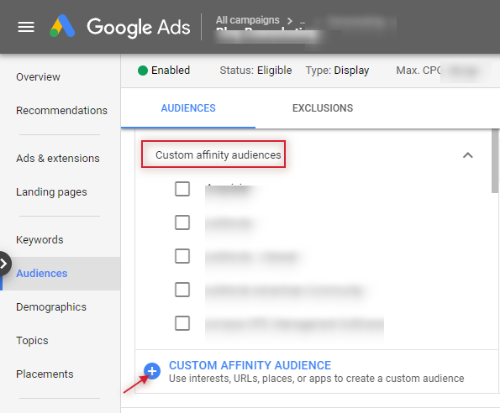 5) Custom Intent Audience
Custom Intent Audiences helps you show your ads to people who are actually searching for the product you are selling. Though, Custom Intent and Custom Affinity audiences appear to be the same, there are some basic differences which we found:
In custom affinity, you can target your audience based on specific URLs and categories while in intent, you can do the same by specific keywords and landing pages.
Unlike custom affinity, there is no option to target apps in custom intent audience.
Custom affinity drives awareness and generate broad reach while, custom intent is more focused on driving conversions.
There are two ways to create custom intent audiences:
Own custom audiences – You can build your own audience by choosing keywords and landing pages to target new customers who are actively searching for products/services you offer.
Auto Created Custom Intent Audience -Google helps you here  by using existing  audiences list, keywords and machine learning to create custom intent audience.
6) In-Market Audience
It helps to reach the audience who are actively searching or browsing for products/services you offer across Google Display Network. Google takes conversion, clicks, frequency and recency of the visits in account before making a In-Market audience list.
If a lady frequently browses various sites regarding perfumes,reads reviews, etc,Google will put her in relevant In-Market list considering her a potential buyer.
7) Demographic Audience Targeting
This type of audience targeting is available for both Search and Display network. You can target your audiences by Gender,age,income but only in Display Network, you can target the audiences by parental status.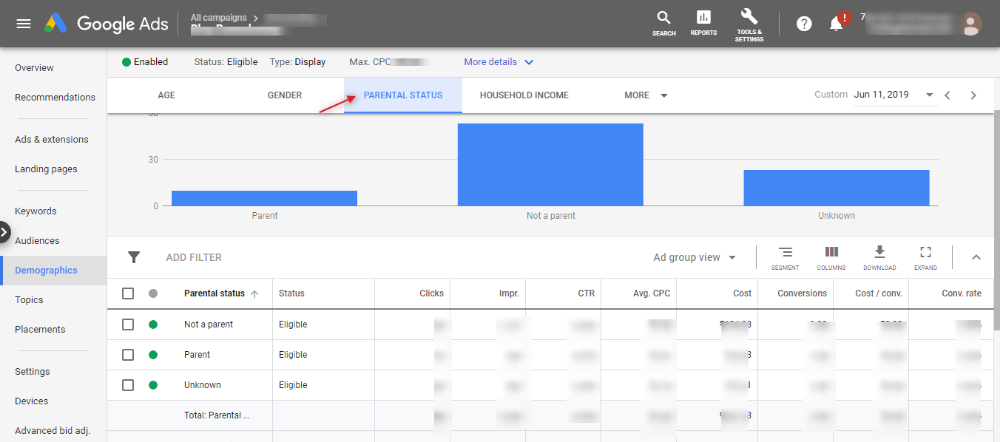 Advantages of Audience Targeting in Display Campaign 
As explained above, display campaign has different targeting methods and each one of them has their own benefits.You can reach to your ideal audiences by understanding the functionality of each audience type. You will be amazed to know that only display campaign gives you the ability to mix and match available audience type to target a specific group. For example:
Combination of "Custom Affinity and In-Market Audiences" is a great way to target people who have similar interests. It allows you to combine URLs ( visited by your ideal audiences) with their interests.
Combination of "Similar Audiences and Remarketing Audiences" focuses on audiences carrying similar characteristic to those in your Remarketing list and it can give your campaign a huge lift and expanse.
Audience targeting gives you access to a wide range of people according to their interests. It helps advertisers get a better sense of their identity thus improving the conversions.
We are trying our hands on audience types in Display Campaigns and will be able to share an insight soon. If you have any inputs to be given,you are welcome to write in the comment box below.
Happy reading!
Related Links: