All your efforts in building a website turns fruitful when you start seeing the inflow of traffic. However to maintain the traffic you need to make sure that you rank well for your target keywords and stay ahead of your competition
How do I check my Bing ranking?
How you rank on a search engine platform, depends on the keywords that you are focusing on. The first step is to build your business website optimize it for the key phrases that your business intends to target. The next step is to identify whether it has resulted in generating organic traffic.
Here are the steps to help you find the right keywords for your business:
1. Conduct keyword research to find which keywords you would wish to rank for. Use Microsoft Advertising's Keyword planner tool or Google Ads Keyword Planner to find the search volume of keywords related to your product or business. You can also access Bing's Keyword Research Tool to help you decide what content to create
2. Once you have shortlisted a popular keyword (or keyword with a considerable search volume), build those keywords in your website in form of a blog post, product page, video, infographic, etc. Getting listed for a keyword organically takes time, so be patient about it. Also, make sure that whatever content you are creating doesn't lose its relevance
3. You can create paid search ads for keywords that aren't yet optimized on your website. Ideally running campaigns with broad match type will help you reach a wide spectrum of audience. But it will also bring an inflow of unwanted clicks. To avoid this wasted ad spend, you can give our Negative Keywords Tool a try. With our tool you will not only find irrelevant terms but also get an insight on search terms that you can either bid on or build content around.
Once the action items are set in place, you must track how your ranking has been impacted. For the organic listing, you can consider referring to some free online keyword rank checker tools or through the Bing Webmaster Tools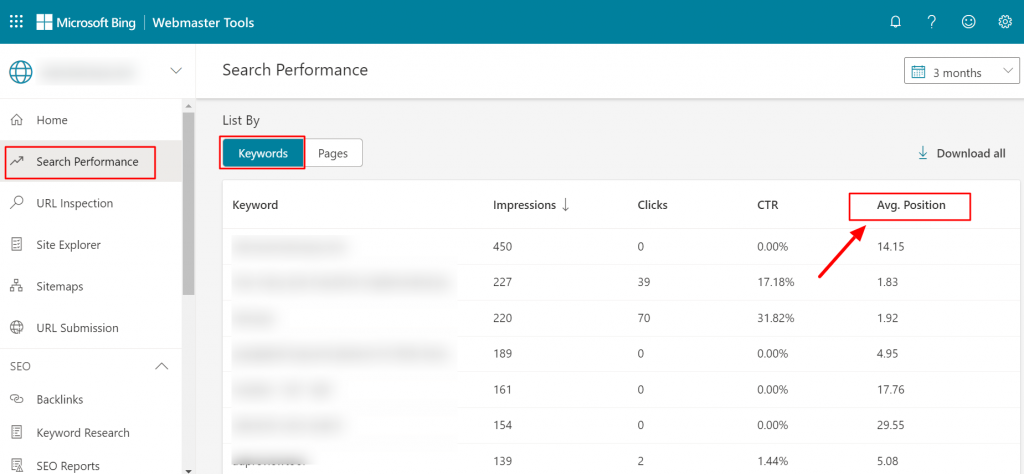 With insights from, the webmaster tool (or any other tool that you are referring to), you can learn about the keywords that you need to focus on more.
Alongside building your organic traffic, you can create paid search campaigns and bid for those keywords. This will help build the traffic for those keywords, till organic listing isn't established At a later stage, you can use the Bing Ads platform to help find the right set of keywords to bid for.
Assessing your paid search ad ranking
On the other hand, to view how your paid search activities for a certain keyword have impacted performance. You can access this detail by viewing the Auction Insight Report. Here is how you can access the report:
Login to your Microsoft Advertising then go to Keyword > Auction Insights

From the auction insight, you get an overall picture of how your ad stands amongst your competitors. If you want to specifically focus on how you rank vis-à-vis your competition then consider viewing the three highlighted metrics:
Position Above Rate – The percentage of times your competitor's ad showed at a better position. In the snapshot above all competitors have ranked above our ad. It implies that we need to bid more aggressively to rank better.
Top of page rate – It is the number of times, your ad appeared at the top of the search page results for the total number of impressions received.
Outranking share – The percentage of times your ad showed while your competitor's didn't, and when you outranked them with a better position. As in the snapshot above, our outranking share for all competitors are low. It implies that they are getting a more desirable position than us.
There is yet another way to find whether you rank on the first page or not (for a given keyword)
Go to Tools > Ad Preview & Diagnostics > Enter the keyword for which you wish to check your ad rank. You will see your ad and where it's positioned, or not see the ad in the preview. If its the former then you can assume your keyword strategy is working well. But if it is the latter, then you need to modify your keyword bidding, to start with.

Taking insights from the paid search report and the keyword webmaster tool you can get insight into any missing opportunities and areas of improvement. The next step would be to take desirable steps to improve the performance and optimize for better ranking prospects.
Why should you check your rank?
There are myriad reasons to do so. The foremost being to understand how your keyword position has evolved over time and what methodology to adopt to rank better.
Here are some questions you must necessarily ask yourself
Is the keyword too competitive? Should your replace a keyword with a lesser competitive one?
Should you build more content around the keyword?
Are there any other promotional platforms from where you can generate the traffic
Have you built enough links to the page that you are optimizing?
Should you look at related key phrase to build more valuable content
Related Links: