If you wish to give a tailored ad experience to your audience, Ad Customizers are a must. With ad customizers, you can customize your ads based on device, date and time, location, etc. Ad customizers are easy to set up and saves time updating ads regularly.
What Are Ad Customizers?
As the name portrays, Ad Customizers customize your text ads dynamically depending on the devices, locations, date, and the response from the customer. It is perfect for those marketers who do not wish to do the manual task of adjusting prices or special offerings.
Ad Customizers let brands deliver a unique and personalized experience for better results. They save your time and energy when you have to create multiple ads with each ad having different attributes like keywords, price, date and time, etc. Google Ads ad customizers allow you to create multiple variations of ads without you putting that extra effort.
Now as we have got a brief understanding of ad customizers, let's talk more about ETA (Expanded Text Ad) and RSAs (Responsive Search Ad) ad customizers:
Ad Customizers In RSAs And ETA
Below are the list of ad customizers you can find in RSAs :
Keyword Insertion
Countdown
Location Insertion
And these are the ad customizers which can be found in ETA:
Keyword Insertion
Countdown
If Function
Ad customizer
1. Keyword Insertion
Keyword Insertion helps you to update the keyword in your ads that cause your ad to show to the audiences.
Responsive Search Ads
In RSAs, you can choose between three types of capitalization ( The case is the type of capitalization you want your keyword text to have)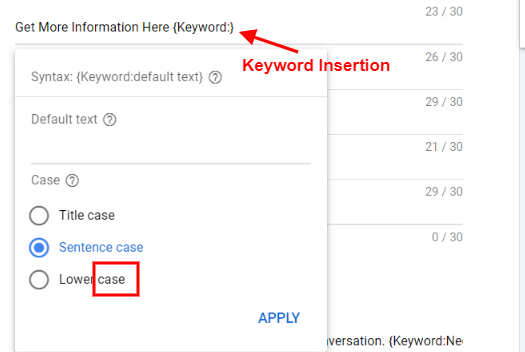 Expanded Text Ads
In ETA, this ad customizer behaves in a similar fashion as RSAs. It makes your ad more appropriate to the users while they search for what you got to offer.
2. Countdown
If you want your potential customers should know about any offer or sale going on your products/services then countdown customizers are your savior. It helps to improve CTR and conversion rate.
Responsive Search Ads
In RSAs, countdown customizer is same as it is with ETA. It allows a sense of urgency by mentioning the start and end dates of your product promotion.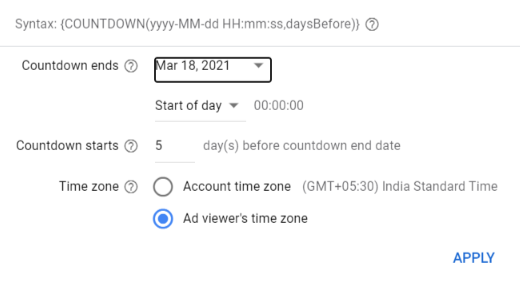 Expended Text Ads
In ETA, while setting up this customizer, apart from setting the date and time, you can change the language too. This feature is not available in RSAs.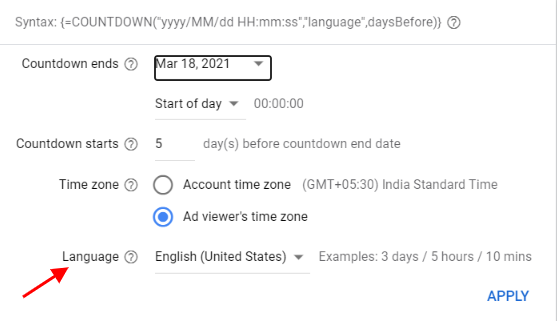 3. Location Insertion
"Location Insertion Customizer" lets you adapt your search ads as per your customer's location or location of interest.
Responsive Search Ads
In RSA's, it allows you to select the level of the location you want to show.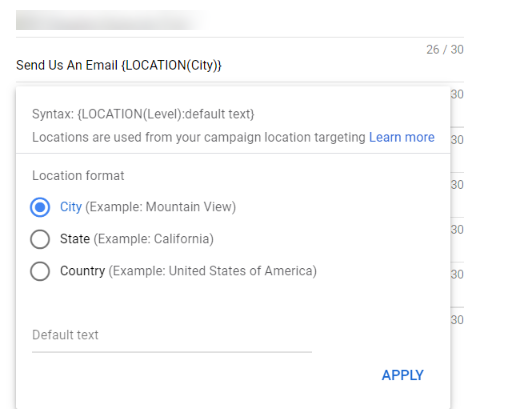 Once you select the level of location, it highlights the location in the ad text .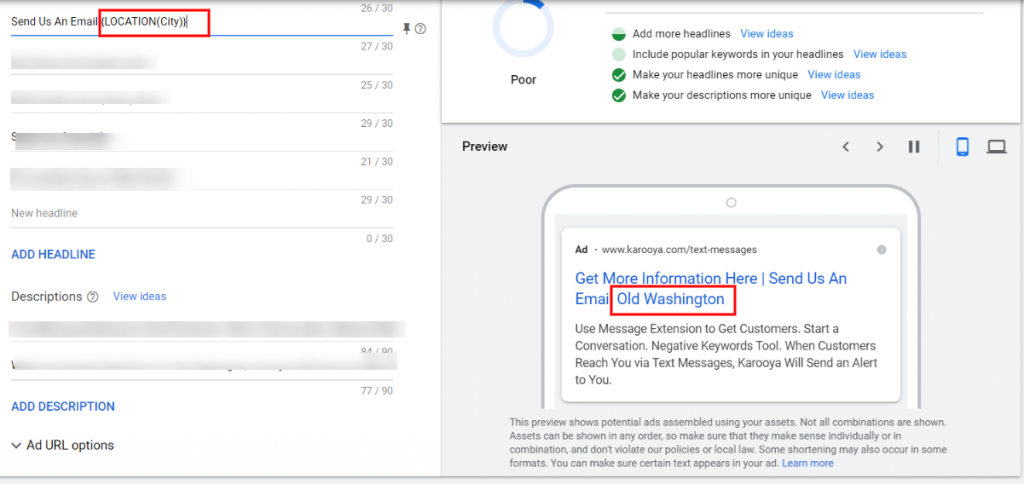 Note: You need to make sure your campaign location targeting is set to the proper range of your business as locations are taken from your campaign location targeting.
Expanded Text Ads
In ETA's the Location Insertion feature is not available, however, if you wish to create ad variations for each location (specified by you in your data feed), you can check our blog post on Geo Ad Customizer.
4. Ad Customizer
It allows you to install an attribute that has been already described in the data feeds.
Note: you can upload the data feed by going to the business data section under the tools option in the Google Ads platform.
Responsive Search Ads
In RSAs, you do not have the option to upload the Ad Customizer data file.
Expanded Text Ads
In ETA, you get the "Ad Customizer" feature which allows you to upload the data feed to be connected to your potential audiences.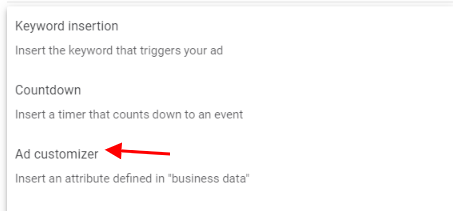 One has to create ad customizer data first by mentioning own attributes. It is advisable not to include spaces in the attributes' names.
As we upload the file in our ad copy, on search, it will be displayed as per the attribute name and default text mentioned in the file.

5. If Function
This Google Ads feature let you add certain message if specific condition is met. If function can be added anywhere in your text ad leaving the final URL field.
Responsive Search Ads
In RSAs, If Function is not available.
Expanded Text Ads
In ETA, If Function has two targeting options. First audience and the second one is a device. With these targeting options, it becomes easy to reach the potential client.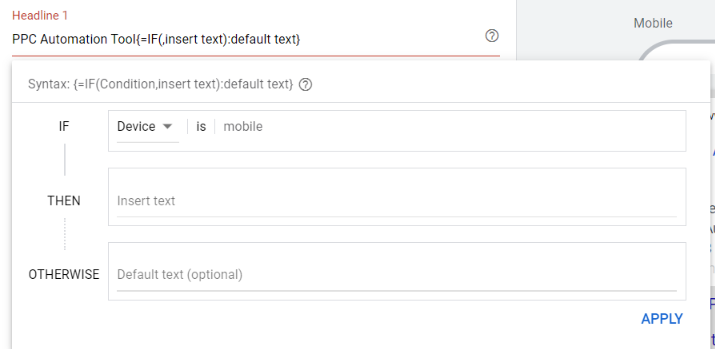 Related Links