Geo Ad Customizers lets you create ad variations for each location (specified by you in your data feed) without spending much time and effort. And the result is not less than promising.
With the help of Ad customizers advertisers can create individually tailored and targeted messaging. It can include anything from the price of the product to the product's availability, from the offer details of a sale to the sale countdown or any other variable information that you would like to add in the ad copy. With the ad customizers you can add customizable details targeted by keywords, location, campaign or ad group.
In this post we will discuss about Geo Ad Customizers and how to get it activated.
Why use Geo Ad Customizers
For advertisers who have a location specific information, can create the ad customizer data with the details for each location.
Here is a downloadable list of all the locations  that are bifurcated into the following 25 location types:
Airport
Autonomous Community
Borough
Canton
City
City Region
Congressional District
Country
County
Department
District
Governorate
Municipality
National Park
Neighborhood
Okrug
Postal Code
Prefecture
Province
Region
State
TV Region
Territory
Union Territory
University
Let's take an example on how this ad customizer can be put to practice. If you have physical stores across different locations and you want to run an offer to increase revenue at stores generating less business, then Geo Ad Customizers is a great way to manage the information in your ad copy.
For this you would have to create a data feed which should include the target location (the respective row is triggered when it matches with the user's location), the variable information (here the offer details) and the target type (to specify the type of the location target). Your sheet would look something like below:

Don't forget to specify the type to your custom attribute (here it is text, the other allowed attribute types are; number, price and date). Here are more details about the ad customizer attributes and setting it up.
This sheet then needs to be uploaded to the Business Data in Tools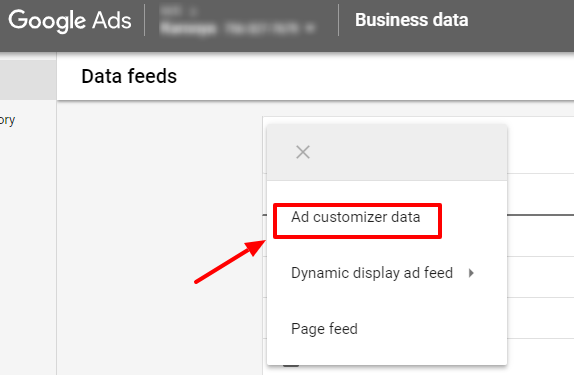 Give a name to the feed which will be later used in your ad copy.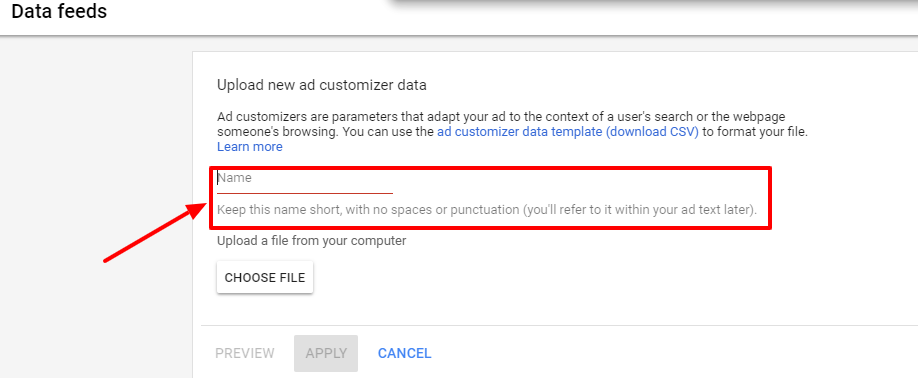 Once uploaded, now comes the step of creating your ad copy. In this step you will be required to refer to the name of the data feed (here the name is GeoAd) and the variable column (here the 'offer') and also the name of the location. So, your ad will look something  like below:

Your geo customizer ads are ready to perform!
Now, when a user searches from a location specified by you in the data feed, then your ad with the customized text is displayed.
Note: Though you can add multiple customizer parameters to your ad copy, however your ad copy can be targeted by only one ad customizer from the following:
Keyword
Ad Group or Campaign
Location
Perks of using Geo Ad Customizer
You save time in creating and updating ads specific to a location. With ad customizer , just one ad meets all the objectives
You make your ad more relevant to the user, hence increasing the chances of engagement and boosting revenue
You are able to manage a larger product inventory or offers with ease
Once your ads have run for some time, you can then also try our AdWords Script here that analyzes your account for winning and poor performing ads.
Related Links: