Last year Google updated the Expanded Text Ads to include an additional headline and description. In light of this change, we have updated our Ad Performance Report.
What is the Ad Performance Report?
This feature is part of our Negative Keywords Tool. It is a downloadable XLS report with details of performance by ad copies. This actionable report recommends which ads you should pause and which ones should be let run, along with a what-if analysis.

What it now includes?
We recently made some changes to the report considering the launch of the new 3 headline Expanded Text Ads. Here is what we offer in addition to analyzing your ads copies.
1. Highlights ad groups with no active 3 Headline ETAs

2. Compare Performance of 2 headline ETAs with 3 headline ETAs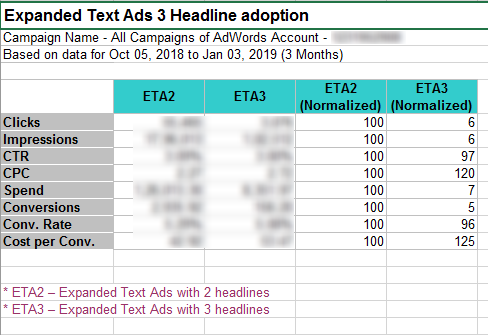 To get hold of this report and analyze your Expanded text ads in the new format, sign up for our Negative Keywords Tool and enjoy its many benefits.
You can also try our AdWords Script here that analyzes your account for winning and poor performing ads.
Related Links: