With our Free Account Audit Report, for Google Ads and Bing Ads, advertisers can easily get insight into areas where their account's performance can be improved.
The audit is done basis a comprehensive checklist that beaks down the data into the following categories in the form of an understandable report for each of these individual sections:
Match Type Adoption
ETA Adoption
Features Adoption Check
Missing Extensions
Search Partner Adoption
Of these today we will discuss about the Features Adoption Check Report and what details it offers to the advertisers.
Features Adoption Check Report
The Features Adoption Check Report gives an overview of which campaigns have adopted the following features:
Ad Extensions
Ad Targeting & Bid Adjustment
Negative Keywords
Lets take up each of these and view the report's components
Ad Extensions Adoption Check
This section of the report checks the presence of ad extensions in the campaigns and gives a consolidated list as shown in the snapshot below:

As can be seen, the list captures the presence of the extensions such as Sitelink Extension, Callout Extension, Price Extension etc. in the campaigns and the count of the extensions (wherever appropriate). It is always considered a value addition to make use of ad extensions as it offers additional information that can help the user make a decision.
How to use this report – With this consolidated list, advertisers can add ad extensions in campaigns that don't have any or where a relevant ad extension can be added.
Ad Targeting & Bid Adjustment Adoption Check
This part of the report gives insight into whether the account has bid adjustments by device type, by ad schedule and by location along with ad targeting by location and ad scheduling.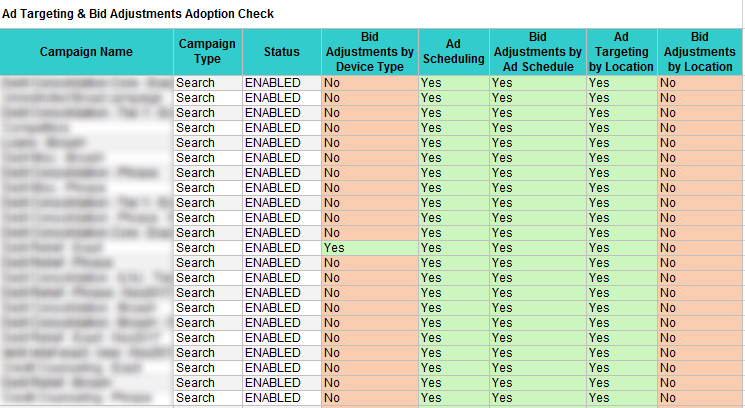 How to use this report – This section of the report will help advertisers keep a track of what settings they have assigned where and closely monitor the impact of the same.
Negative Keywords Adoption Check
This section shares whether negative keywords are present in all the campaigns or not.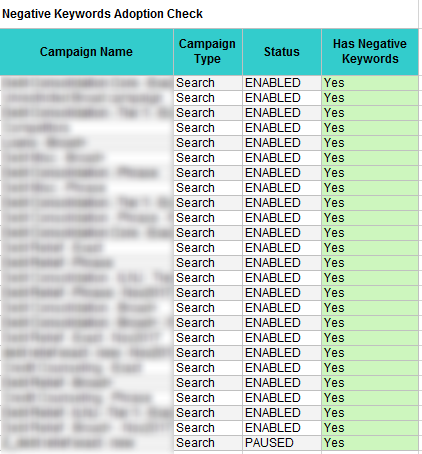 How to use this report – With this information, advertisers can take action towards campaigns with 'missing'negative keywords and assign negative keywords there. This step will help reduce any wasted ad spend.
We will be sharing more details about the other reports in the Audit Report, so watch out this space.
If you haven't yet got your Google Ads account audit done then click here to get your Free Audit Report for your Bing Ads and Google Ads account.
Related Links: