Ad Extensions improves your campaign's CTR which helps leverage your ad's rank . It gives advertisers the benefit of displaying alternate and useful information that cannot otherwise be captured in the ad copy content. Knowing the multitude positives of this features, missing ad extensions in your campaign is a mistake you would not want to make. So how do you ensure that your ad extensions are ready to perform?
As much reviewing your budget and bid is important, ad extensions also need to be reviewed to extract its benefits. Of the many things you must necessarily audit in your campaign, ad extensions is not to be missed.
So, when should an ad extension be used for an account?
Here is listing down the major extensions and when they should be used as part of your campaign:
1. Sitelink Extensions – If your business has a specialized requirement for a search query then you can use sitelink extensions to highlight such aspects of your business.
2. Callout Extensions – If there is any other specific information that wasn't added in your sitelink extension and ad copy, then you can do so with callouts
3. Review Extensions – If a customer review matters for your customer to make a decision, then making sure that your customer gives the review on the reliable third party sources. (Note: Please check the update at the end of the post.)
4. Structured Snippet Extensions – If you want to add context to your products and services, then structured snippet extensions helps highlight that.
5. Location Extensions– If you wish to direct your customers to a physical store then location extensions helps meet that purpose
6. Call Extensions – If calls are valuable for your business, then you must use this extension but simultaneously make sure that you schedule it a time when your team is available to attend the calls made.
7. New Message Extension – If you would like to enter into a dialogue with your customer and if majority of your customers are on mobile, then the message extension could be explored.
8. App Extensions – If you would like your customers to download your app then use this extension.
9. There are automatic extensions that are automatically displayed on meeting Google's criteria.
(Note: Review Extension and New Message Extension have been discontinued on Google Ads.)
Now, that you know about the major extensions and when they must be used, here are the things you must ensure to make the most out of your ad extensions.
1. Ensure that all campaigns have ad extensions
Even if you find it difficult to choose a relevant ad extension for your campaigns, there are some ad extensions that can be used to showcase your other business offerings. So if not for all, check if your campaigns atleast have sitelink, callout or structured snippet extensions to highlight specific product or service features.
2. Update your account with the new ad extensions or make use of new improvements
Google ensures to fix the requirements with regular upgrades, so make sure to stay on top of it. Some of the recent updates in ad extensions are Launch of Price Extensions, Account Level Sitelink Extensions (in-progress) and Message Extensions
3. Review your Automated Extensions
Other than a whole bunch of manual ad extensions, there are automatic extensions that need no set up and are automatically shown up when you meet Google's defined criteria. However keeping a track of how they are performing will keep your account out of trouble. If you find an automatic extension not delivering positively you can disable it easily.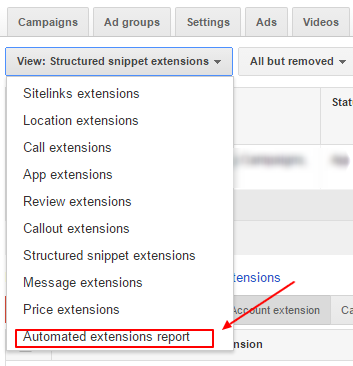 4. Check that your ad extensions are relevant
Some of the ad extensions have specific criteria. Location extension would benefit if your business has a physical store and hence should be added if you have an operational store. Also, make sure that the content isn't repetitive across your sitelink, callout and structured snippet extensions. Add reviews that are relevant to your ad messaging and search query etc.

5. Check the status for your ad extensions

The ad extensions also go through an approval process. So, check whether your ad extensions are live or not. If not, check for the issues. To further check whether your approved ad extensions are showing or not for a particular keyword, you can refer the Ad Preview Tool. If you still find your ad extensions not showing, your might as well give your bid a little boost.
6. Are you missing out on these prerequisites?
For instance, adding a minimum of 4 sitelink extensions, specifying the description in your sitelink extensions, making sure that your call extensions are scheduled during operational hours, enabling 'call reporting' to track conversions led via your call extensions, directing customers to reliable sources (defined by Google) to give their reviews so that you later get qualified for seller rating extensions.
All these when reviewed and re-reviewed ensures that you haven't left any stone unturned to improve your ad performance. Auditing your ad extensions is an ongoing task as you will often add new campaigns or alter existing ones. So, making sure that all other factors don't get impacted any updation or alteration done by you, scanning through your account for issues definitely helps, ad extensions are one key feature here.
Related Articles: