It's been a little less than 3 months since Google AdWords rolled out a new text ad format, called Expanded Text Ads (ETA). The new ad format gives 50% more space for the text ad. There are two headlines of 35 characters each. The two headlines are concatenated to show a single headline. Then, there is a 70-characters long description.
Here are some examples, provided by Google, of how the expanded ads look on desktop. (The background color will be white when they are actually shown on the Google search results page.)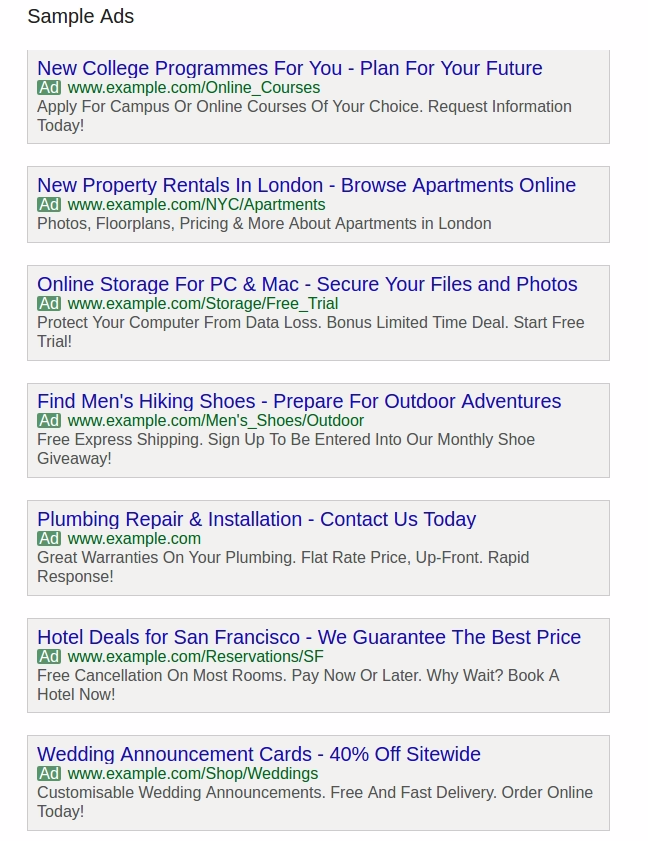 And here's how the ad will look like on mobile phone.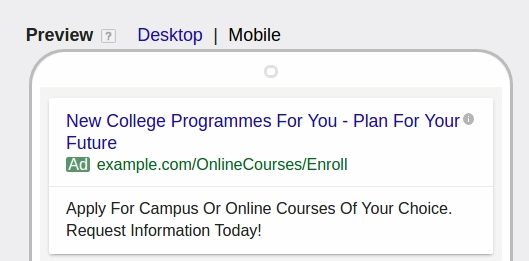 When the ads are finally displayed on search results page, there are more changes. Many extensions like site links, call outs, structured snippets, review, etc may get shown along with each ad.
With longer headline and description, the distinction between text ads and organic search result has diminished.  A large percentage of audience can't tell ads and organic search results apart. With this format of text ads, this percentage of audience can only go up.
Impact of Expanded Text Ads
We recently published a script to track performance of expanded text ads.  (If you manage AdWords account, you should try it out.) This script is useful to find out how the expanded ads are performing compared to the standard ads.
We ran this script for a couple of large AdWords accounts with meaningful spend. For all the ad groups, there are standard text ads as well expanded text ads. This is in accordance with Google's guideline to keep both the formats running.
And here are the result for last 7 days.  These are normalized numbers. The results for standard ads are considered to be 100 and the results for expanded text ads are scaled accordingly.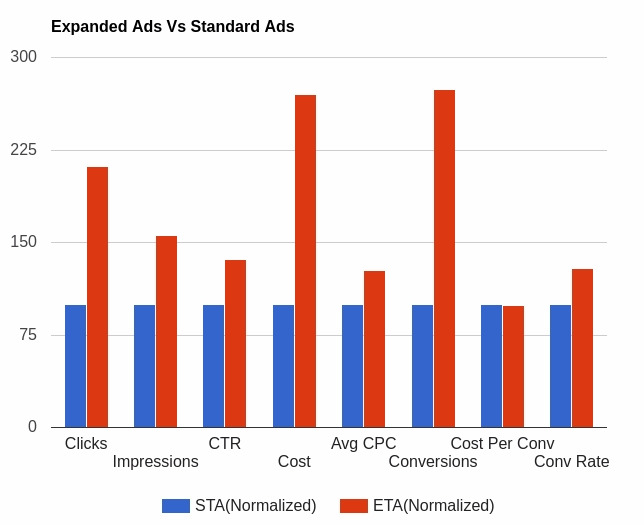 The most striking result is that expanded text ads have 35% higher CTR than standard ads.
In the early testing of expanded text ads, Google reported an increase of up to 20% in CTR for the expanded text ads compared to standard ads.  The results in July had shown an increase in CTR from 4% to 16%, depending on the device, for the expanded text ads.
Right now, the actual rise in CTR is much higher than what it was reported in early days.
How does it affect organic search (aka SEO)?
The clicks on the search results are a zero sum game. A click on an ad or an organic result is a click lost by others. The chart shown above has expanded text ads competing against other expanded text ads. That means, this higher CTR comes at the cost of clicks on organic results.
Google has set 31st January, 2017 as a deadline for standard text ads. After this date, ads can be created only in expanded text ad format. Some of the advertisers, who haven't upgraded to new ad format yet, will eventually have to start using expanded ads.  The full impact of the expanded ads will then be more visible.
In effect, organic search results can expect a meaningful dip in the traffic. The impact could be more pronounced on mobile device which has relatively small real estate, yet, it shows 4 ads at the top. I cannot put a number on how traffic from organic results will move to paid ads. But, based on data, it would be safe to say, organic traffic may see a decline of up to 20% over next few months.
Test Your Expanded Ads:
Additionally for all your active expanded text ads you must check their performance to determine the performing and non performing ads. This AdWords script to find best performing ads will help you find the winning ads in your account. Run this script an pause the poor performing ads.
Related Articles: