Optimizing your Google Ads campaign requires following some key tasks before and after setting your campaign. We have created some handy checklists to help you manage both.
If you already have a couple of active campaigns you know the drill already. Nevertheless, keeping a checklist at hand to stay on track with all to-do items, does help. It also saves time that you might spend in figuring out what to check and what not to. You can prioritize the tasks accordingly and avoid the risk of missing out on key things to check.
Here are the two checklists that can help you optimize your google ads campaign from the start and also after it has run for a significant period of time.
Search Campaign Checklist
Before you create a new campaign, here is a list of all possible items that you must check before you push your campaign active. You can make a copy of the our Search Campaign Checklist here and directly start making changes to it or you can download the checklist by clicking here.
Check out more about the checklist here.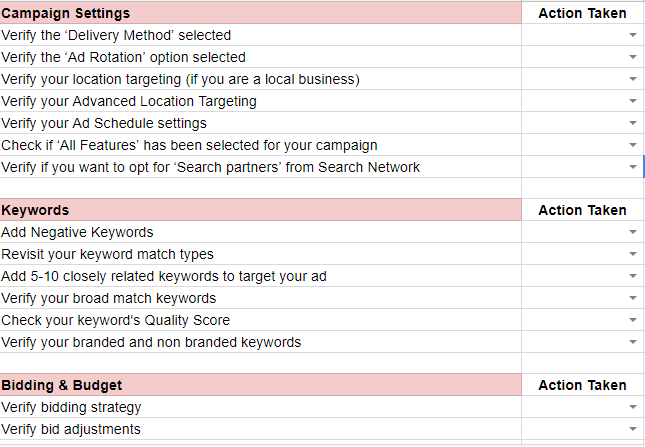 Audit Template
Once you have created your campaign successfully and it has managed to get some considerable results, you might want to return to it for  review. To help with that, we have created a template or checklist of items that you must use to review your Google Ads account. You can click here, to make a copy of this template and directly start making changes to it or you can download the template by clicking here.
You can read more about the Audit Template in this post.
Or instead you could also check our Free Audit Report to get actionable and valuable insights from your Google Ads account.
Related Links: