Strategic decisions need to be taken by businesses unsure about how the situation might change, for worse or for better. It calls for reviewing where the businesses are spending and where costs could be curtailed to avoid any wastage.
One of such areas to look into is your PPC spend, especially if your account is witnessing drop in impressions and clicks.
We discuss some of the action steps to take as a result of noticeable change and impact in overall campaign performance.
Campaigns to Pause
You don't need to pause all the campaigns, but the ones that you should consider discontinuing are:
Pause campaigns for services that you can no longer offer. It could be because your staff is unavailable to service.
Pause campaigns for the products that are unavailable or cannot be delivered.
Pause campaigns for products that cannot be delivered within specified timeframe due to logistic constraints
Pause display campaigns that focus on branding
Discontinue Search Partners
Review how your search partners are performing. If they are performing at a lower ROI than the core search network, then consider switching off your search partners. Here is how you can check the performance basis network.
Control the Bids
The market has become less competitive as a result of global restrain. You can decide to reduce bids across the board during this time. It's likely, that your competitor is doing the same. Doing so will help you find a new equilibrium at lower CPC
Add More Negative Keywords
Block wasted ad spend by reviewing your search terms and adding more negative keywords. You can run an analysis over different periods like last 12 and 6 months to identify terms that performed poorly. You can also take the help of our Negative Keywords Automation Tool that recommends negative keywords that you must add to your account.
Note: Now, Karooya's Negative Keywords Tool is Free for accounts with ad spend less than $10,000 per month. Save 10-20% of your search ad spend for free. Sign up and start saving your ad budget now.
Ads to Discontinue
Identify the ads that haven't been delivering results with the help of our Google Ads Script and pause those ads. Our script thoroughly analyzes your account for the winning and poor performing ads. Discontinuing with poor performing ads at any time is a productive way to control your spend.
Analyze your Quality Score
We have an Quality Score script that gives an account summary of each keyword vis-a-vis the quality score components. Use this time off to improve quality score of some of the keywords using our script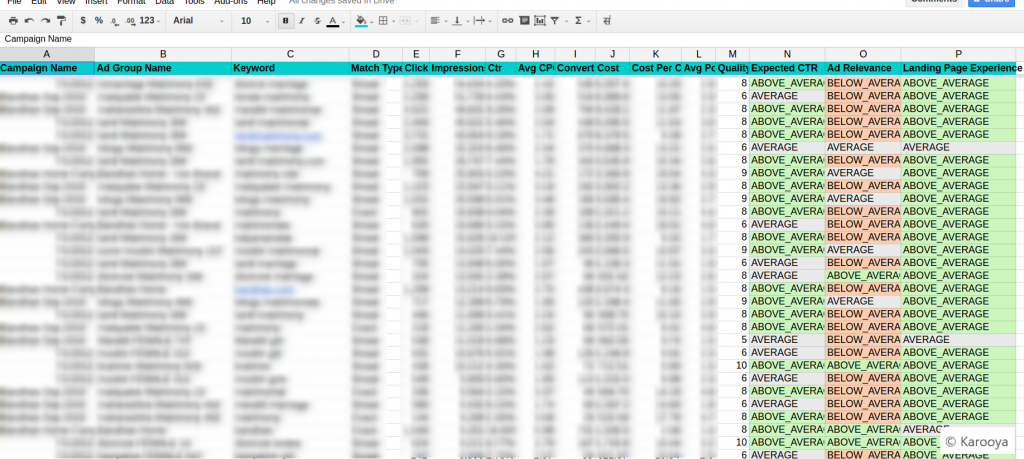 No A/B Testing
Don't plan to run a new A/B test or experiment during this time, as the customer behavior is unpredictable. Also, if you have a live experiment running, then you must discontinue it as the outcome will be inconclusive. It will be a wasted time and effort to run these experiments that doesn't give any clear cut answers.
Plan Ahead
Document the changes that you are making. Maintaining a record of the changes will help undo the settings, when situation becomes normal. This could also act as a Go-to-guide to reduce PPC spend for future.
This course of action will help in conserving cash for survival and for future needs. Strict measures can help plan better and sail through this difficult time.
Let us know how you are controlling your PPC spend and we would be happy to add it in our post.
Related Links: