The best way to discover new keywords for your Amazon Ads campaign is to run an automatic campaign, along with a manual campaign, with the same products in each. Once the automatic campaign gains traction, you can start analyzing it's search term report to find good performing keywords and move them to your manual campaign.
Thus over period of time, you will accumulate all the good performing keywords in your manual campaign where you can adjust each keyword bid individually.
Karooya's 'Great Converting Keywords Report' can help you do this exercise, easily and efficiently!
What is the Great Converting Keyword Report?
The Great Converting Keyword Report is a downloadable report that gives advertisers insight into which keyword themes are working well for the campaign; and hence are highly recommended to be included in the campaign's targeting.
This report is built after running a through analysis of search term report of your campaign. The keywords identified are clubbed together in themes and are sorted down basis how much they can impact on the campaign's performance. Hence, making it easy for you to run through the report and study it.
Here is a snapshot of how the report appears: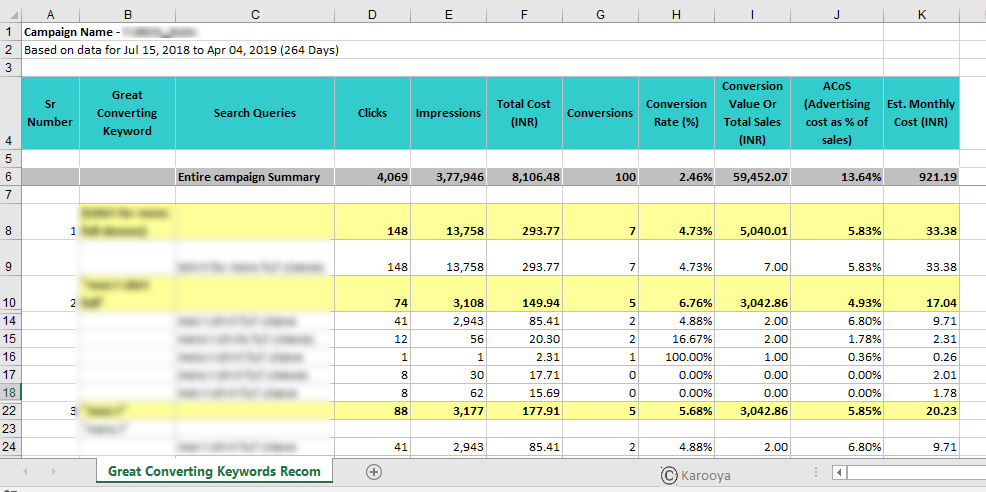 As you can see all important metrics are mentioned here basis which you can decide on selecting the keywords for your manual campaign.
You may also find some of the ASINs (Ex: b07hq6m34c, b07jnlvlhx) being recommended as exact-match keywords. This means that your ad performed better when displayed on those product details pages. In such case we suggest that you should start using Product Targeting (if you are not using it already) and add these ASINs as 'product targets'.
You can also use data from this report and isolate some of the top keywords (if not all) in a separate campaign (or even better if you can use campaign structure by match type) and allocate dedicated budgets to it. With this step you focus your spend on campaigns dedicated towards performing keywords that drive convincing results.
We strongly recommend bidding on these recommended keywords!
We also advise that this report be used for your auto campaigns as well as for campaigns with broad/phrase keywords, periodically, to discover new themes and any change in trends.
This report is available on the Amazon Ads Negative Keyword Dashboard in addition to many other insightful reports.
Here is where you can find the report on the dashboard.
Sign in to your Karooya's account > Select your Amazon Ads Account and the Campaign for which you wish to get insights > Click on the Insights Tab > Select the report from there


Want to get hold of this report?
Sign up with us to enjoy this feature and many more.
Note: Karooya's negative keywords tool for Amazon Ads is a powerful tool that saves your ad budget and time. It is Free for accounts with a monthly spend of less than $3000. Learn more and sign up today to improve your ACoS.
Related Links: