Welcome to the PPC News edition for the month of May 2021. This month, Google has held its Marketing Livestream Event in which many product announcements were made. These announcements are meant to improve user experiences and drive more conversions. We have summarized them in this post.
Google Ads Product Announcements From Google Marketing Livestream 2021
Improving User Experience With Globally Available Ad Extensions – To add to this, an Image extension has been made available globally to have a more visual experience for all the consumers. This will increase the search ads' performance and click-through rates.
With regards to driving more sales in the travel industry, Google will be updating the hotel extension which will pull data from your existing feed and use it in your search campaign for more relevancy. To boost performance during this pandemic, Google is introducing new ways to make commission (per stay) easier than ever to use.
Privacy, still the key focus – To view the performance in privacy safe mode, Google is encouraging advertisers to set up enhanced conversion which is available in beta right now.
To drive more conversions & boost brand awareness, customer match is a very useful tool. Initially, it was not accessible to all advertisers but Google announced its availability to most of the advertisers in the Marketing Livestream Event 2021.
Improved Insights Page & Attribution Reporting – To learn more about the customer & performance, Google has announced the new version of the Insights Page, including demand forecasts, consumer interest themes, and audience insights.
To combine in-app conversions, in addition to search and shopping, Google is expanding attribution reporting to display and YouTube ads, including data-driven attribution.
Changes Announced In The Ad Customizers & Bidding Strategies – Ad Customizers for Responsive Search Ads are a bit different from text ads. In RSAs, you can create either the attributes or upload them in bulk for your account. Now, they are available for all advertisers globally.
Google ads had planned to simplify bidding strategies for usage and that has with Target CPA & Target ROAS smart bidding strategy for Search campaigns. In place of these strategies, Maximize Conversions & Maximize Conversion Value bidding strategies will have their respective Target CPA and Target ROAS fields set. Now it is available for all advertisers using video campaigns and it will be made available to advertisers using Discovery ads in the coming months.
Focusing On Growing Online & Offline Sales – Sales are directly related to finding the right customer. Google's Performance Max Campaign helps to find more converting customers across YouTube, Display, Search, Discover, Gmail & Maps. Performance Max is expanding to many customers and in beta right now. Advertisers can opt for the beta if they want to grow their online sales or generate leads.
Video action campaigns are all set to drive more conversions across YouTube & Google by connecting your Google Merchant Center feed to showcase your top products. In the coming months, it will be available for Discovery Ads.
A video planning tool and Video reach campaign will help advertisers to grow sales by reaching a wide range of consumers by providing the best combination of skippable, non-skippable, and 6-second bumper ads across YouTube and Google Video Partners. These will be made available in few months for all advertisers.
To generate qualified leads & get sales in the offline world, Google has designed OCI helper tool. It helps to set up offline conversion imports to boost campaign optimization to get more qualified leads.
For advertisers who would like to drive sales at the physical business locations, Google has made available Local inventory ads for all the marketers. If you wish to target more nearby customers, "Pickup Today" is available, and "Pickup Later" is available in beta as of now if you wish customers to pick their purchases from local businesses.
Update And Announcements From Other Major PPC Platforms
AdWords API and Scripts: Deprecation of Automatic Placements in the Placement Performance Report – Placement performance report returns rows for automatic, managed, and excluded placements at the ad group level but starting June 10, 2021, this report will exclude automatic placements for the AdWords API and Google Ads scripts due to changes in the data retention policy.
Google Clicks Declining, CPC Exploding for Many Retailers as US Reopens – Since the time of Covid-19 pandemic, people have turned their attention to online e-commerce platforms for products & services. But now, as vaccination rates continuing to rise in the US, the market is steadily reopening and this freedom has hit the Google click and CPC in a negative way. Andy Taylor explains more in this data-driven post.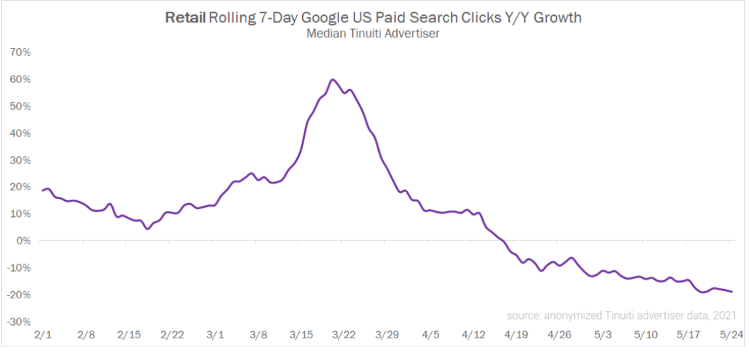 Microsoft Advertising & Dynamics 365 Customer Insights: New integration – As announced in the Microsoft Business Application Summit, advertisers can get their customer segments into the Microsoft advertising platform from Dynamic 365 customer insight. This will help them to target Microsoft search & audience network using customer match targeting.
Our changes to phrase match and broad match modifier – If we wish to reach to the right customer, we need to have relevancy. Keep that in mind, Microsoft Advertising has made changes in the match types. Now phrase match will behave like a broad match modifier (BMM) to simplify keywords and boost relevancy.
Easily import your Facebook Ads into the Microsoft Audience Network – Facebook Import is a new feature that will save time & boost ROI by bringing your campaigns from Facebook Audience Network into the Microsoft Audience Network. Learn more about this new feature in this article.
Related Links