Missed out on the PPC Posts which made headlines in the second quarter? Here is the brief summary of what was trending. Announcement of v1_3 release of the Google Ads API, Bing Ads is now Microsoft Advertising, Introduction of Moat Analytics on LinkedIn, Branded content ads on Instagram, Pinterest's new conversion features, Cost Cap bidding on Facebook, Quora's announcement regarding Ad Set Duplication feature and more.
Google Ads
Deliver more interactive ad experiences with Display & Video 360 – To build a better ad experience and to produce more captivating ads, Google has announced two new updates, swirl and live streams. Learn more about these updates here.
Simplifying portfolio bid strategies – Some of Google's automated strategies help to optimize campaign performance. Portfolio bid strategies is one among them. Get more insight in this article as to how simplifying this strategy will help to gain more visibility.
Create and edit responsive search ads in the Google Ads mobile app – Google Ads mobile app helps you to monitor your ad's performance on the go. Get an insight here about two recent updates to the mobile app which helps to improve performance.
Immersive branded experiences in YouTube and display ads – Google is bringing augmented reality (AR) to YouTube and interactive 3D assets to display ads for advertisers to have immersive experiences. More insight here.
From Target Search Page Location and Outranking Share to Target Impression Share – Announcement from Google regarding "Target Impression Share Strategy" which will be in effect later this year.
Announcing v1_3 of the Google Ads API – Google's announcement of v1_3 release of the Google Ads API. Get to know more here..
New bidding controls to help meet your goals – Three New bidding innovations were introduced to give advertisers more flexibility in order to attain their business goals. More details here.
New Performance Planner coming to Google Ads – Performance planner helps advertisers drive more conversation and in better planning of their ad spend. What is new to this Performance Planner, know it here.
Keyword Planner changes finalized – The changes to the Keyword Planner  were being speculated since long, but with this announcement, Google confirmed the updates made. Know more about the changes in this post.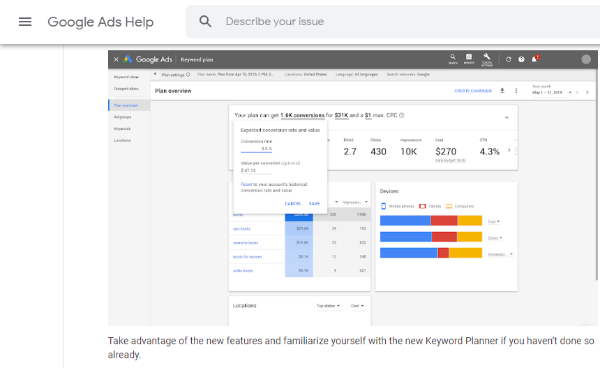 Microsoft Advertising
Get started: Price Extensions in Microsoft Advertising Editor – Bringing Price Extensions to Microsoft Advertising Editor will help customers to see the products along with prices. Here is the guide, how you can get started with this feature.
Enhance your campaigns with new AI-driven recommendations tab – People who advertise with Microsoft have the opportunity to improve their campaign performance using new and improved Recommendations Tab. Jessica Cui explains more in this article.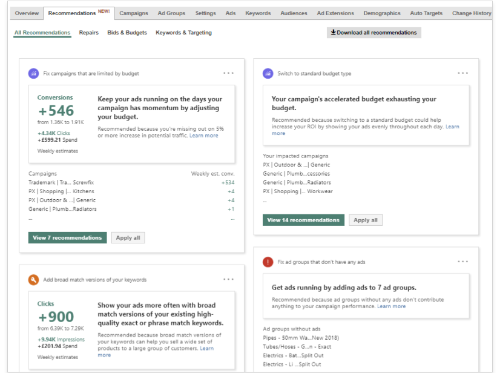 Bing Ads is now Microsoft Advertising – Evolution is the key to success. With this name change, Bing Ads is building onto its success. Know more about this change and how it's helping Bing Ads to gain more visibility.
Drive customers to immediate action with Action Extensions – Announcement from Bing Ads regarding Action extension. Follow the link to get an insight on "How to set up action extensions, Bing Ads' newest ad extension".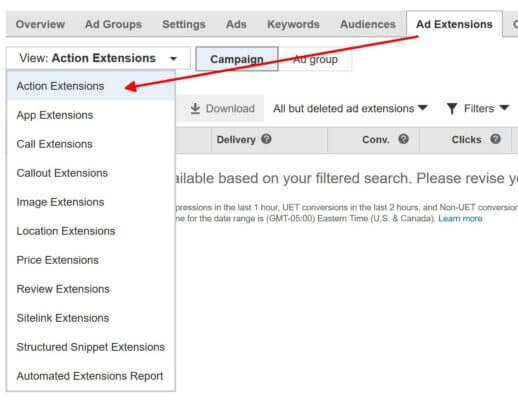 Get started: Migrate now to final URLs to improve tracking – Bing is preparing to end the ability to create destination URL for keywords, ads, campaign level by August 2019. What steps do you need to take in this regards, this article will explain.
Better tracking with final URL suffix and more custom parameters – Announcement from Microsoft Advertising regarding Parallel tracking,final URL suffix to avoid delay in loading the websites.
LinkedIn
Oracle Data Cloud's Moat Analytics + LinkedIn: More Ways to Measure and Validate Video Performance – Introduction of Moat Analytics on LinkedIn is a move to measure viewability metrics of their video ads. Get more insight here.
Introducing the LinkedIn Ad Review – A brief write-up by Sean Callahan regarding the announcement of a new feature "LinkedIn Ad Review" which will help to analyze top performing LinkedIn Sponsored Content.
Twitter
Providing clarity on political advertising in Canada – Keeping a goal of transparency with regards to advertising during elections, Twitter has announced the expansion of political advertising transparency efforts to Canada. Michele Austin sheds more light on the same.
Instagram
New: Branded content ads on Instagram – Announcing Branded Content Ads which gives the opportunity to advertisers to promote content posts of most active users as feed ads. Know more here.
Bringing Ads to Explore, Instagram's Discovery Destination – On Instagram, people go to explore if they want to discover ,connect with people or shop. Learn here regarding an announcement to introduce ads in explore feed to discover latest trends.
Pinterest
Drive more action with new conversion features – With this announcement, Pinterest introduced Conversion Optimization, a new campaign type which helps optimize the Promoted Pins for a defined conversion action. A step towards helping advertiser achieve their conversion objective.
Quick tips: How to think about targeting on Pinterest –  Targeting can boost your campaign's performance if you have right strategy. Learn some tips here for your next Pinterest campaign to improve your market presence.
Facebook
Maximize Campaign Results with Cost Cap Bidding – Facebook has introduced a new bid strategy to gain more results while controlling the cost. Know more in this write-up.
Improving Ads Manager and Business Manager – Facebook's plans to update Ads Manager and Business Manager will help in gaining more success to all sized companies. Find out more in this brief article.
Updating Our Brand Safety Controls – Facebook announced new brand safety control for advertisers to help them protect their brand and customers from bad content on Facebook's platform.
Updates to Ads About Social Issues, Elections or Politics – Announcement of few updates which Facebook has rolled out with regards to elections in Canada.
Quora
Quora Ads and Improvado Partnership – Announcement from Quora regarding their partnership with Improvado which will help advertisers to get all their campaign data at one place. Learn more here.
Announcing Simplified Ad Set Duplication –  Quora's announcement regarding Ad Set Duplication feature to duplicate multiple ad sets and their ad creative across campaigns.
Quora is now integrated with Google Tag Manager – Announcement from Quora regarding it being an approved tag vendor within Google Tag Manager. Follow along Joe Martinez, as he takes you through, how you can install Quora Pixel to all pages of your site.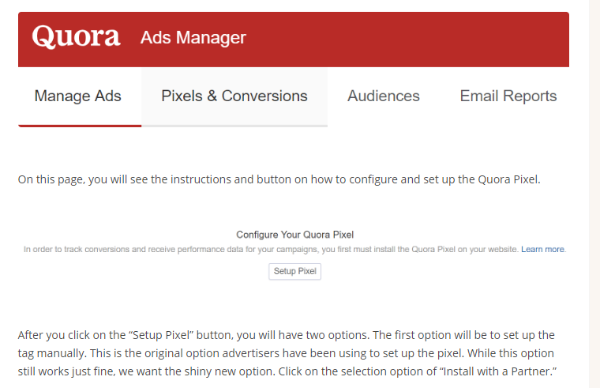 New and Improved Ads Targeting Experience – Quora is announcing new categories which will help advertisers make informed targeting choices to reach their goals. Get more insight here.
Related Links: