In the year 2019, Google Ads has made some remarkable updates and announcements in its platform to be equivalent to other PPC platforms. Some key announcements were, Introducing seasonality adjustments for Smart Bidding, Preparing for Average position to sunset, Broad Match, and Phrase Match Modifiers, Changes to the Keyword Planner and more.
Connect with customers faster using lead form extensions (beta) –  Lead form extension, a fast, mobile-optimized experience makes form submission easy and eliminates the extra step of navigating to your mobile site lead form.
Responsive search ads are now available to all advertisers, along with new tools – Responsive search ads are available to all advertisers in all languages, as well as in Google Ads Editor, the API, and the mobile app. Get more insight here.
Understand conversions by time with new columns – Until now, Google Ads has always reported conversions by the date your ad was clicked. Now, you can report conversions and conversion values at the time they happened with new "by conversion time" columns.
Easier cross-account analysis with Report Editor – To analyze Google Ads cross-account data and identify cross-account patterns in your data without leaving Google Ads, report editor feature can help to do the same in real-time. Google had announced a new and improved version of the Editor, Google Ads Editor, v1. in the month of March 2019. Know more about this announcement here.
Accelerated delivery sunset for Search and Shopping campaigns postponed to October – To give more time to search and shopping campaign advertisers,  Accelerated delivery sunset has been delayed until October 7, 2019. In the month of August 2019, Google had announced that campaigns and budgets using Accelerated delivery will be automatically switched to Standard delivery starting October 7, 2019.
Introducing seasonality adjustments for Smart Bidding – Though smart bidding strategies already take care of the seasonality to improve your campaign performance but rare situations like sales or new product launches, you need more control to increase visibility. Get insight here about Google's seasonality adjustments for search and display campaigns to provide more control in rare situations.

New Smart Bidding strategy: Maximize conversion value – After giving a sneak preview of new Smart bidding during Google's Marketing Live Event, they announced the release of the 'Maximum Conversion Value'  for search campaigns. Three New bidding innovations were introduced in the month of May 2019 to give advertisers more flexibility in order to attain their business goals.
Prepare for average position to sunset – Earlier this year, Google Ads announced, their plans to discontinue Average Position as Absolute Top Impression and Top Impression were rolled out as a stronger metric in place. This announcement was materialized starting the week of September 30th
Reach more of the right customers with phrase match and broad match modifiers – Broad Match and Phrase Match Modifiers keywords will begin matching to search queries that share the same meaning in the coming weeks. This will help advertisers increase clicks and conversion by 3-4%. Learn more here.

Introducing new audiences for Search – With regards to ads, people expect to get information relevant to them. Google's new in-market and detailed demographic audiences help to reach the right customer in a privacy-safe way. Get insight here.
Simplifying portfolio bid strategies – Some of Google's automated strategies help to optimize campaign performance. Portfolio bid strategies are one among them. Get more insight in this article as to how simplifying this strategy will help to gain more visibility.

From Target Search Page Location and Outranking Share to Target Impression Share – Announcement from Google regarding "Target Impression Share Strategy" which will be in effect later this year.
Optimization score now includes Shopping campaigns – Get insight on Google's announcement to expand the optimization score to include Shopping campaigns to provide more, real-time recommendations for improving overall account performance. In May 2019, Google had an announcement regarding new recommendations being added to the optimization score.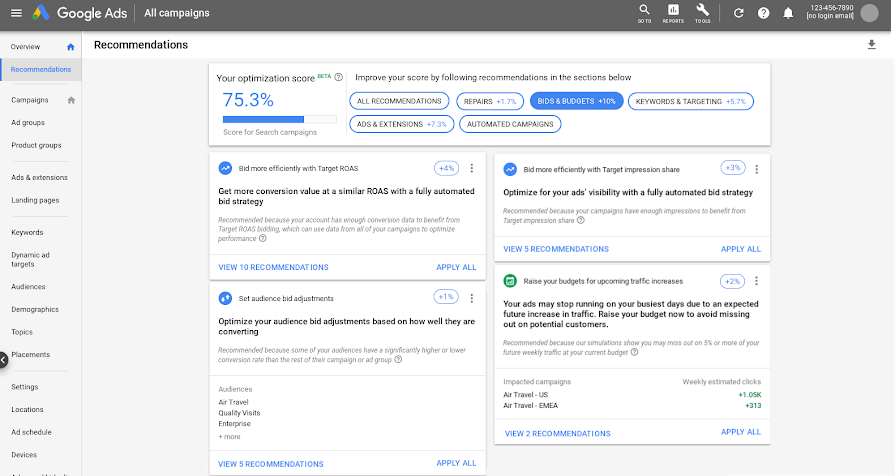 Introducing three new features for responsive display ads – Video assets, combinations report and ad strength scorecard was announced for responsive display ads. So, get started with it and reap the many benefits.
Keyword Planner changes finalized –  The changes to the Keyword Planner were being speculated for long, but with this announcement, Google confirmed the updates made. Know more about the changes in this post.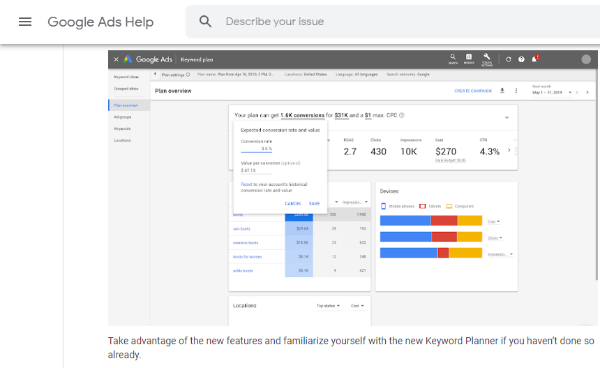 Adding cross-device activity to all attribution reports – Starting on May 1st, all attribution reports will include cross-device activity and conversions, giving a valuable insight into how people interact with your ads on multiple devices, and consistency across reports.
Google Marketing Live: Building for the new consumer journey -Google organized its Marketing Event in the month of May 2019.Know about all the new products and announcements to unlock new opportunities and grow your business.
Google Ads auction-time bidding comes to Search Ads 360 – To enhance the performance while bidding on Google search, take advantage of Google Ads auction-time bidding in your Search Ads 360 bid strategy.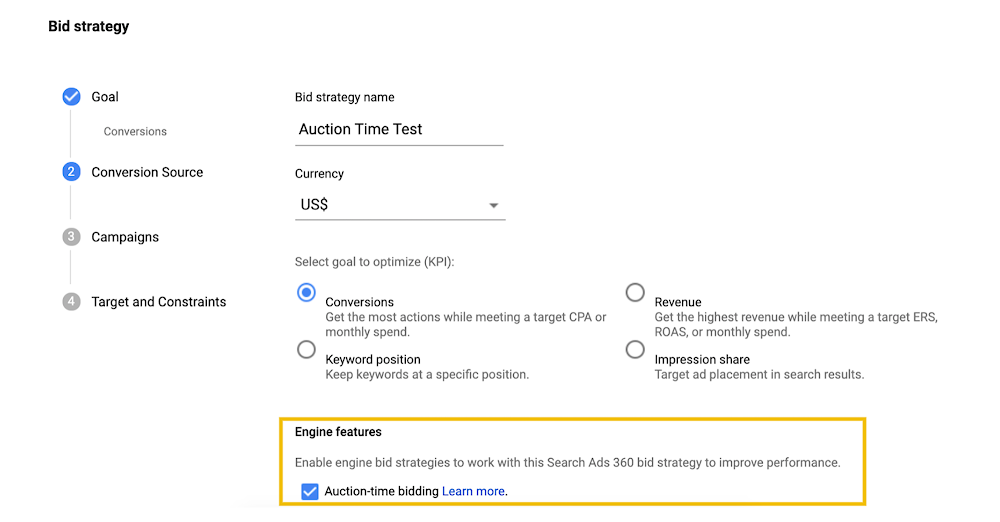 Google Analytics and Google Ads: A Powerful Pairing – A creative step by Google to find a solution to today's marketing challenges. Get insight here.
Connecting you to visual shoppers with new ad formats on Google Images – Google is a place to search anything under the sun and this motivates the google team to launch Shopping Ads on Google images. Get detailed insight into this article.
Related Links: