A positive landing page experience propels a visitor's decision making into positive actions. So, to make sure that your PPC ads are performing for conversions, optimizing your landing page experience become a must-do task.
What is Quality Score?
Quality Score is an important component that determines how much you pay for a click on your ad and how well your ad ranks on the search engine results.
Quality score is estimated by the following:
Ad Relevance
Expected CTR
Each of these components is given a score of Below Average, Average and Above Average. Final Quality Score is a weighted combination of these 3 attributes and it results in a number between 1 to 10. A score of 6 is considered average.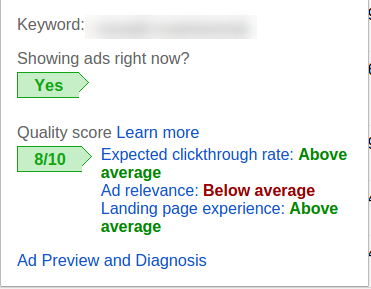 Additionally each of these components gives you an edge over your competitors. Improving them, improves the quality score and a higher quality score ensures the following:
Improved keyword targeting
Driving relevant traffic
Reducing the overall cost
Improved Ad Ranking
High Click Through Rates
Why is Landing Page Experience important?
The ad that a user clicks is the first step he takes to know about you. The next step is for the advertiser to use his platform as a relevant source of information. So, the landing page the ad takes the users to, must carry relevance to what was being searched and offer the answers to his query.
Conveniently speaking, as much an ad copy is important to entice a user to click, a landing page takes it to the next level of converting the customer.
Google explains landing page experience as:
Landing page experience is AdWords' measure of how well your website gives people who click your ads exactly what they're looking for–quickly and effortlessly.
Martin Roettgerding in his post disclosed the weightage each of the QS component. CTR and landing page carried 39% weightage each, followed by ad relevance at 22%.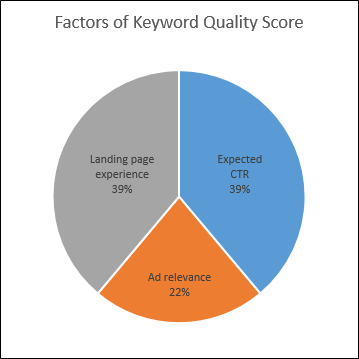 It is evident that spending time on both your ad messaging and landing page will result in the conversions your PPC campaign is aiming for.
How to improve your landing page experience?
Note: All these are a step towards improving your landing page experience and hence your quality score. As explained above, the better a quality score, the more improved your ad performance is.
Relevant to your keyword and ad copy
This is a common mistake that must be avoided. What more could annoy a user but to find that what he was searching for is not being offered in the website. So, making sure that your landing page, bidded keywords and ad messaging is relevant carries a lot of weightage.
A clear call to action
You would want to translate a click into a conversion. To do so, a compelling 'call to action' about the next steps should be prominent in the landing page. A lack of the same can make user visit and leave promptly. Make sure to use catchy phrases and should be related to your objective -to generate sales or generate a lead.
Be transparent
A customer whether making an online or offline purchase is looking for transparency from the business. It i thus advisable to offer what they are looking for, all information easily accessible to them and do not hide relevant details that they might in future come face-t-face with. The more transparent a landing page, the more trust is built with the visitor.
Easy Navigation
This a common SEO practice to follow. You don't want your customer to lose his way while on your website. So, design your website that is easy for a user to move around and also find information that he is in search of. If you are an eCommerce website make sure that completing a transaction is like a piece of cake for the user. Also, don't bombard the user with unnecessary ads or pop-ups that can disrupt the flow of action.
Mobile Savvy
With mobile gaining traction and customer using that as a major source to access information, it is preferred to have a website that is compatible on all devices, especially mobile.
Page load speed
You don't want your customer waiting ever! A quick website can swiftly take them through what your business has to offer. And the quicker the service, the more happy a customer is and the more positive opinion he will carry of you. You can test your site's mobile speed here. If your page speed is load you can try reducing the size of your images and also cutting down on any extra content there.
Audit your PPC account
Keeping a close watch on which keywords have a poor landing page experience can help you improve strategically. To do so, Karooya's Free AdWords Audit Report helps you with  keyword summary of all quality score components.
Here is a snapshot of how the landing page experience report looks like. You get to access keyword summary basis the rating.

Here is how the breakup of the keywords vis-a-vis their quality score score components is shown:

Keyword Insertion
Insert your keywords in the title, meta description, heading and alt text for images. Follow the SEO best practices to have the right keyword density in your content. Though keyword insertion is a good practice to follow, however simultaneously ensure that the content is contextually relevant to your ad.
Conclusion
Landing page experience, though one component of Quality Score, carries much emphasis. It gives your search marketing initiatives a closure by either generating sales for your business or generating a lead that can be used for future reference. So, by ensuring that your landing page experience is flawless you improve your conversion rate and overall performance of your PPC campaign.
Related Links: