Ad extensions for Google Ads enable you to display information that is important to your business and that you want to highlight. So, no doubt that it has now become an important component of your Ad. But that's not it! You must also evaluate the effectiveness of your sitelinks.
In Google Ads, you can get insight on how many clicks occurred when your sitelinks displayed along with your ad. This data may also be segmented to see how many clicks the sitelinks received specifically. In this post we will take you through the steps to access this information.
But before that, why are extensions important for your campaign:
Additional Information – Ad extensions allow you to include additional information that you might not have included in your ad copy.
Impacts your ad rank – Adding ad extensions has an impact on your quality score since it enhances your CTR and ad relevancy, which in turn improves your ad rank.
Make your ad more authentic – With your business details such as the phone no. or the business location mentioned along with the ad copy, the user has no doubt left on the authenticity of the business.
Improves CTR – As your ad offers more information, a user is more likely to click it.
Read this post here to know more
A quick primer on Sitelink Extension
If your business has a specialized requirement for a search query then you can use sitelink extensions to highlight such aspects of your business. Or if there are certain landing pages that you wish to promote alongside your ad, then sitelink gives you the option to add those landing pages. You can add a headline and description to your sitelink extension. It appears in a variety of way. Here is one of the ways in which it might appear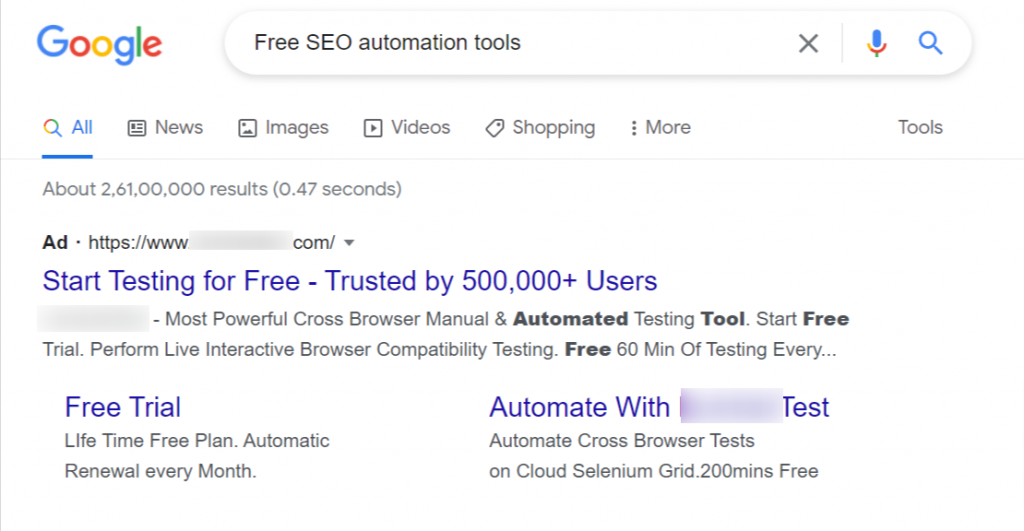 Anazlyzing Your Sitelink Extensions
Step 1: Go to Ads & Extensions, click on Extensions
Step 2: Expand the Sitelink to see all the Sitelink related data
Step 3: Once there, click on Segment and then on Click Type

Step 4: You will see a break-up of where the user clicked when the Sitelink extension was displayed to the user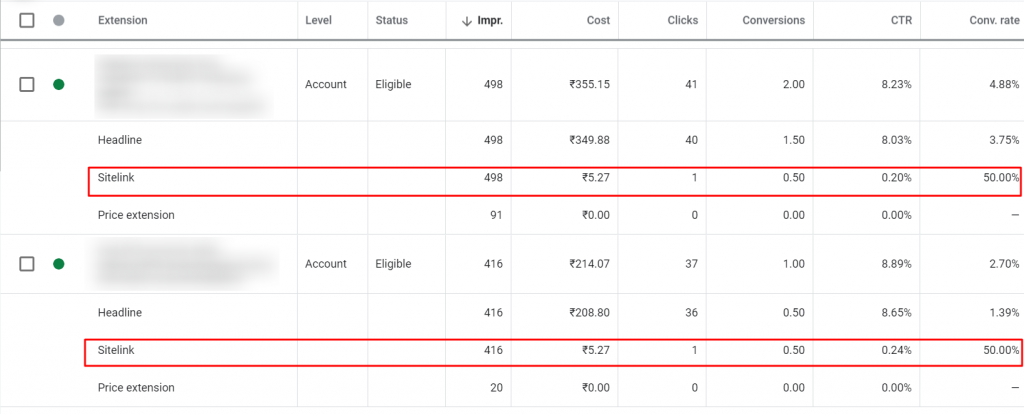 Here are some of the actionable steps:
You must check the conversion rate and CPA for the clicks happening on sitelink.
If the conversion rate for a sitelink is much worse than that on headline, consider swapping it out.
Alternatively, make the site links still relevant and actionable for that campaign or the account.
You might also be interested in a Google Ads script that we created that will send a notification whenever an extension is disapproved. You can get the Ad Extension Disapproval Alerts Script here
Related Links: