Ad Extensions help boost your paid search campaign by giving useful and additional information about your products/ services. It improves your chances of being noticed and get that valuable click on your ad.
Ad Extensions let you highlight various aspects of your business relevant to the specific searches. It gives advertisers the benefit of displaying alternate and useful information that hasn't been captured in the ad copy content.
So, when should you use an ad extension for the account?
Ideally, you should consider adding at least one ad extension for your search campaign. Even if you find it difficult to choose a relevant ad extension for your campaigns, there are some ad extensions that can be used to showcase your other business offerings. So if not for all, check if your campaigns atleast have sitelink, callout or structured snippet extensions to highlight specific product or service features.
Here are the ad extensions available on Google Ads. We have given a brief outline of what it does and when they should be used as part of your campaign:
Sitelink Extensions – If your business has a specialized requirement for a search query then you can use sitelink extensions to highlight such aspects of your business.
Callout Extensions – If there is any other specific information that wasn't added in your sitelink extension and ad copy, then you can do so with callouts
Structured Snippet Extensions – If you want to add context to your products and services, then structured snippet extensions help highlight that.
Location Extensions– If you wish to direct your customers to a physical store then location extensions help meet that purpose
Call Extensions – If calls are valuable for your business, then you must use this extension but simultaneously make sure that you schedule it a time when your team is available to attend the calls made.
App Extensions – If you would like your customers to download your app then use this extension.
Price Extensions – If you wish people to see different options and prices of your products/services than this extension is a must.
There are automated extensions as well which gives more chances to win new customers.
Note: Review Extension and Message Extension have been discontinued on Google Ads.
Here are some of the benefits of using extensions:
Improves your CTR
Make your ad more authentic
Let you offer additional information
Impacts your Ad Rank
Read our post which talks about the benefits of using ad extensions in detail.
Identify Missing Ad Extensions
It might be taxing to check for missing extensions, especially if you are managing multiple accounts or campaigns. But our Free Google Ads Audit Report makes the process easy for you.
The extensive report has an Ad Extensions Adoption Check section that checks the presence of ad extensions in the campaigns and gives a consolidated list as shown in the snapshot below: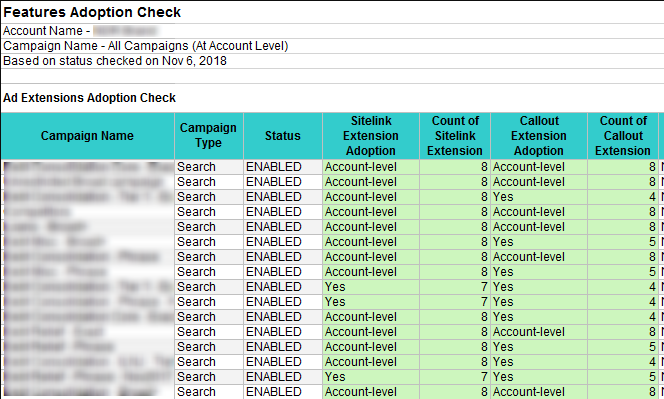 With this report, you will know which campaigns are missing out on extensions juice.

With this consolidated list, advertisers can add ad extensions in campaigns that don't have any or where a relevant ad extension can be added.
Does Adding An Extension Improve Quality Score?
Ad extensions helps boost your quality score but not directly. Extensions often increase the click-through rate (CTR) and CTR is one of the key factors to measure quality score.
Hal Varian, Chief Economist at Google, in a video clearly stated the impact of ad extensions on ad rank. Click here to see the video explaining the same. Adding ad extensions affects your quality score as both your CTR and ad relevance improve which eventually improves the ad rank.

Google recommends using a Sitelink extension to improve your click-through rate. Sitelink extension lets you add more links to your ad which takes people to certain pages on your site.
Note: We have a quality score script that gives an account summary of each keyword vis-a-vis the quality score components. You can use the script to get a detailed insight into your quality score and take the necessary steps to improve it.
Related Links