Earlier this week, we announced, the availability of Expanded Text Ads Preview Tool for Google AdWords. We have received useful and encouraging feedback for this tool.
Aden Andrus of Disruptive Advertising says, "this is a great way to get ready for the upcoming update." Thank you for the kind words, Aden!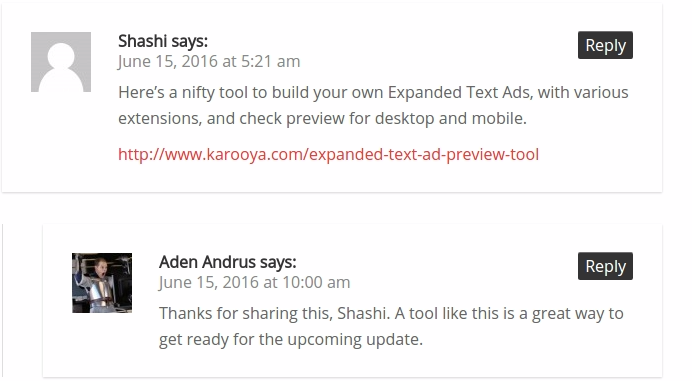 Since the announcement of the tool, we have made bunch of upgrades to the tool. Ad Extensions are an important element of the text ads. Even though, there is no change in those, a preview with extensions that advertisers use, is more accurate reflection of how the ad gets shown.
Here are the extensions that are supported by the Expanded Text Ads preview tool.

This week, Google made another small change. The "Ad" label for the AdWords ad are now green in color. We quickly incorporated this change to our preview tool.
Finally, the biggest change to the tool that will make this tool very useful. Last time, we suggested that you use a screenshot tool to capture the image of the new ad and share it with your colleagues, bosses, or clients.  We have added a step which makes the whole step of taking screenshot, saving the image, attaching the image in a mail, redundant.  (Of course, there is still great utility in sharing the image, if the recipient is on mobile phone, which makes viewing image easier.)
Now, you can create a new Expanded Text Ads and get a shareable link to it.   Once you build the ad, click on the "Share This Ad" button. It will provide you a link to the tool, along with an unique id for this ad. You can copy this link and share it via email (or Facebook, Twitter, chat, or any other communication tool that you fancy.)   When that link is clicked by recipient, the ad gets populated with all the text you had entered and they see exactly that ad. If they want, they can make changes to the ad, create a new shareable link and send it back.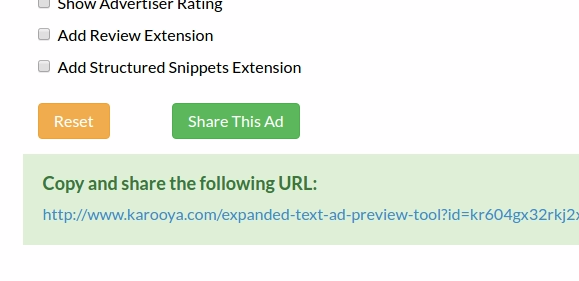 Please remember that when you click on "Share This Ad", the content of the ad at that point is saved and is visible on that link. If you make any changes to the ad after you create the sharing link,  those changes will not be reflected in the ad. For that, you need to again create a new shareable link. To put it differently, when you make the change, create a new shareable link again.
This tool will help you prepare for the change that will be coming soon to your AdWords account. Since, there is no timelines specified, you better be ready whenever this feature is enabled for your account.  We hope, this Expanded Text Ads Preview Tool makes your life just a bit easier.
Test Your Expanded Text Ads:
Additionally for all your active expanded text ads you must check their performance to determine the performing and non performing ads. This AdWords script to find best performing ads will help you find the winning ads in your account. Run this script an pause the poor performing ads.
Related Articles: