Statistics show that about 4.2 billion people are texting worldwide and about 97% of American adults use their smartphones for texting purpose. It is apparent that text messages are looked up as a convenient medium to strike a conversation.
Businesses who wish to establish a two-way communication with their customers can opt for text messages rather than picking up the phone to call. The one reason being it is less intrusive and lets the customers answer at his/her convenience if interested. And businesses need a reliable medium to connect with their audience on a long-term basis. With smartphones being a must-have part of everyone's life, utilizing this opportunity with text message marketing can help tap a wider range of audience.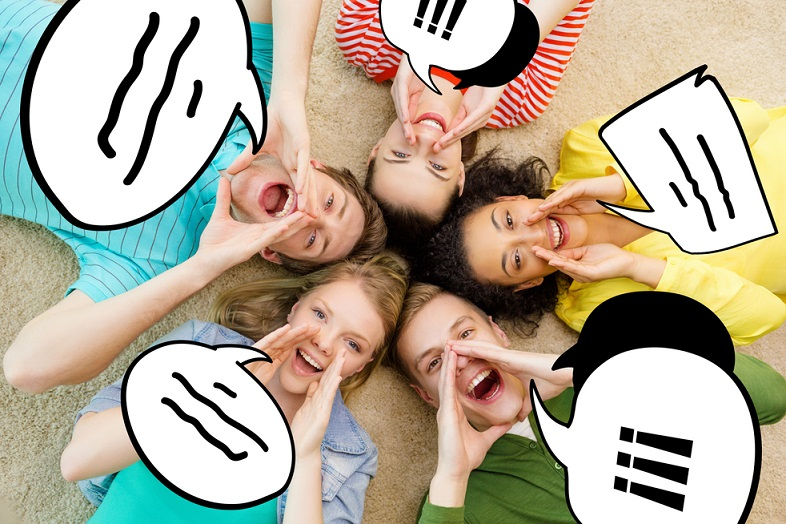 About Text Message Marketing
Text message is a channel to reach your customer instantly and engage them with your offering. They can be used for two purpose:
Customer Acquisition
Customer Retention
With stricter guidelines now introduced, you cannot reach out to customers who haven't opted for receiving your SMS service. However lead generation is possible through text message if you promote it enough to attract subscribers. Once you establish a database of interested customers who wish to receive information, then you must devise on the following to translate the interested customer into your loyal customer:
Grab attention with a unique and personalized offer
Embed a call to action in your text message marketing campaign
Ensure that you adopt a two-way communication instead of a one-way flow
A follow-up will help guide your customers to take the first step
Text messaging is also used as a medium to engage your new or loyal customers. The many ways in which text message can be used to engage your audience is:
Sending them updates about your product or news that carry relevance
Updating them with a new offer or promotion that your business has come up with
During crisis text message is one of the quickest ways to communicate with your audience and helps maintain your brand's authenticity
Offering customer support via text messaging helps customer stay updated with their order status, order delivery or order payment
Connecting With Text Message
Businesses can use a different approach based on what objective they want to meet with text message marketing campaign.
If it is to reach out to existing audience and update them about a new offer or product then Bulk SMS is a quicker way to reach out to large audience size. This is mostly a one-way communication where you send the updates and the customer responds to it by making a purchase.
If the objective is to generate a lead, then a text message conversation is a best way to engage the audience and giving the message a personalized touch improves the chances of a positive response.
If the objective is to send them notifications about the status of their purchase or delivery of their order, then automated Service Alert Notification helps customers track down the status of their account.
Messaging in Google My Business
Google has been rolling out a new messaging feature for local businesses. Though currently available to limited audience, businesses with this feature can interact with their customers through messages. When you set up this feature and configure your number on Allo, users can see a message icon along with your local business details and initiate interest by placing their query or a conversation.

About AdWords Message Extension
We talked about the offline options available to businesses to connect with their audience. However with the Text Message Extension, businesses who advertise on AdWords can use text message to generate more leads. The text message extension is a great way for your customers to reach you with a text message when they see your ad on Google. It allows your customers to reach you even outside the business hours.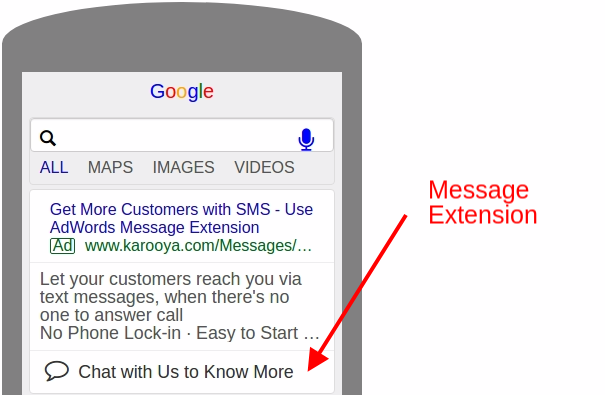 To create you message extension marketers need to work on the 'Extension text' message that shows with your ad ('Chat with us to know more' in the above snapshot) and the pre-defined 'Message Text' that is automatically entered in the SMS app.
Here is a demo of how the conversion driven via a click-to-message ad might look like: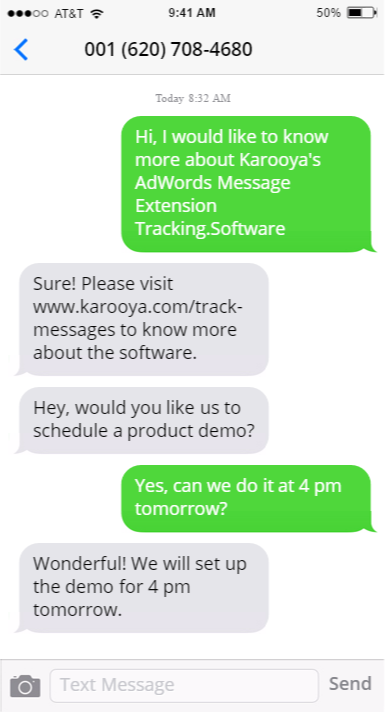 Once you set up the message extension, you would wish to track the conversions driven from it. At Karooya, we help you track the message as conversions with our Message Extension Tracking Software.
Conclusion
Text message is an impactful communication medium that must not be left unexplored. Try using the standard text message tactics to connect and engage with your audience. Now, with message extension you can take your AdWords campaign to the next level by initiating a conversation with the audience who has viewed your ad. Give it a thought and definitely a try.
Related Links: