The new message extension has opened the prospect to reach out to audience that prefer the mode of messaging over calling or who are just scrutinizing a marketer and the business offering before taking the final plunge.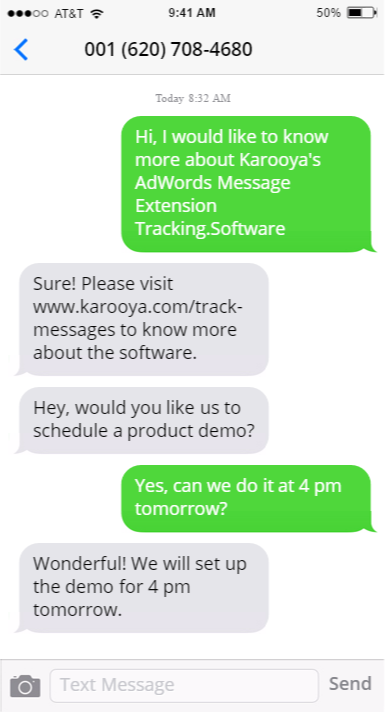 So, what is it that will make this extension work out just fine for you?
The right ad messaging (for a user to show interest in your business), spontaneity of your response (to the user who sends your team a query) and a directed conversation (finally to close the lead), will help this situation become a win-win one.
Knowing that an extension might or might now show up, giving the message extension a try, especially if your business registers queries through call, is definitely useful. The many benefits of this extensions are hard to miss. It helps you
Connect with audience even outside of business hours
Schedule a call at a later hour or date as per customer's convenience
Connect with that audience segment more interested in text messaging as a means of communication
Quicker and more spontaneous than waiting to get connected with the team through a call
Click-to-Message Ads
Marketers need to think through the 'Extension text' message that shows with your ad and the pre-defined 'Message Text' that is automatically entered in the SMS app.
The purpose of each is clear. Extension Text to induce a call-to-action, and Message Text to give some clarity to the user on where to start the conversation.
As the Extension Text's purpose is to drive a user to click and send a message.The text must be clear and precise making it apparent that the user need to click there to send a text.
Text us for more information/ details
Send a SMS
Send us a Text
Message Us Now
SMS Us etc
There is a possible way to standardize the pre-defined message also, with text such as 'Please text me back' or 'Please give me a call back'. However, the possibility of a user aborting this step becomes higher if no thought is put behind what the message should be. Additionally a better messaging promises better conversions than a generic one.
What message to add depends firstly on the industry you cater to and secondly on your offering. Let's look at some of the industry messaging examples.
Industry Led Messaging With Message Extension
You might wish to serve the direct intent behind anyone looking for a hotel or restaurant. To meet the purpose, you can think of adding a message such as 'I am interested in making a reservation. Please text me back' or 'I'd like to book a table for 2. Please text back with details about availability'. To this immediately an automated reply with the link to the hotel or restaurant's website can help build up the flow of conversation.
For dental, healthcare, leisure, beauty services, where wanting to avail the service is the first thought in a user's mind. So the messaging could say 'I'd like to book an appointment. Please text back', directing the lead to a closure. Giving a clear indication of what the user expects and what you are adept in delivering will help bridge the gap and close more leads.
Agencies offering consultation services might wish to offer a product demo before taking the talks to the next level. To help build the stage for this, the message extension could incorporate a message saying 'I want to schedule a product demo to know more. Please text me back' rather than a plain 'I'm interested. Please share more details'. The former builds what a customer should expect from you and gives you the opportunity to put a lid on the customer moving away.
With Mortgage/Loans, Banking and Legal Services paving the process to avail your service can be communicated in the message. For example, 'I want to apply for a Loan. Please text back with details' for Loans and 'I want legal advice and support for my business. Please text back' or 'I want legal aid for income tax, company law, court assistance etc. Please text me back' (giving a gist of your expertise and service offerings)
The Travel and Booking industry can give a peep into their service by tweaking their message to say 'I am interested in a tour package to Maldives. Please text me back' or 'I want to book a flight to <destination name> on <date of travel>. Please share flight details'
Abide by the Message Extension Rules
Not to forget, that message extension need to go through an approval process and abide by the preset requirements specified by Google. You might want to have a look at the specifications here. Some of the key things to keep in mind are:
Financial and government identification information cannot be collected with the user
Repetitive texting to the user is not permitted by Google
Delayed response time is not allowed
Before moving ahead with this extension make sure you go through all the minute nuances to avoid your account from getting suspended.
So, to conclude, industry specific messaging helps meet the objective partially, with the other part being taken over by how the conversation evolves. You can create your own best practices guide to follow and make the most out of this new extension. Further, to make it easier to measure conversions driven through message extension, you can use Karooya's Message Tracking Software and simplify things.
Related Links: